Giannis Antetokounmpo Injury Update: Will Bucks Star Play in Game 2?
How serious is Giannis Antetokounmpo's back injury, and how long will he be out of the lineup?
This isn't exactly the start to the 2023 NBA Playoffs the Milwaukee Bucks had in mind. The No. 1 seed in the Eastern Conference and the betting favorites to win the title sputtered out of the gates with a 130-117 loss to the Miami Heat on their home court, but that wasn't the worst of it.
MVP finalist Giannis Antetokounmpo, who led the Bucks to the best record in the NBA this season, went down hard in the first quarter and suffered a lower back injury that knocked him out of Game 1. The seven-time All-Star will have two full days to rest the injury before Game 2 on Wednesday, but will he be able to return to the lineup by then?
Giannis Antetokounmpo suffers scary back injury in Game 1
Bucks fans across the world held their collective breath when Giannis Antetokounmpo skied for a layup in the first quarter of Game 1 against the Heat and landed hard on his back. The two-time MVP writhed in pain on the floor of Fiserv Forum for a good 20 seconds before his teammates eventually helped him to his feet.
Giannis remained in the game for nearly three minutes after the fall, but once he subbed out with less than two minutes remaining in the quarter, he walked back to the locker room to get evaluated. It didn't take long for Antetokounmpo to return to the bench, and he checked back into the game early in the second quarter.
That didn't last long, though, as the Greek Freak lasted just over a minute on the court before subbing himself out and heading back to the locker room. He wasn't able to return to the game after that point.
Antetokounmpo finished Game 1 with six points and three rebounds in just 10 minutes of action, and the Bucks went on to lose without their superstar forward, 130-117. Milwaukee now finds itself in an early hole in the first-round series, one it might not be able to overcome without Giannis.
Giannis Antetokounmpo injury update: Will Bucks star play in Game 2?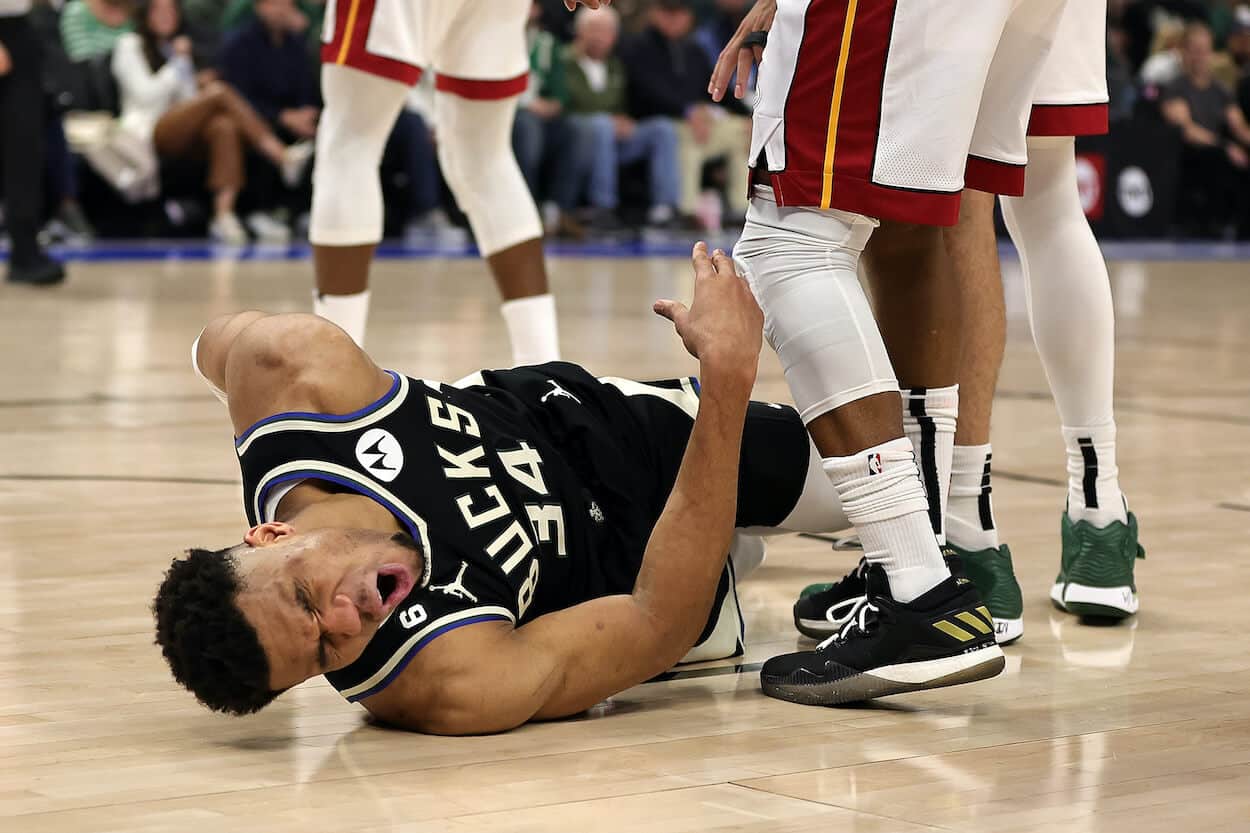 The Bucks don't stand much of a chance to make a deep playoff run without Antetokounmpo on the court. In fact, Milwaukee might not be able to squeak by this feisty Heat team if Giannis misses more time, but is that a possibility?
After Game 1, Bucks head coach Mike Budenholzer said Antetokounmpo underwent an X-ray that came back "clear." "We'll monitor him and see how he wakes up tomorrow," Budenholzer told reporters.
On Monday morning, Shams Charania of The Athletic and Stadium appeared on FanDuel TV and reported that Giannis will be re-evaluated today, and he has a chance to play in Game 2.
"I'm told there is optimism about his availability for Game 2," Charania said. "It's believed to be a pain tolerance issue that he's got in his lower back."
Charania added that Antetokounmpo won't be operating at 100% if he suits up for Game 2 on Wednesday. Whether he's fully healthy or not, the Bucks need Giannis on the court to accomplish their ultimate goal of winning a championship this year.