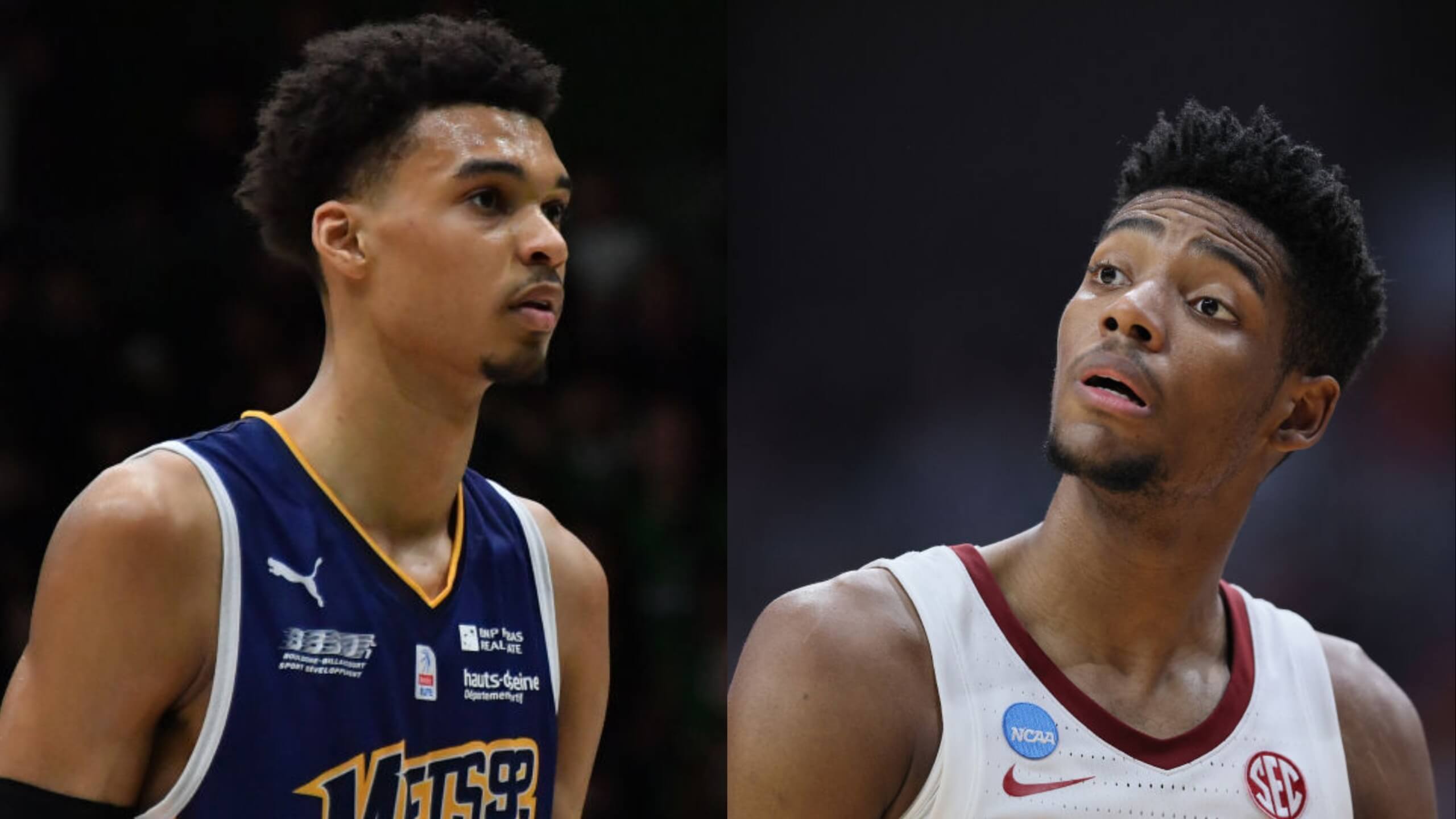 Top 2023 NBA Draft Prospect Brandon Miller Summed Up the Victor Wembanyama Hype Better Than Anyone Else Has
Still unsure about just how special Victor Wembanyama is? Consider a quote from his fellow draft prospect, Brandon Miller.
By and large, NBA players have supreme confidence in their own abilities. Brandon Miller is yet to officially enter the Association, but it's safe to say he's sure of himself. During his time at Alabama, the second-team All-American proved to be a do-it-all player, capable of making things happen at both ends of the floor. That reality, however, can only do so much when your draft class competition includes Victor Wembanyama.
Thus far, Wemby seems like a can't-miss pick, thanks to his combination of size and skill. And while Miller probably isn't thrilled about that reality, his comments about the French phenom perfectly explain why the entire basketball world is waiting to see him set foot on an NBA floor.
Brandon Miller thinks he's the top draft pick but knows that you can't compete with Victor Wembanyama
Remember how I started off this piece by discussing a professional athlete's confidence? Well, that reality is what makes Brandon Miller's comments about Victor Wembanyama and the 2023 NBA Draft so notable. The former Alabama star doesn't doubt himself, but he still publicly acknowledged that he wouldn't be the first overall pick.
"For me, I feel like I'm number one," Miller told Shams Charania during a pre-draft interview. "But, you know, you can't beat 7-5, eight-foot wingspan. I mean, the guy's an animal. I respect him."
Upon first glance, that sounds like a rather standard quote. The former Crimson Tide man showed confidence in himself and made some complimentary, if unoriginal, statements about Wemby. There was no bulletin-board material here. When you consider the relationship between the two players, however, things get a bit more impressive.
Miller and Wembanyama aren't two NBA veterans who have spent years doing battle. On the opposite side of the coin, there isn't enough of an age difference that one grew up idolizing the other. They are peers who are (theoretically) pushing for the same spot atop the 2023 draft board.
In that context, Miller's words speak volumes. It's not every day that a highly touted draft prospect — he's got a very real shot of becoming the number two pick since the Charlotte Hornets need help on the wing — admits that he's got no shot at the top spot.
At this point, though, it's impossible to overlook Wembanyama's raw potential
So now we've established how striking Brandon Miller's comments are, it's time to acknowledge the elephant in the room: it's tough to argue with his Victor Wembanyama take.
While it's impossible to know if the French teenager is going to blossom into an elite NBA talent, making a draft pick is about striking the right balance of risk and reward. Could Wemby get hurt or be unable to hold his own on the low block? Sure, but as the cliche says, you can't teach height. There's more to basketball than physical stature, but it doesn't hurt that Wembanyama is (potentially) seven-foot-five with an eight-foot wingspan. Add ball-handling skills, an outside jumper into the mix, and some incredible athleticism to the mix, and it's easy to see what the fuss is about.
And, on the subject of potential, remember that Wemby is still a teenager. Not only does he have plenty of room to develop physically, but working with the likes of Gregg Popovich and Tim Duncan will only further fine-tune his game.
As sports fans, it's easy to look at things as a meritocracy. We've all heard cliches about hard work being more important than talent, after all. In reality, though, that isn't always the case; sometimes, raw talent and/or physical gifts win out.
That doesn't mean the story is over for Brandon Miller, though. He's clearly a talented player, and, if anything, his comments about the 2023 draft suggest that he has a good perspective on the road ahead.
At this point, though, it's Victor Wembanyama's world, and we're just living in it.