Victor Wembanyama Is Turning Down 'Rich, Million-Dollar Deals' In Pursuit of Something Greater
Whether you like it or not, professional sports have become a big business. For NBA players, financial opportunity is everywhere. Between contracts, endorsements, and other licensing deals, it's easy to make a boatload of money in the blink of an eye. Victor Wembanyama, however, isn't there just yet.
Although the French phenom could have signed on the dotted line in multiple situations — his future is bright enough for brands to be lining up — his camp has made the intentional choice to turn those offers down. Instead, they're preferring to play the long game.
And while there's no way of knowing what the future holds, it seems to have worked out so far.
Victor Wembanyama has intentionally turned down big-time endorsement deals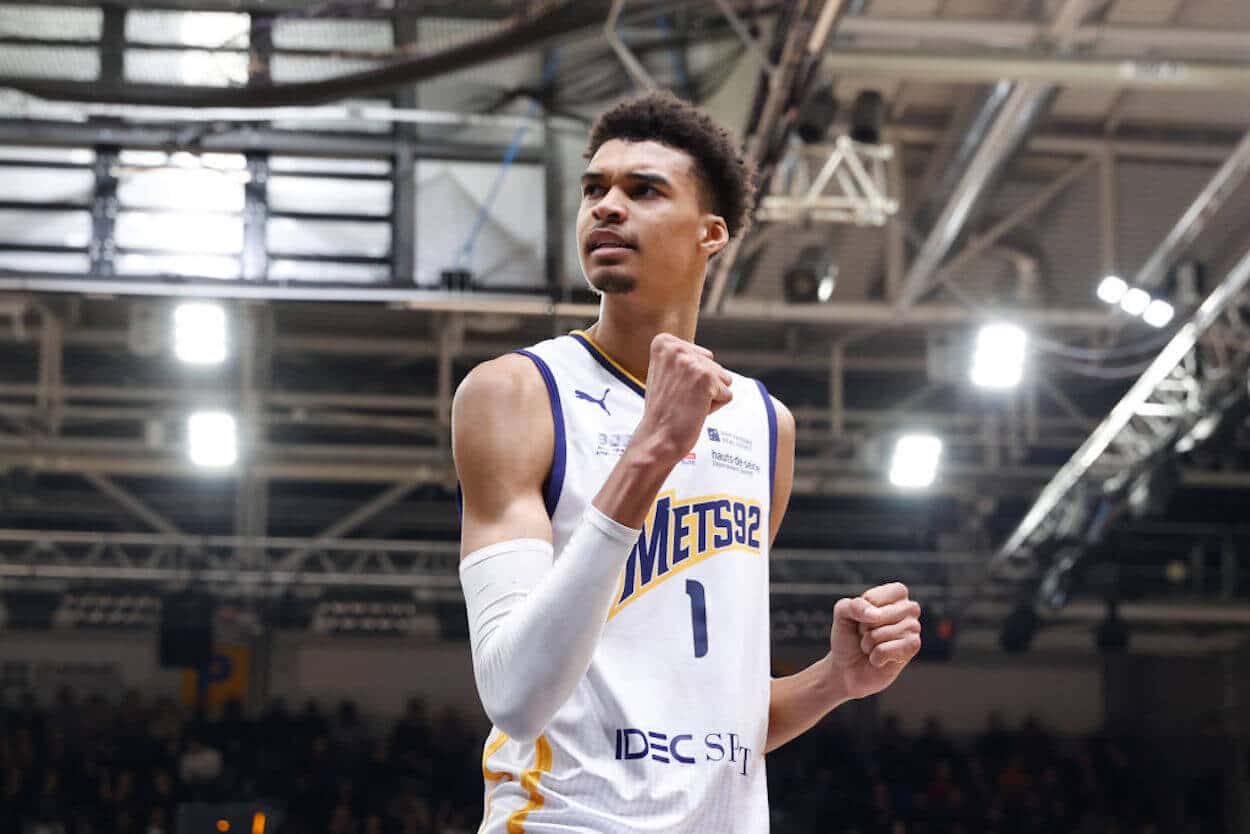 If you're an NBA fan trying to learn about Victor Wembanyama ahead of the 2023 draft, one detail might surprise you. Despite his unique blend of size and skill and his obvious potential, the teenager doesn't have any big-time North American endorsement deals under his belt.
While there could be a business-based explanation for that — maybe the fact that he's a teenager who still plays in France has inspired companies to take their time — it seems like the ultimate decision has come from inside Wemby's camp. They've decided that, at this point, financials are secondary to playing basketball.
"What we're trying to do, first of all, is make Victor rare," Bouna Ndiaye, Wembanyama's Dallas-based agent, told ESPN's Brian Windhost and Jonathan Givony for a February 2023 profile. "We don't want him all over the place. We don't want to have 20 partners. That doesn't make him a known basketball player. Victor says, 'You want to be the best.' When you want to be the best, you have to focus on basketball. And Victor is rejecting some rich, million-dollar deals right now because he wants to focus on basketball."
A similar approach will be applied to Wembanyama's game time as the draft approaches. While it would be easy to shut him down ahead of a multi-million dollar payday, that doesn't seem like it will happen.
"Victor, if he doesn't play basketball, he's not going to be happy," Jeremy Medjana, Wembanyama's veteran Paris-based agent, added. "What makes him happy, it's to play that game. It's not about the money; he's going to make money. He wants to play."
Thus far, Wembanyama's trajectory suggests the strategy is paying off
Given that we can't see the future, it's impossible to fully assess Wembanyama's strategy. Holding off on endorsement deals could seem like a disaster, for example, if he suffers a major injury before the NBA draft. Thus far, though, everything seems to be working out well.
If we consider the teenager's stat line, he's been on an incredible upward trajectory. During his first professional season, he barely averaged more than a single point per appearance. When he moved to ASVEL, he pushed closer to the double-digit mark. Now, during the 2022-23 season, Wemby has exploded; he's currently averaging more than 22 points, nine rebounds, and three blocks per contest.
Is that growth due to a willingness to be "rare" and focus on basketball? Or is it simply down to a teenager growing into his body and gaining additional experience playing against adults? Either way, playing the long game seems to be (literally) paying off.
At this point, Wembanyama is in line for an even larger payday than he would have landed at the start of this season. Should everything go according to plan, he'll essentially be able to demand a blank check when he's ready to talk turkey.
It's also worth noting that this strategy meshes with LeBron James' advice for the presumptive number-one pick. He not only advised the big man to be true to basketball but to have fun, especially as the business side of things looms larger and larger.
In sports, as in life, everything is a gamble. Victor Wembanyama and his camp are certainly rolling the dice, but the long-term payoff is obvious. The more the teenager focuses on basketball and shines on the court, the better he'll be. That will bring him personal satisfaction, along with even larger paychecks. Should that strategy work out, it sounds like a win-win.