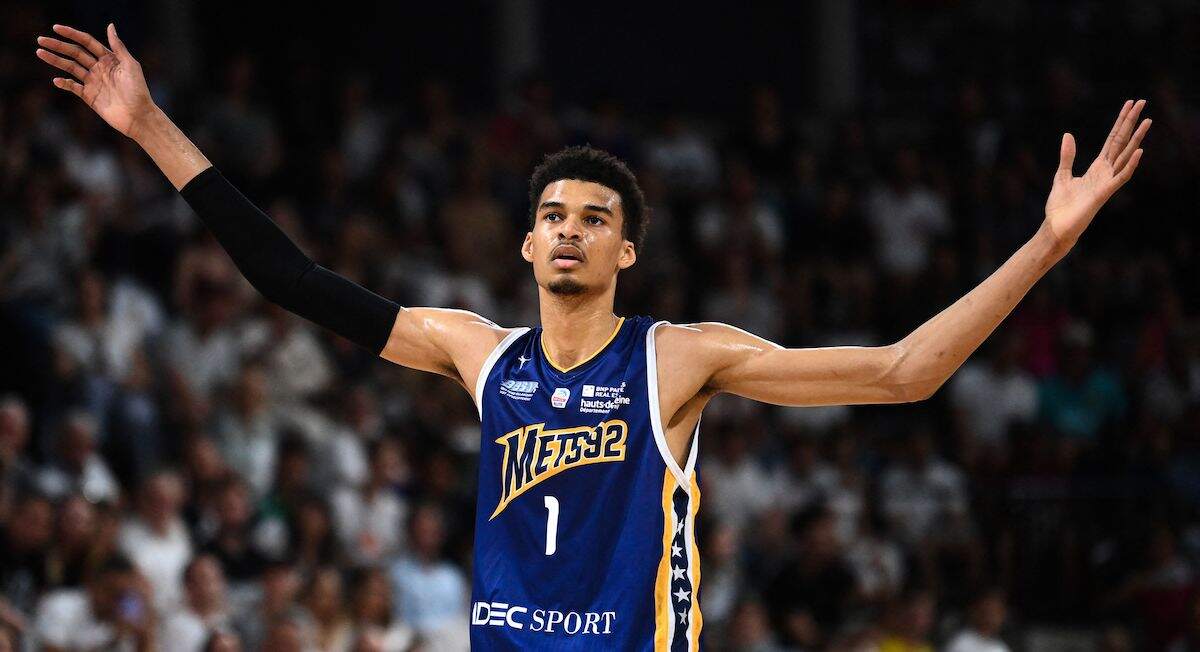 Victor Wembanyama Stats: How the Basketball Phenom's Height, Weight, and Shoe Size Compare to NBA Stars
Victor Wembanyama's physical stats are part of what makes him the greatest NBA prospect since LeBron James.
All eyes are on rising basketball star Victor Wembanyama as NBA fans count down the days until the draft. From Wembanyama's large and athletic stature to his impressive stats, it's no surprise he is the projected No. 1 pick in the upcoming NBA Draft. 
A native to France, it is likely that Wembanyama will call San Antonio home in the near future. The teen is looking forward to joining the NBA and likely playing under the leadership of coach Gregg Popovich.
Fans, scouts, and players are fascinated by the young player's talents. Let's look at the phenomenal Wembanyama's stats. 
Victor Wembanyama shoe size 
Almost everyone is talking about his basketball talent, but that isn't all fans and followers have been discussing. Although it is hard to believe, Victor Wembanyama's shoe size is 20.5. 
As Sports Illustrated reports, in Europe, where the star grew up, that's equivalent to a size 55. In NBA history, only three players surpass Wembanyama in this department: Tacko Fall, Bob Lanier, and the one-and-only Shaquille O'Neal. 
To make matters more interesting, Wembanyama's toe workouts have gone viral. NBC Sports was just one of many sources that couldn't get enough of the teen's tootsies. Lastly, and very ironically, Wembanyama is literally in the process of being involved in the largest shoe deal ever. 
According to the Metropolitans 92 player's agent, the shoe deal has an estimated value of $100 million and will likely go to Nike, a brand he often wears on the court. As if there aren't enough comparisons between Wembanyama and LeBron James, Wembanyama would knock James' $90 million shoe deal down to second place, as The Morning Brew Daily reports.
How old is Victor Wembanyama?
Wembanyama's fans and followers might be surprised to learn he is just 19. Born on January 4, 2004, Wembanyama's zodiac sign is Capricorn. Unsurprisingly, Capricorns are known to have strong work ethics. 
Wembanyama's height and weight
Looking at Wembanyama, it's evident that the talented athlete is tall. But what is the basketball star's exact height? There have been varying reports sharing that he's between 7-foot-2 and 7-foot-5 when wearing his sneakers, according to Legion Hoops.
The average height of an NBA player is about 6-foot-6. It's safe to say Wembanyama has some inches on his competitors.
OPB highlighted that the star weighs 230 pounds. This has been a controversial topic for critics who think Wembanyama needs to gain weight to be successful in the NBA.
​​Victor Wembanyama wingspan
Victor Wembanyama's wingspan is another reason the rising star has been in the spotlight. With an 8-foot wingspan, the basketball player has an unusual athletic advantage. According to Yahoo News, the length of a player's arms can give a basketball player "immense athleticism." NBA prospects with large wingspans see noticeable success in the draft as well.
Back in 2020, NBACentral quoted Mike Schmitz on Twitter with the ultimate "told-you-so": "There's a kid named Victor Wembanyama, who's maybe the best prospect in the world. He's 7'3 with almost an 8 FT wingspan. He blocks shots like Gobert and he shoots like Porzingis. He can handle & pass. I've never seen anything like him." 
With the 2023 NBA Draft approaching quickly, fans look forward to seeing Wembanyama and everything that will come with his basketball career.