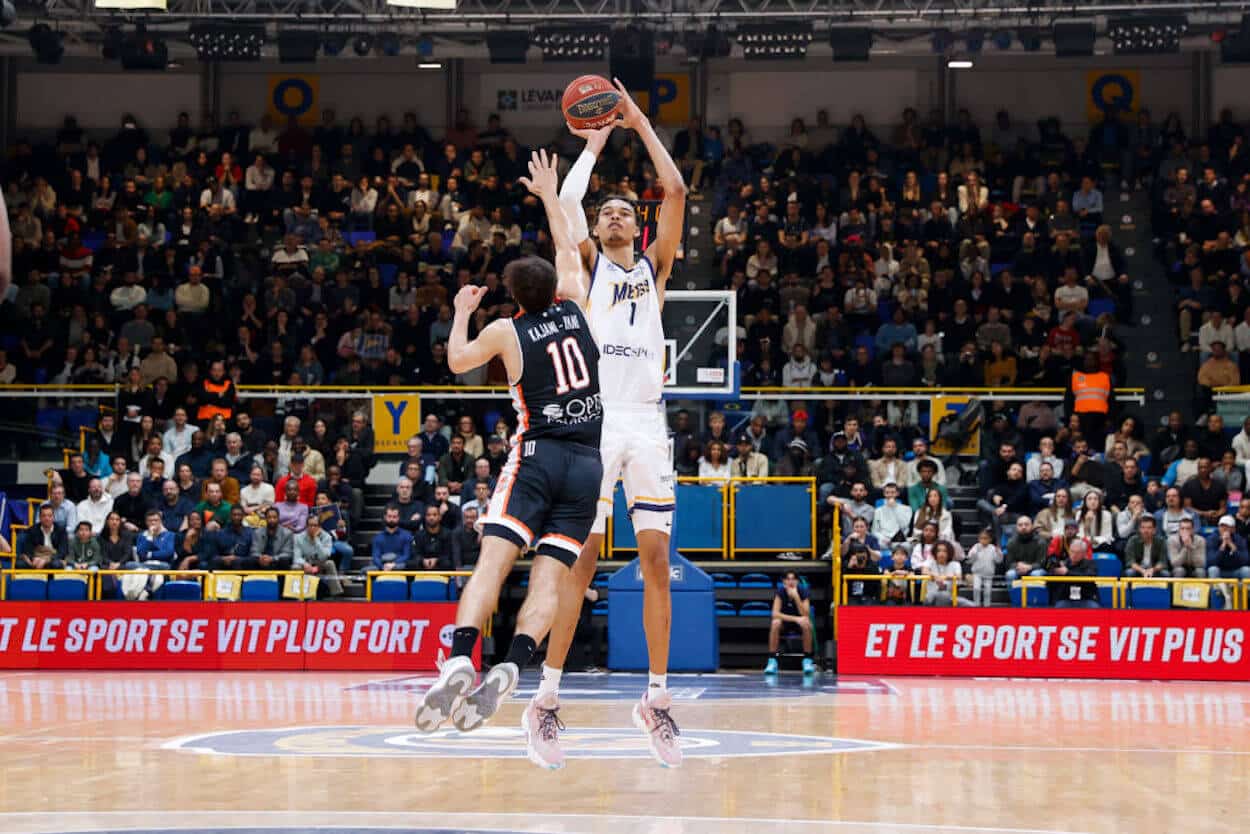 Victor Wembanyama Height: A Single Selfie Has NBA Fans Dreaming of the Future
Curious about how tall Victor Wembanyama actually is? Just consider a selfie he took inside of an elevator.
Whether you like it or not, social media is part of the basketball landscape. And beyond teams sending out updates and reporters breaking news, NBA players can get in on the action, too. Victor Wembanyama understands that reality, even if he isn't officially in the Association just yet.
Thus far, a big part of the hype around the French teenager has stemmed from his height. While he's more than just a big man — Wemby can handle the ball, shoot from the perimeter, and defend virtually any opponent with his combination of wingspan and foot speed — there's something immediately understandable about seeing him tower over the competition.
That excitement will only be furthered by a selfie that hit social media in March. If the idea of Victor Wembanyama's height feels a bit opaque, just look at him trying to fit inside of an elevator. That should clear everything up.
How tall is Victor Wembanyama? Allow an elevator to explain
While height is a pretty central measurement for a basketball player, it's been tough to nail down an exact number for Victor Wembanyama. When you combine the fact that the teenager is playing abroad and consider that it's possible he's still growing, it makes sense that we've seen various measurements reported.
Basketball Reference, for example, pegs the French prospect at 7-foot-2. ESPN, at various points in time, listed Wemby as 7-foot-3 and 7-foot-4. The most recent update, however, comes from Brian Windhorst and Jonathan Givony's February 2023 story. In that ESPN piece, they referred to Wembanyama as 7-foot-4 or 7-foot-5 in shoes. They also mentioned that his wingspan is eight feet, which provides further perspective on his size.
But what if those numbers don't mean anything to you? Sure standing over seven feet tall sounds impressive, but what does it actually look like?
Thankfully for those visual learners out there, we've got some context. Wembanyama apparently took a selfie in an elevator, and it shows just how large he is. Not only is the teenager's head touching the ceiling, but it seems like his knees are slightly bent. If he was standing at full height, he would not fit inside.
While there could be caveats — maybe the elevator was notably small, or the selfie used some forced perspective — that visual is certainly something we can understand. That, in turn, helps explain the universality of Wembanyama's appeal.
Even though he's only a teenager playing in France, simply watching a few seconds of highlights can show you that he's special. While the game of basketball has evolved, it's still a bit jarring to see someone so tall being able to dribble, shoot, and defend on the perimeter without missing a beat.
The same can be said of Wembanyama's height. Plenty of basketball players have been tall — and, to be clear, we'll continue to see tall players enter the NBA fray — there's something immediately understandable about seeing someone who's yet to reach the Association crammed into an elevator. If he's that large, it's easy for a basketball fan's imagination to run wild.
Ultimately, Victor Wembanyama is currently in that sweet spot where we know just enough about him to imagine limitless potential. We know he's tall and incredibly talented; at this point, the sky's the limit. He could (theoretically) end up on your favorite team, no matter which that may be, and be the game-breaker to bring countless Larry O'Brien Trophies to town. He could be a leading scorer, smashing records with ease. He could be an all-around juggernaut, dominating the opposition at both ends of the floor.
Right now, he can be anything you want. And while that will ultimately change, the French teenager is certainly someone to be excited about.