How Tall Is Victor Wembanyama?
If you're an NBA fan and don't know about Victor Wembanyama yet, it's about time you learn. The French phenom is being touted as the most tantalizing NBA draft prospect since LeBron James, and he might be even better than James was at his age.
When you watch Wembanyama on the court, you almost can't believe how fluid and skilled he is for his size. Speaking of his size, how tall is Victor Wembanyama, how much does he weigh, and how wide is his wingspan?
Victor Wembanyama is the newest unicorn NBA draft prospect
We've seen the "generational" tag placed on a handful of NBA draft prospects this century. It all started with LeBron in 2003, then came Anthony Davis and Zion Williamson years later. Considering all three superstars are currently playing in the same generation, it didn't make much sense to call them all generational draft prospects, but I digress.
In Wembanyama's case, however, the label might actually fit the player.
Born in Le Chesnay, France in 2004, Wembanyama has exploded on the professional basketball scene over the last few years. The 18-year-old is taller than Rudy Gobert, has a wider wingspan than Giannis Antetokounmpo, and can handle and shoot the ball like a guard. In 11 games with the French league's Metropolitans 92 this year, Wembanyama is averaging 23.3 points, 9.4 rebounds, 2.5 assists, and 3.1 blocks.
The unique prospect is virtually a lock to go No. 1 overall in the 2023 NBA Draft, and LeBron James sees a bright future ahead for him.
"Everybody's been a unicorn over the last few years, but he's more like an alien," James recently told reporters. "No one has ever seen anyone as tall as he is but as fluid and as graceful as he is out on the floor."
Victor Wembanyama height: How tall is the 2023 NBA Draft prospect?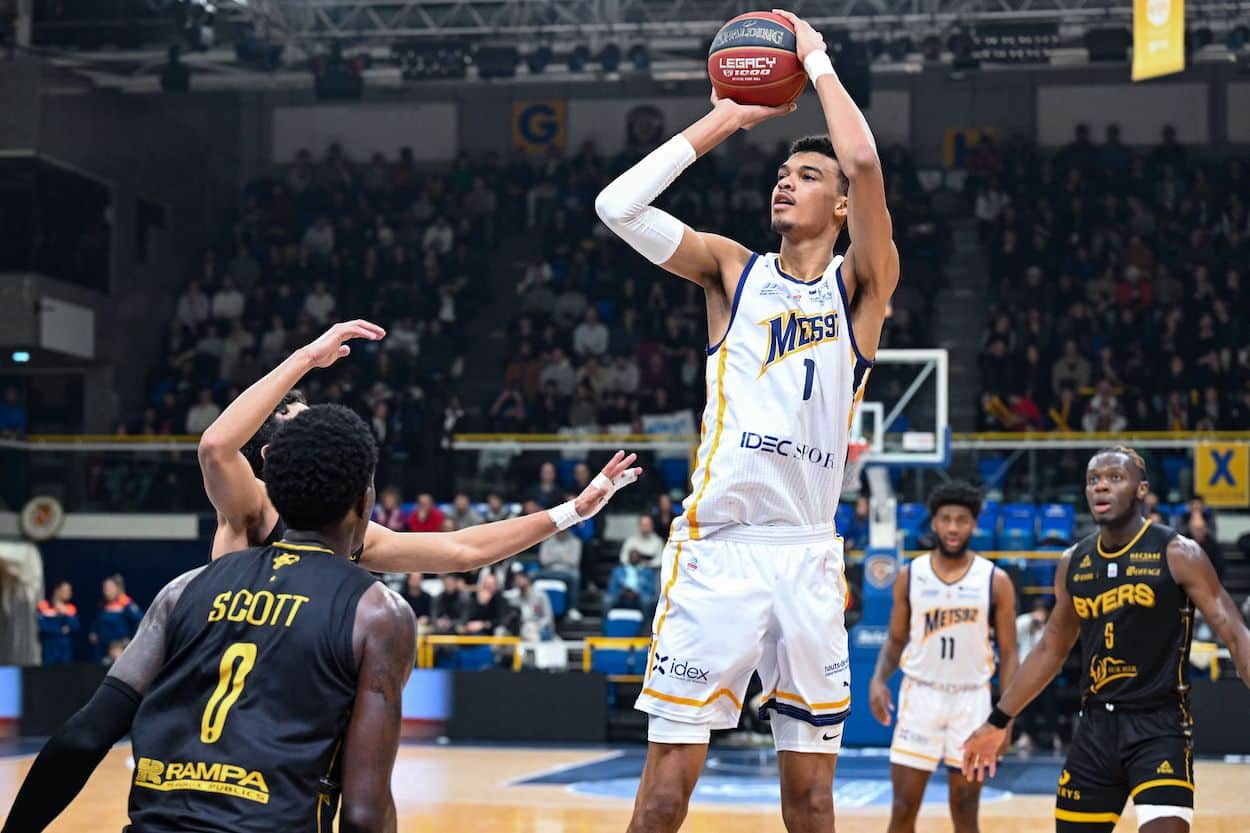 When you watch Wembanyama float down the length of the court in a few long strides, you might think he's standing over eight feet tall. He's not quite there, but he's pretty darn close.
According to NBA Draft Room, Wembanyama measures 7-foot-4 tall and weighs 230 pounds. His wingspan, which might be his most impressive feature, measures a ridiculous 8-foot-0 wide.
Those are unofficial numbers, of course, but Wembanyama might be even taller. The future star recently posed next to fellow Frenchman and 7-foot-1 center Rudy Gobert, and he towered over the center by at least four inches.
Wembanyama might not be done growing at 18 years of age, so we might see him sprout to 6-foot-6 or 6-foot-7. Either way, he's going to be an unstoppable force in the NBA for years to come.