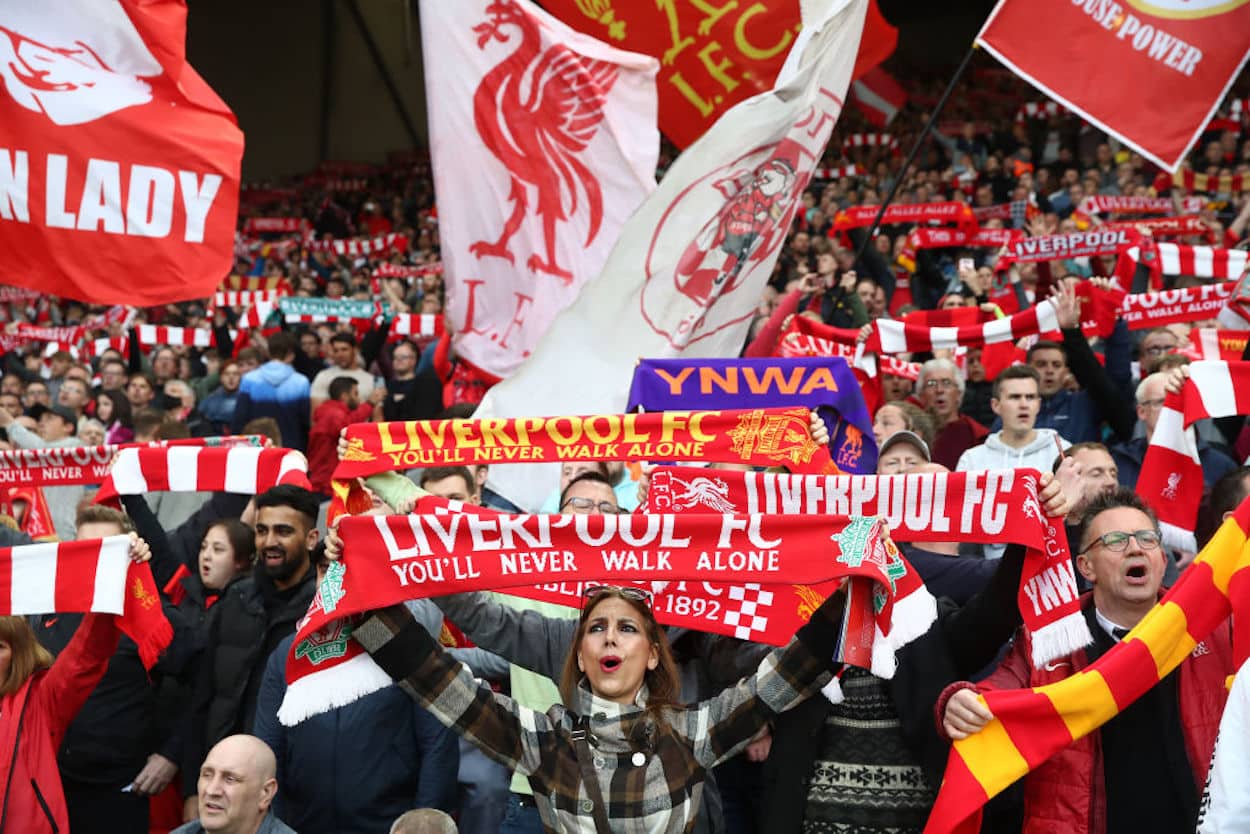 Why Do Liverpool Supporters Sing 'You'll Never Walk Alone' and 'One Kiss'?
Even if you aren't a Liverpool fan, few sights can compare to seeing their supporters in full voice before or after an important match.
Even if you've only watched a soccer match on TV, you've probably noticed the atmosphere. While you might get an occasional "defense" chant during an NFL or NBA game, things are a bit different in Europe. There, matches are filled with specific songs and chants, most of which are tied to players or team history. Beyond those, there's always room to make fun of the opposition or a rival club.
Liverpool supporters are no exception to that rule. Whether you're watching them at Anfield or playing an away game on the continent, you'll definitely hear "You'll Never Walk Alone" and "One Kiss" ringing out from the crowd. If you're wondering what those two songs have to do with an English football club, we've got you covered.
'You'll Never Walk Alone' transformed from a popular song into something more significant
When it first hit the airwaves, "You'll Never Walk Alone" was simply a song from the musical Carousel. Over time, though, it became something much more.
As explained by Goal, the song came to Anfield in the 1960, when Gerry Marsden of Gerry and the PaceMakers gave manager Bill Shankly an early copy of the band's cover of the song. The boss was reportedly "in awe of what he heard," and word began to spread that Liverpool had a new club anthem. There's TV evidence of the song being sung by supporters in the crowd as early as 1965 and, from there, the rest is history.
FourFourTwo suggests a slightly different version of events, with Liverpool's stadium DJ playing the hit songs of the day before kickoff. "You Never Walk Alone", that story goes, was number-one at the time, meaning it played right before the match began. The fans took to it, and even when the charts changed, they kept singing the song.
Regardless of the true version of events, it's easy to see how a song about collective faith and the need to keep pushing forward spoke to sports fans. In a dark moment of history, though, the lyrics became even more powerful.
In 1989, 97 supporters died in what became known as the Hillsborough Disaster, when improper crowd management led to a fatal human crush during an FA Cup semifinal. In light of that tragedy, the words spoke to something more than football.
Dua Lipa's 'One Kiss' is a new addition to Liverpool's songbook
If "You'll Never Walk Alone" is an older, more sentimental favorite, Dua Lipa's "One Kiss" is a newer addition to the Liverpool repertoire. That doesn't mean it's any less at home on the terraces, though.
As laid out in another Goal post, the Reds traveled to Ukraine to face Real Madrid in the 2018 Champions League final. Before the match kicked off, Dua Lipa performed "One Kiss." While Liverpool fell short of the ultimate prize that night, their fans still embraced the song.
Since then, it's become part of the Liverpool lexicon. Similar to "You'll Never Walk Alone," the lyrics, which focus on one special moment leading into love, translate well to sports. The club has also done its part to keep things rolling, tweeting a clip of Virgil van Dijk kissing the Champions League trophy in 2019 with the caption, "One kiss is all it takes," and celebrating the 2022 League Cup title with a rendition of the song.
These days, Liverpool are a good enough club to win significantly more matches than they lose. Regardless of the results, though, you can always count on their supporters to be in full voice.
Like Sportscasting on Facebook. Follow us on Twitter @sportscasting19 and subscribe to our YouTube channel.