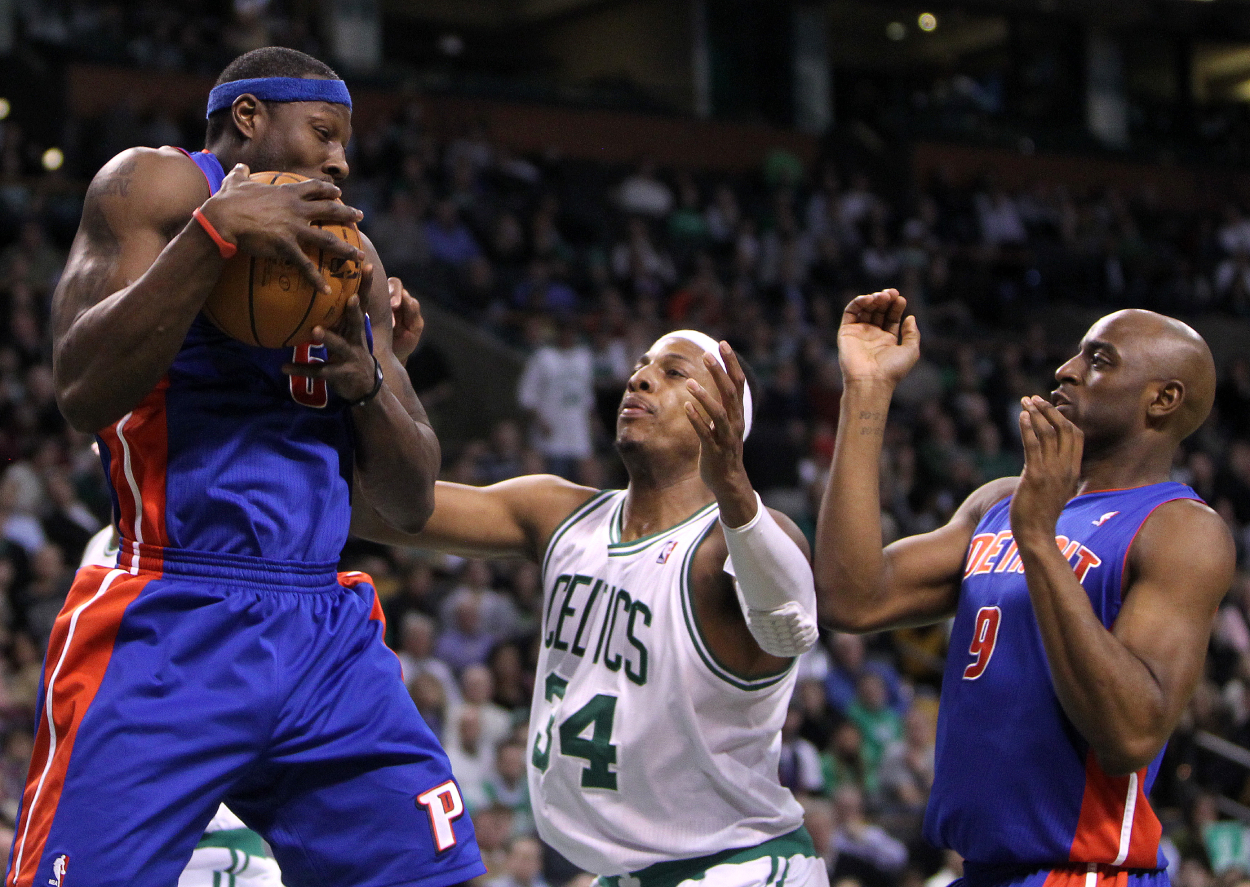 Why Is Ben Wallace in the NBA Hall of Fame?
Is Ben Wallace really a Hall of Fame player?
Ben Wallace averaged 5.7 more points than I did. I'm also a better foul shooter. So why is the former Detroit Pistons center/power forward headed to Springfield, Massachusetts this weekend to hear his name called when the NBA honors the 2021 Class of the Naismith Memorial Basketball Hall of Fame? There's a whole lot more to greatness than points and a good shooting touch.
Ben Wallace earned everything in the NBA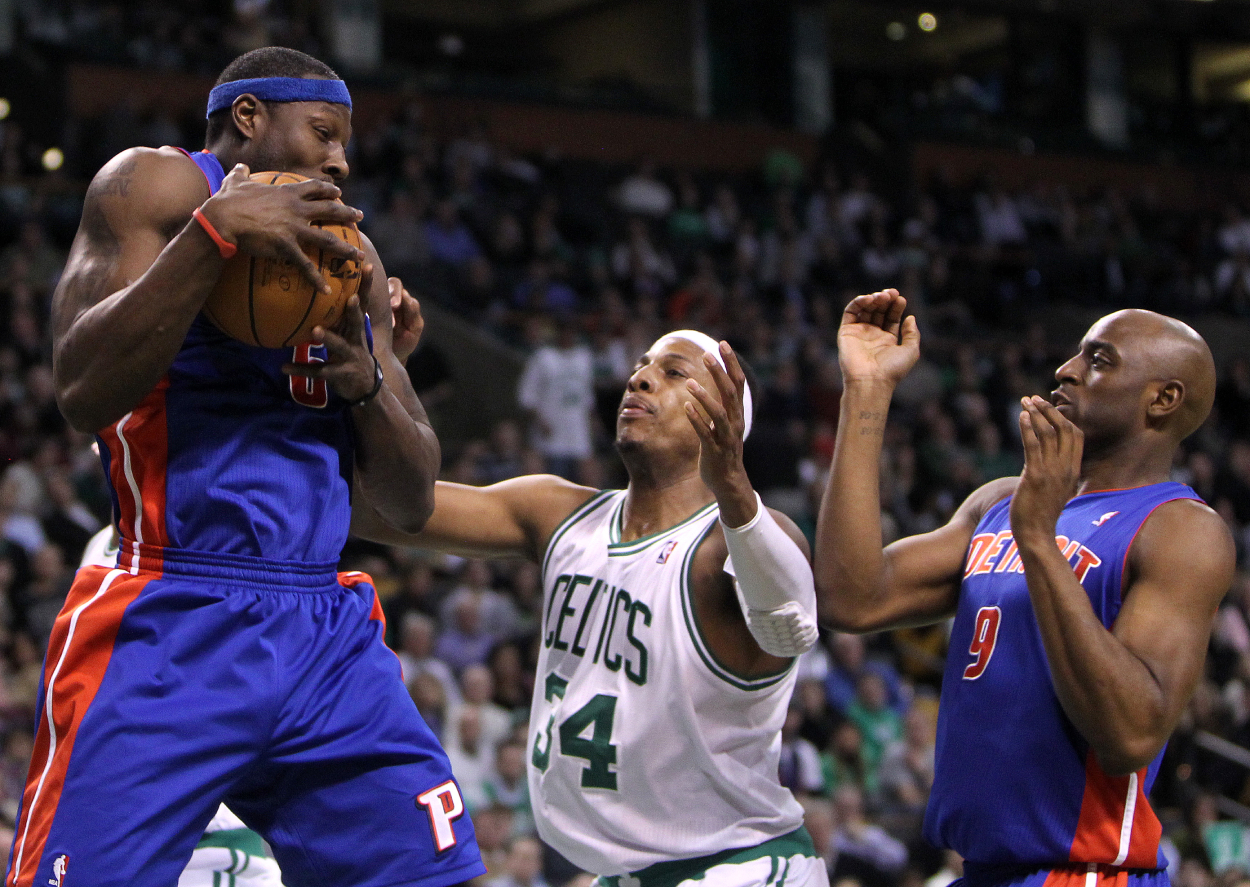 Nothing, except a chance, was given to Wallace. The Washington Bullets gave the big guy a shot after coming out of Virginia Union, a Division II school. Wallace, a 6-foot-9 force in the middle, went undrafted, but Washington gave him an opportunity. He played in 34 games, averaging 5.8 minutes per game in the 1996-97 season.
He played three seasons in Washington before being traded to the Orlando Magic, where he established him as an NBA starter. After one year in Orlando, the Magic traded him to the Pistons, where he made a name for himself. In his first year in Detroit, he started all 80 games he played and averaged 13.2 rebounds and 6.4 points per game.
He made the first of his four straight NBA All-Star Game appearances during the 2002-03 season when he led the league in rebounds with 15.4 per game. That came on the heels of a season when he led the league in both rebounding (13.0) and blocked shots (3.5). He was not an all-star that season.
Wallace spent a total of nine seasons and two separate stints with the Pistons. He averaged 11.1 rebounds and 6.6 points per game in Detroit. He also spent time with the Chicago Bulls and the Cleveland Cavaliers. For his career, Wallace averaged 5.7 points and 9.6 rebounds. He shot 41% from the free-throw line.
Ben Wallace did all the dirty work for the Detroit Pistons during their championship run
Wallace was big, but not huge by NBA standards. At 6-foot-9, 240 pounds, he was often matched up with the big boys of the league, including Shaquille O'Neal, who was 7-foot-1, 325 pounds. Former Pistons coach Larry Brown always wanted to double guys like O'Neal, but Wallace wanted the job for himself.
"The thing I remember most about Ben was when we played in the (2004) Finals," said former teammate Richard Hamilton in 2016 to the Detroit Free Press. "L.B. wanted to double team Shaq, and Ben said, 'No, I'll guard him head-up.'
"Most guys would say, 'Hey, give me some help down here so I won't get in foul trouble.' Ben was like, 'No, L.B., I got him. Don't come help. I'll take him head-up.' You don't hear that from anybody."
The Pistons defeated O'Neal and the Lakers in the 2004 NBA Finals. While Chauncey Billups, Richard Hamilton, and Rasheed Wallace got the glory, Wallace got them the championship.
"Ben brought a dimension to the game that a lot of guys don't want to do," Hamilton said. "He was a guy that did all the hard, gritty — defend, block shots, rebound. … A lot of guys get caught up in the scoring, but Ben knew what he did great. He did it the best in the league."
Should Wallace be in the NBA Hall of Fame?
If the NBA Hall were based strictly on numbers, Wallace wouldn't even be considered for enshrinement. NBA greatness, however, is more than strong numbers. Those 2004 Pistons didn't have a true top-10 player on their team. These days, teams need at least two to win a title.
While Wallace isn't the ideal Hall of Famer, his former agent Arn Tellem summed up his client perfectly.
"Ben had a profound effect on this organization," Tellem said to the Free Press. "He is the ultimate warrior. They talk about the Bad Boys, but I think that team with Ben and Chauncey were the heart and soul. They went to six consecutive Eastern Conference finals. There was really no top-five franchise player on that team. They just competed so hard and played so well as a team.
"Ben embodied that spirit of sacrifice and doing whatever it took to win. When I talk to other players, everyone has such great respect for him, because it wasn't about stats. It was about winning and playing tough and competitive. If you look over the history of the NBA over the last 35 years, that team to me is the most unique championship team of any NBA team."
Tellem's description is spot on, but it also makes a stronger case for Wallace not to be in the Hall of Fame. The Pistons didn't have any stars, and stars belong in the Hall of Fame. It's an elite group. If Wallace is in, shouldn't Billups be, too? They were two outstanding players, but not quite Hall of Fame material.
Wallace was one heck of a player, but not an elite one. His hard work paid off in the form of a championship.