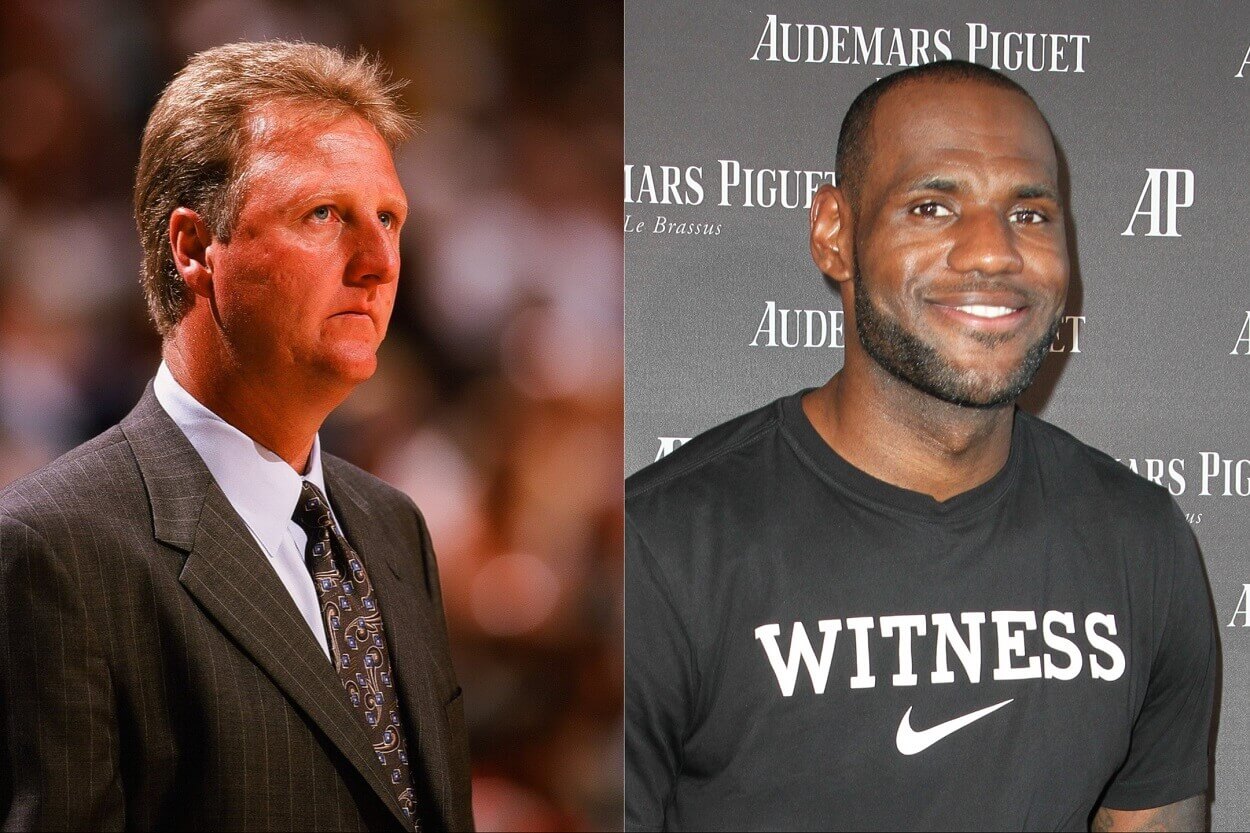 Why Larry Bird Refused to Trade For Any of LeBron James' Teammates
When still an executive with the Pacers, Larry Bird had a strong reason in refusing to trade for any of LeBron James' Cavaliers teammates.
Larry Bird has never hidden the fact that he loves the way LeBron James plays basketball. And what's not to love?
For two decades now, LeBron has proven time and time again that he belongs in the NBA GOAT conversation (however ridiculous that discussion may be), as he's easily one of the best all-around players the world has ever seen.
James can obviously put the ball in the hole, as evidenced by the fact that he's scored more points than anyone in NBA history, both in the regular season and the playoffs. But he also ranks fourth all-time in assists, trailing only John Stockton, Jason Kidd, and Chris Paul. LeBron is also ranked in the top 10 in steals, the top 35 in total rebounds, and the top 100 in blocks.
You don't have to like the guy. But you have no choice but to respect his game. Well, maybe not some of those ridiculous flops we see on occasion, but you get the point.
And despite what his haters may argue, LeBron makes everyone around him better. And this is precisely why Larry Bird refused to trade for any of James' teammates when he was still an executive with the Indiana Pacers.
Larry Bird refused to trade for any of LeBron James' Cavaliers teammates while still an executive with the Pacers
Five years after his legendary playing career with the Boston Celtics ended, Larry Bird became the head coach of the Indiana Pacers, a role he held for three seasons. And three years after that, he took a position in the front office as the Pacers' president of basketball operations, a role which he held on several occasions over nearly two decades.
But we'll focus on Bird's first run in the position, which began in 2003, the same year LeBron James was taken with the No. 1 pick in the NBA Draft by the Cleveland Cavaliers.
At the time, the Cavs hadn't reached the NBA Playoffs since losing to Bird's Pacers in the opening round of the 1998 postseason, a drought that finally ended in 2006. Just one year later, LeBron led Cleveland to the franchise's first-ever appearance in the NBA Finals, where they were swept by Tim Duncan's San Antonio Spurs.
But while Duncan had help from the likes of future Hall of Famer Manu Ginobili and Finals MVP Tony Parker, who will likely get in when he becomes eligible, James' most threatening running mates that series were Drew Gooden and Daniel Gibson.
And over the next few seasons, LeBron was aided by the likes of Delonte West, Mo Williams, Antawn Jamison, and J.J. Hickson. Okay, there was that one year with Shaquille O'Neal, but let's not pretend Shaq was in his prime at that point in his career. Zydrunas Ilgauskas was also on the back nine at that point.
Now, the names mentioned above were solid-enough players. But James made them look better than they were. At least that's what Larry Bird thought when then-Pacers GM David Morway was looking to trade for some of them.
In Ian Thomsen's book, "The Soul of Basketball: The Epic Showdown Between LeBron, Kobe, Doc, and Dirk That Saved the NBA," Bird, who had final say over all Pacers' transactions, recounted a conversation he had with Moray about acquiring a few Cavaliers.
Morway was trying to get me to trade for them [J.J. Hickson and a selection of other teammates of James], but I ain't takin' any of them f***ing guys up there. I said 'you don't understand son. Them guys playing with LeBron James look a whole lot better than what they really are.'

Larry Bird on Refusing to trade for LeBron James' Teammates
The assessment, of course, was spot-on, at least then. When James took his talents to South Beach following the 2009-10 campaign, the Cavs won 97 games combined over the next four years. LeBron obviously continued to thrive alongside his high-profile teammates in Miami, winning a pair of titles with the Heat.
And he certainly had more help in Cleveland when he returned to the Cavs and helped them to four consecutive NBA Finals appearances and a championship. The same goes for most of his run with the Lakers, with whom he won his fourth title.
And whether high-profile or not, LeBron James has made every single player he's teamed with better. That's what Larry Bird knew then and what everyone else should realize now and forever.