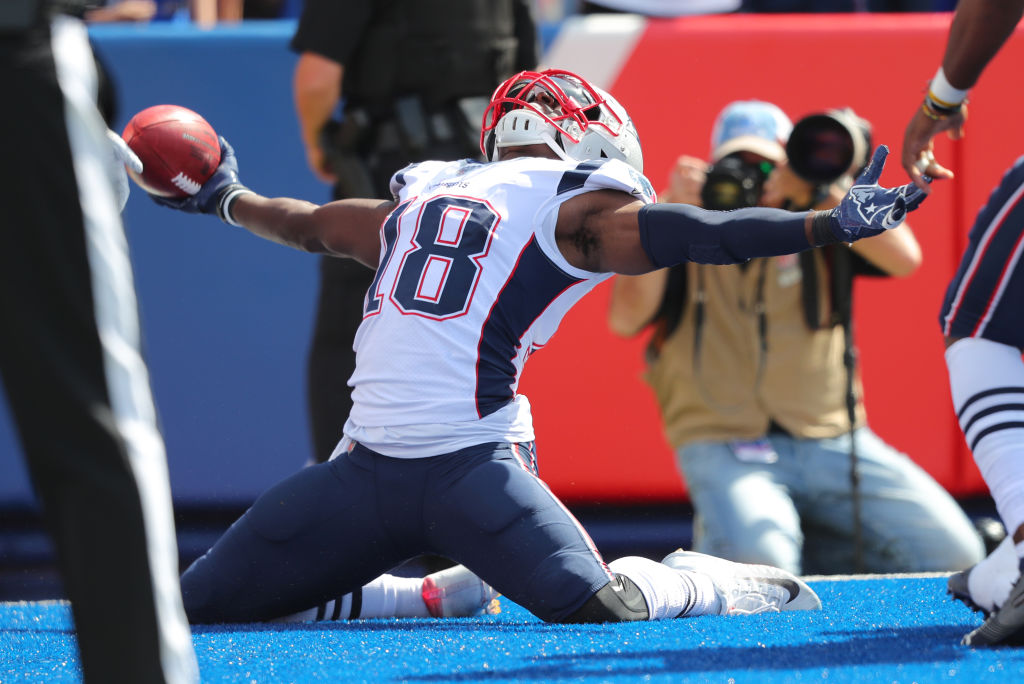 Why Matthew Slater is the Best Special Teams Player in NFL History
Matthew Slater has made eight Pro Bowls in his NFL career. Here's why the New England Patriots special teamer should go down as an all-time great.
There isn't another NFL head coach who appreciates special teams more than Bill Belichick. The architect of the Patriots dynasty has always devoted precious resources to the kicking game. He even drafted a rugby player and turned him into one of the NFL's highest-paid special teams players. But the crown jewel of Belichick's special teams obsession is Matthew Slater.
A little-known fifth-round pick out of UCLA, he has etched his name into NFL history and won three rings in the process. And after signing a two-year contract extension on Saturday, he should finish his career in New England. His next NFL stop should be in the Hall of Fame.
Matthew Slater has Hall of Fame NFL bloodlines
Sometimes football is just in your blood. And in the case of Matthew Slater, it couldn't be more true. The son of Hall of Fame left tackle Jackie Slater, the younger version didn't get his dad's size or strength. He was blessed with great speed—a trait that has served him well on special teams. Though he has never been a full-time player on offense or defense, that doesn't take away from Slater's importance as a role model, mentor and game-day contributor.
New England's veteran leader credits much of his work ethic and success to his father. The elder Slater started 211 games in his NFL career and captured three first-team All-Pro selections. Ironically, he spent his entire career with the Rams—the same organization that his son defeated two years ago in Super Bowl LIII.
Slater has carved out unique role with Patriots
After arriving in New England in 2008, nobody knew exactly what Slater's role would be. The former UCLA Bruin played sparingly on defense in college but really stood out in the kicking game. Ultimately, his NFL career would be built on his ability to cover kicks, make tackles and provide leadership in an ever-evolving locker room.
That last role cannot be overstated. Not many players last beyond their first contract in New England, but Slater has managed to stick around for more than a decade. In fact, his prominence within the organization has only grown along with respect from the rest of the league. Slater has long established himself as the NFL's preeminent gunner, earning eight Pro Bowl selections—one more than his famous father.
More importantly, he has served as a terrific locker room leader and tone setter for an organization that has gone through more than its share of trying times. From the Aaron Hernandez situation to Deflategate to the Antonio Brown saga, Slater has been there every step of the way and has often provided wisdom and guidance in those moments. In fact, he has already been pegged as a natural fit to become the team's character coach after retirement.
Assessing Matthew Slater's place in NFL history
After being named to the Pro Bowl in 2019, Slater officially passed Steve Tasker for the most special teams Pro Bowl honors in league history. That alone puts him right in the upper echelon of all-time greats.
Moreoever, Slater's knack for downing kicks deep in opposing territory and making open-field tackles is legendary in New England. The Patriots have routinely graded out as one of the NFL's top special teams units throughout his career, which is a testament to his longevity and impact.
While kickers may garner more attention for the points they put on the board, Slater's value from flipping field position and shutting down kick and punt returners makes him a more impactful player throughout the course of a game. Combined with his unique mental aptitude and ability to connect players from different generations and backgrounds, he should be a lock to earn a spot in the Patriots Hall of Fame.
And when he eventually does decide to hang 'em up, Slater should go down as the best special teams player in NFL history.