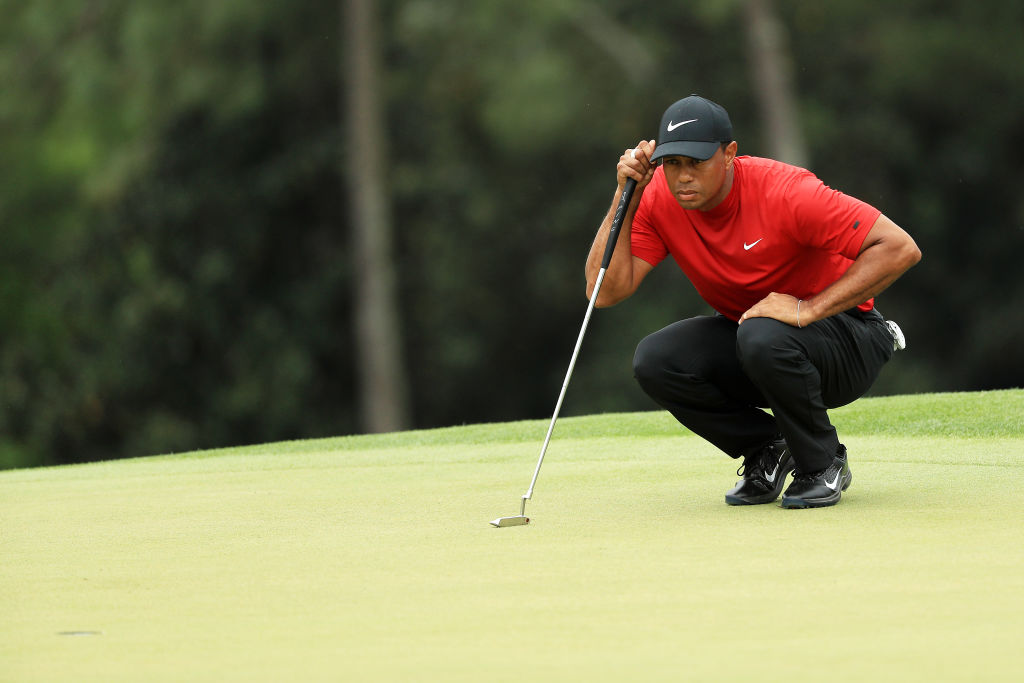 Why Tiger Woods Should be Ecstatic About The Masters Getting Postponed
The 2020 Masters Tournament is officially postponed, and that's exactly what Tiger Woods needs to hear right now.
The 2020 Masters Tournament was postponed last week as fear of the spreading coronavirus rises in the U.S. Augusta National Golf Club announced Friday that golf's greatest championship will not begin on April 9 as originally planned. That's bad news for the golf world as a whole, but it might be good news for Tiger Woods.
Tiger Woods has been dealing with back stiffness for a month
Woods has been sidelined with a back injury since the Genesis Invitational in mid-February. He got off to a hot start but faltered down the stretch, shooting 76 and 77 on the weekend and finishing 68th. Woods has since pulled out of the Arnold Palmer Invitational and The Players Championship, citing back stiffness as the culprit.
This isn't the first time Woods has dealt with back troubles.
In 2010, Woods had to withdraw from The Players because of a bulging disk, but that was more of a freak incident than a chronic issue. The real back problems kicked up in 2013 when Woods had a severe back spasm at The Barclays that made him fall to his knees in pain.
Woods missed a myriad of tournaments from 2013-2017 before having his fourth back surgery in April 2017. The spinal fusion surgery worked wonders for Woods, but his recent back stiffness is making fans wonder how serious this injury might be.
Woods might not have been ready to play by in The Masters by April 9
Tiger Woods has now missed four tournaments due to his current back injury. The original diagnosis seemed minor, but the stiffness in his back has lasted a full month now.
It could easily just be Woods being extremely cautious and not forcing his way back too early. After all, he has had disastrous back flare-ups during tournaments in the past. It's possible Woods was planning on skipping every tournament until The Masters anyway.
Or, maybe just as likely, this is more serious than Woods originally thought. A full month of back stiffness can't be an encouraging sign for someone who has had chronic back issues in the past and underwent four back surgeries.
Woods has remained optimistic in his few comments since he last played competitively, so Augusta National postponing The Masters might be just what Woods needs.
Tiger's brilliant history at The Masters
If we know one thing, it's that Tiger Woods will surely do everything in his power to defend his title at Augusta National this year. It was the sight of Woods' 15th and possibly most emotional major victory of his storied career.
Woods has won the green jacket five times. He won his first major on those hallowed grounds in 1997 while shooting the lowest four-round score (-18) in Masters history. Woods was 21 years old.
Woods has made more memories at Augusta National then maybe anyone who has ever teed it up at The Masters. A year without Tiger Woods in the field, especially after last year's triumph, would feel empty.
Woods needs to be at The Masters in 2020. This postponement might have just saved his chances of returning to defend his green jacket.