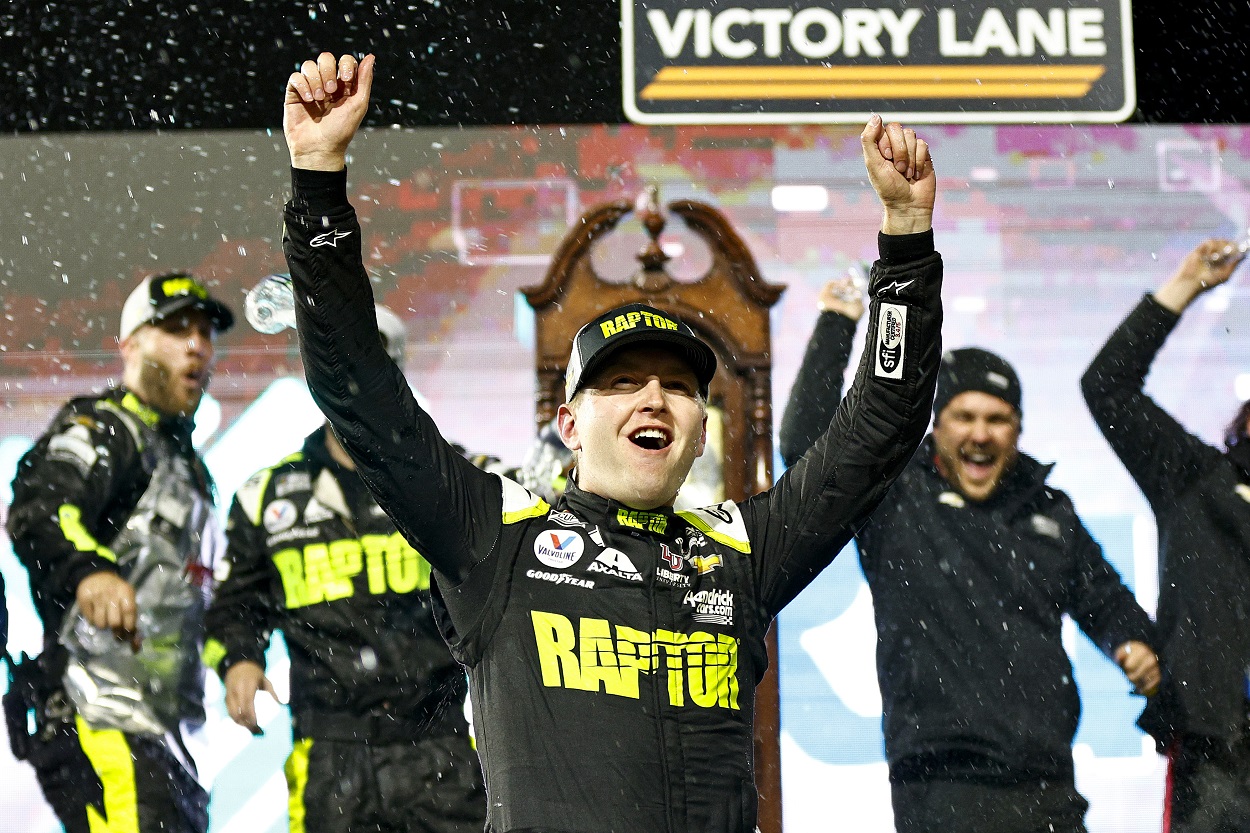 Why William Byron Could Be the Best Cup Series Driver Since Chase Elliott Debuted
William Byron is the first to two Cup Series wins in 2022 and could be the best young driver in NASCAR.
William Byron jumped up the NASCAR Playoffs grid Saturday night at Martinsville Speedway when he became the first Cup Series driver to record multiple wins in 2022. This was his fourth career victory in his fifth full-time season, but Byron might be poised to become the best of the young drivers on the circuit.
At age 24, Byron is older than only five of the 32 full-time drivers in the series, but he already has nearly as much experience as those other five drivers combined. Byron has made 152 Cup Series starts, while Cole Custer, Austin Cindric, Justin Haley, Todd Gilliland, and Harrison Burton have 159 among the five of them.
He is also one of 10 current full-time drivers to join the Cup Series field since Chase Elliott debuted in 2015. Byron is the only driver of that group with more than one win, and he accounts for four of its 11 combined victories.
William Byron began his driving career relatively late but caught on quickly
Nearly all young drivers who rise through the NASCAR ranks in modern times began their racing careers when they were still children. Byron, meanwhile, did his racing online through iRacing as a child and was 15 before he entered a real-world racing series. He hopped into a legend car in 2013 and won 33 of 69 races that season.
Merely two years later, he ran a Camping World Truck Series race for Kyle Busch Motorsports. He qualified fifth for the race at Phoenix Raceway before a wreck took him out of the event early.
In 2016, Byron imprinted his name in NASCAR team owners' minds when he won a series-high seven truck races for KBM. Byron followed that with four wins and the Xfinity Series championship during his lone season in the series for JR Motorsports.
Next came the Cup Series with one of the most successful teams in the sport's history.
Byron struggled to live up to the standard Jeff Gordon set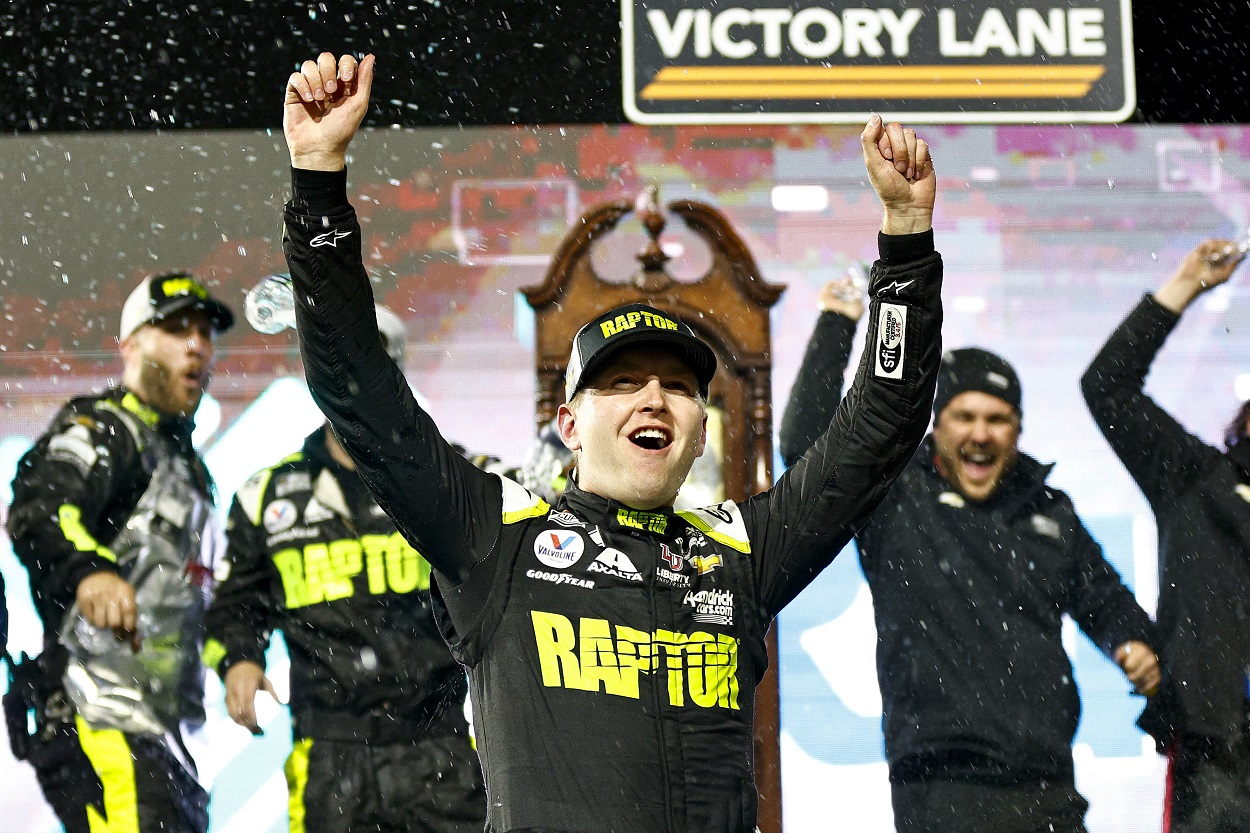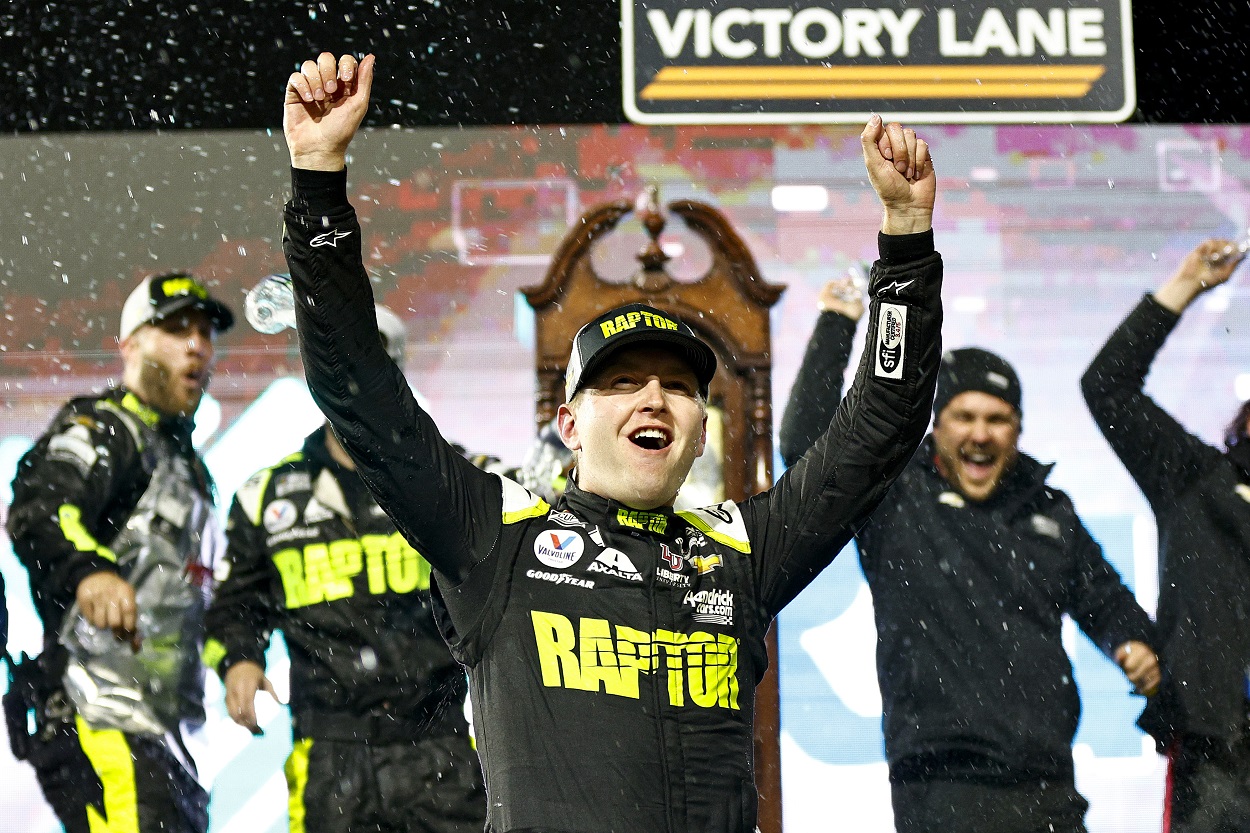 NASCAR Hall of Famer Jeff Gordon drove the No. 24 car to 93 wins and four championships in one of the greatest careers the sport had ever seen. Elliott initially took over the No. 24 ride when Gordon retired after the 2015 season, but Elliott switched to No. 9 when it became available in 2018, and the No. 24 livery fell to Byron for his rookie campaign.
Elliott kept many of the former No. 24 team employees, including crew chief Alan Gustafson, but Byron now had the car that looked like Gordon's and, naturally, the accompanying outsized expectations.
The first two seasons did not go particularly well. Byron failed to post a single top-five finish and ranked 23rd in the points standings during his rookie year. His sophomore season resulted in five pole awards but still no wins until the final regular-season race of 2020 when he went to Victory Lane at Daytona International Speedway.
Another win and two more poles accompanied the 2021 season as Byron matured into a more confident driver who now regularly runs at the front of the field and has started to close out victories when he is in contention.
Powerhouse ride with Hendrick Motorsports helps
Plus, Byron gets to drive for Hendrick Motorsports, an organization that tops the all-time team wins list with 284, passing legendary Petty Enterprises last year.
The combination of a talented driver and the most powerful organization in NASCAR has produced some of the most incredible seasons in NASCAR history. Teammate Kyle Larson won 10 races and the championship a year ago, and Elliott carried five wins to the title in 2020. This is also the organization that housed Gordon and Jimmie Johnson for a combined 176 wins and 11 championships in the span of 24 years. 
Byron has talented teammates in Larson and Elliott, but he entered the Cup Series five years after Larson in 2013 and three years after Elliott made his debut in 2015. 
Those two drivers have already shown their potential; Byron might be about to showcase his.
"I just think it kind of breaks the ice a little bit," he said at Martinsville of reaching multiple wins in a season for the first time.
Larson is locked in at HMS through 2023 along with teammate Alex Bowman, while Elliott signed a five-year extension in February. Byron does not yet have a contract extension beyond 2022, but both he and team owner Rick Hendrick have said they would like that relationship to continue.
Come next February, Byron might represent the standard the next group of drivers who enter the Cup Series strive to emulate.
All stats courtesy of Racing Reference