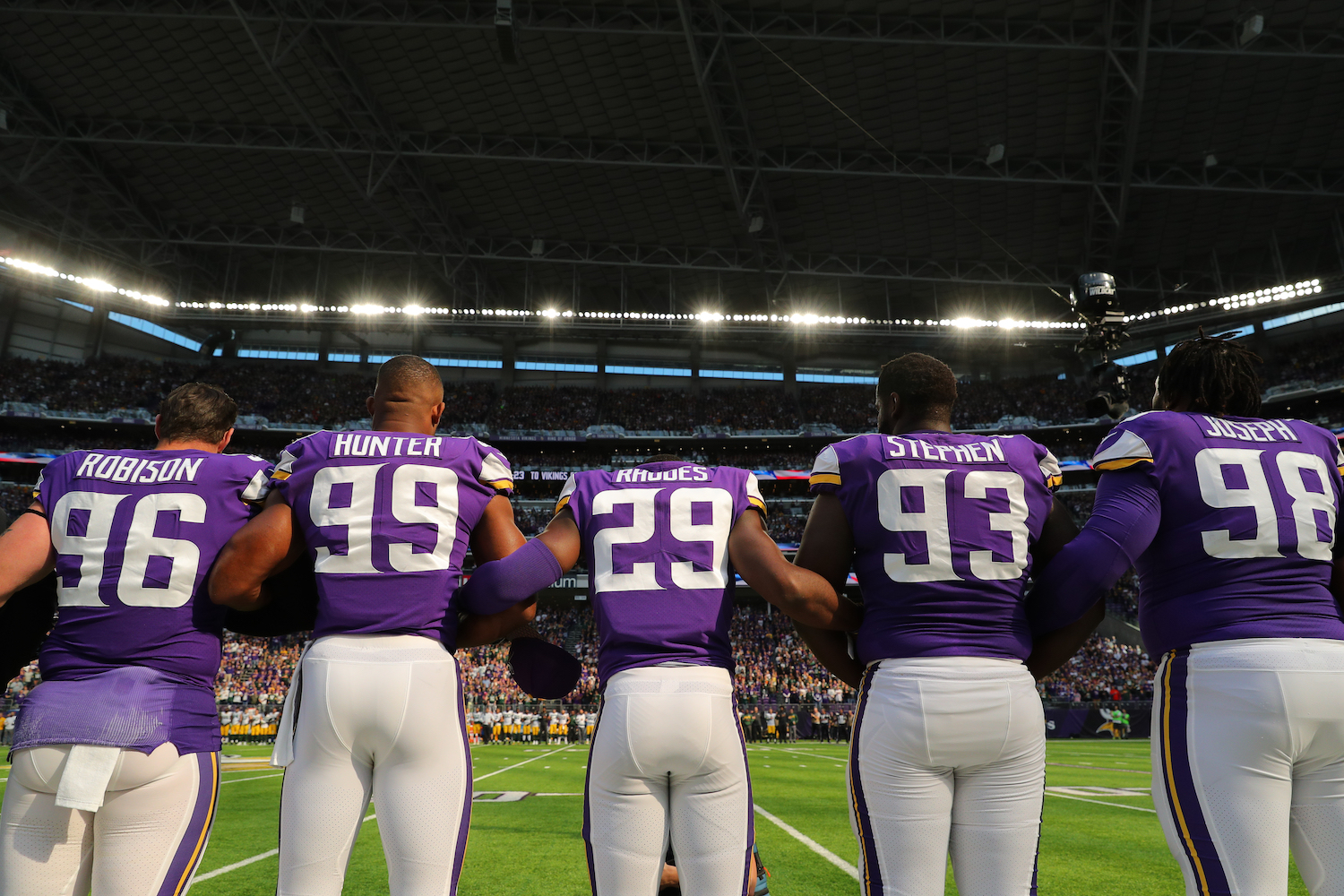 Will NFL Players Boycott Games in 2020?
The NFL season is just weeks away. After last week's boycotts in multiple leagues, there's growing opinion the NFL will have games boycotted as well.
In the last week, the NBA stepped to the fore and protested the police shooting of Jacob Blake by boycotting games. That was the first domino to tumble as the WNBA, MLB, MLS, and NHL made similar decisions and postponed action league-wide. With the 2020 NFL season just a matter of weeks away, there's growing opinion something similar might occur in the upcoming season. Here are just a few thoughts from some in the league who think it might happen.
Saquon Barkley thinks NFL games boycott is possibility
Saquon Barkley is heading into his third NFL season with the New York Giants. While he has just a few years under his belt, the Pro Bowl running back has taken a leadership role with the team, especially with the retirement of quarterback Eli Manning this past offseason.
"I can't really just go and speak on behalf of the whole league, but, for us, that is something that we're going to talk about within our [social justice] groups, within our team," Barkley said in a post-practice Zoom call with reporters.
Whether or not Barkley knows for sure if he, any of his teammates, or the team collectively has plans to boycott any games, he's not ready to publicly admit it, at least not yet. 
Pete Carroll believes 2020 is the year for boycotting NFL games
Pete Carroll, who has been a coach for decades and coach of the Seattle Seahawks since 2010, agreed with Barkley that discussions are happening behind the scenes. Carroll said if boycotts in the NFL were to happen, this would be the year for it.
"Anything's possible. I mentioned to the players this is the year — the protest season. It's the season of protesting. And we'll handle ourselves as we do. This is a protest that doesn't have an end to it until all the problems go away. And we solve the issues and stuff. 
"So we're gonna do our part and continue to work to stay actively involved, and continue to stay in touch with the situations that are going on by staying on the topics and with it, just in hopes that we can be there to help and support where we can and have influence where we can. The whole Black Lives Matter thing couldn't be more obvious how true this whole movement is and how much focus and change needs to come."
Eagles owner Jeffrey Lurie supports his players in whatever they decide
Similar to what happened with the Milwaukee Bucks, if any NFL teams decide to boycott games, the players will take the lead in making the call. Philadelphia Eagles owner Jeffrey Lurie, like Carroll, said he would be supportive of anything his players decided and he would like to take it a step further and come up with actionable items in addition to making a statement. 
"I'm supportive of everything that's involved in terms of trying to create attention and social change. If we have to sacrifice, we have to sacrifice. My most important opportunity to discuss that is what can we do that's really effective that's not simply a statement but something that has action involved with it.
"I respect the NBA players. Just coming together and taking a stand. I respect that fully. It's nice to see that leagues and teams now in partnership can come together and show the country that these are really important issues. Not just individuals, but these are team issues, company, corporate issues. We should be out front leading the way."
Lurie's words are encouraging because since Colin Kaepernick's protest started in 2016, there seemed to be a noticeable disconnect between owners and players. However, like Lurie said, the boycott would just be a statement. Actions speak louder than words. What actions occur after any boycotts, if they happen, will go a long way in creating real and effective change that will make a difference on a much larger scale for years to come.