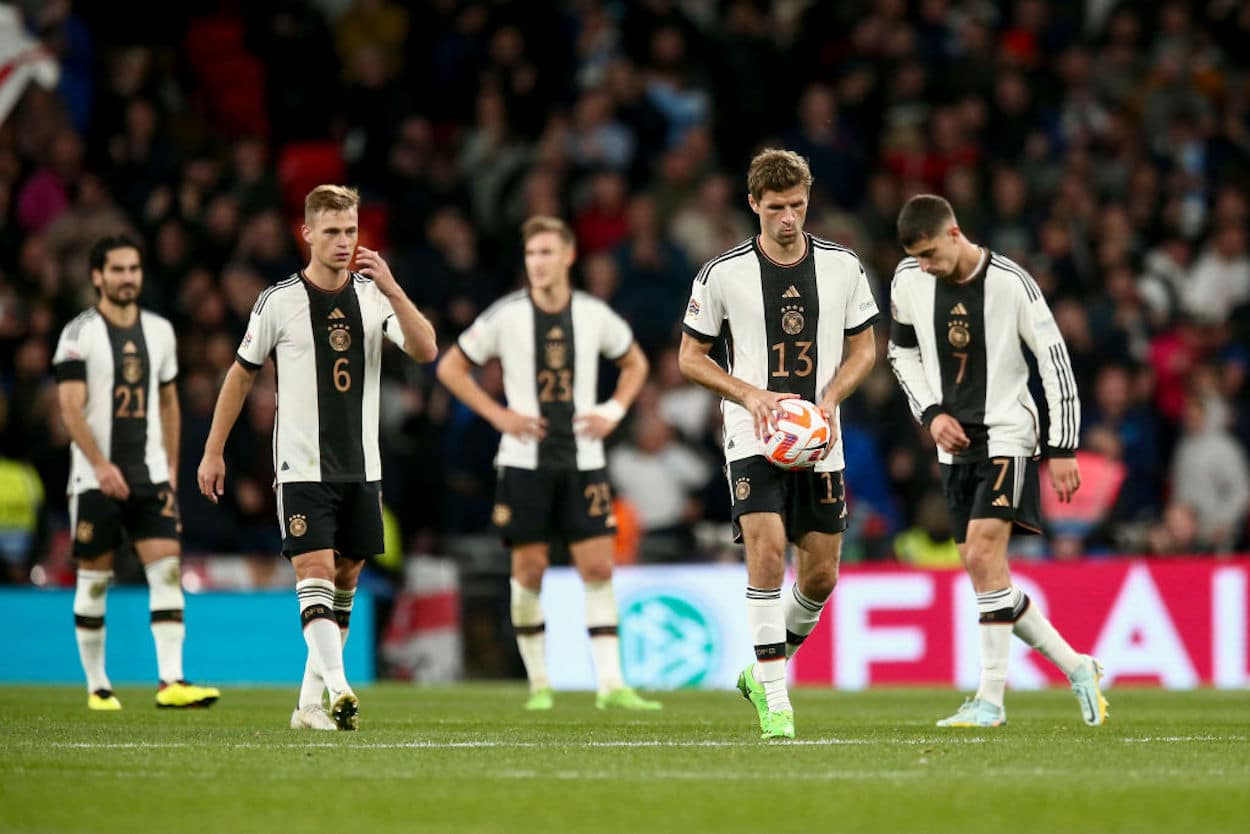 World Cup 2022: Can Germany's Depth Make Up for the Lack of a True Focal Point?
Germany has a deep roster, but they still haven't managed to replace Miroslav Klose at the top of the formation. Will that prove to be a problem?
While they've historically been a major soccer power, Germany has struggled as of late. The squad crumbled in the 2018 World Cup, limped through the UEFA Nations League, and fell flat in Euro 2020. That prompted some major changes, with manager Joachim Löw giving way to Hansi Flick.
Now, the Germans will head to Qatar with some rebuilt confidence and a solid squad. Can they get back on track and play like something greater than the sum of their parts? Or is this World Cup destined to end in another disaster?
Let's break it down.
Germany's 2022 World Cup squad
As you would expect, given their status in the footballing world, all of Germany's players ply their trade in Europe's top leagues. Most of them are based in the Bundesliga, but there's a contingent of Premier League players, too. The squad is as follows:
Goalkeepers: Manuel Neuer (Bayern Munich), Marc-Andre ter Stegen (Barcelona), Kevin Trapp (Eintracht Frankfurt)
Defenders: Matthias Ginter (Freiburg), Antonio Rudiger (Real Madrid), Niklas Sule (Borussia Dortmund), Nico Schlotterbeck (Borussia Dortmund), Thilo Kehrer (West Ham United), David Raum (RB Leipzig), Lukas Klostermann (RB Leipzig), Armel Bella-Kotchap (Southampton), Christian Guenter (Freiburg)
Midfielders: Ilkay Gundogan (Manchester City), Jonas Hofmann (Borussia Monchengladbach), Leon Goretzka (Bayern Munich), Serge Gnabry (Bayern Munich), Leroy Sane (Bayern Munich), Jamal Musiala (Bayern Munich), Joshua Kimmich (Bayern Munich), Thomas Muller (Bayern Munich), Julian Brandt (Borussia Dortmund), Mario Gotze (Eintracht Frankfurt)
Strikers: Kai Havertz (Chelsea), Youssoufa Moukoko (Borussia Dortmund), Niclas Fullkrug (Werder Bremen), Karim Adeyemi (Borussia Dortmund)
Now, it's time to turn that list into a starting 11.
Manuel Neuer is still the main man in goal for Germany
Goalkeepers tend to mature a bit later than their teammates and can sometimes play into their 40s. While Manuel Neuer isn't at that level yet — he's only 36 — he's still holding down the fort for his nation.
At this point, there isn't much that can be said about the veteran. He's a strong shot-stopper and played a major role in redefining modern goalkeeping to include sweeping up behind a high line and being comfortable with the ball at one's feet.
Should anything happen to the number one, though, Germany does have some incredible depth. Marc-Andre ter Stegen and Kevin Trapp have both shone on the European stage before and could start for many teams in the tournament.
There's some room for variation in the defense, but all the options are solid
While there's no doubt about Germany's goalkeeper situation, things are a little more fluid in the back line. Hansi Flick will have to make some choices, but he shouldn't have to worry too much about setting his team up for failure.
Antonio Rudiger and Niklas Sule should sit at the center of the defense and form a classic aggressive/cerebral dynamic. Nico Schlotterbeck did well to make the squad and deserves your attention, but he's probably not going to steal a starting spot just yet.
Thilo Kehrer probably gets the nod at right-back, although Joshua Kimmich can slot in there. That's not ideal, as it pulls the Bayern man out of central midfield, but it's certainly an option. On the opposite flank, David Raum seems to have played himself into the starting 11 at left-back. He'll push higher up the pitch, while Kehrer will stay back in a more defensive role, probably forming something of a back three in possession.
One of Germany's major questions centers on midfield shape
On the subject of possible tweaks, we'll need to see how Flick configures his midfield. The sort of shape he chooses will, in turn, affect which personnel hit the pitch.
If the manager prefers a 4-2-3-1, Kimmich and Leon Goretzka would probably make up that holding two. Thomas Muller would be the more advanced midfielder, taking up what's thought of as the number 10 position and using that starting point to exploit space around the opposition box. He'd presumably be flanked by Serge Gnabry and Leroy Sane, who would provide the width.
That's not the only way to take the pitch, though. If Germany start in a 4-3-3, Ilkay Gundogan could join Kimmich and Goretzka in the center of the park. That would either push Muller to one of the flanks or remove him from the starting 11 completely.
One name additional name to note is Jamal Musiala. Not only is the midfielder versatile, but he made his Bayern Munich debut under Flick. I'd expect the manager to find ways to use him, whether that's in the starting 11 or off the bench.
It's also worth highlighting Mario Gotze's return to the national team. I wouldn't expect much of him at this point, but he does know how to make something happen in a big moment.
There's talent in the forward line, but Germany lacks a star striker
During his time with the German national team, Miroslav Klose proved to be a lethal finisher on the world's stage. These days, though, there's no such star at the top of the pitch. Timo Werner has his finishing issues, but those will be irrelevant in Qatar, as he didn't make the trip following an ankle injury.
At this point, I'd probably give Werner's former Chelsea teammate, Kai Havertz, the nod at striker. He might not be in the best of form at the moment, but I'm interested to see how he plays off the players around him. Setting up alongside Sane, Gnabry, and Muller is a bit different than the current versions of Pierre-Emerick Aubameyang and Raheem Sterling.
With that being said, though, Flick does have some additional options. Gnabry could play through the middle, and you could even push Muller into the central role as something of a false nine (that's probably not the best idea at this point, but it is an option). Youssoufa Moukoko and Niclas Fullkrug have also been lighting up the Bundesliga, although it's fair to wonder how their current form will translate to the biggest stage.
The question, though, is what happens if none of those options click. Germany, for better or worse, doesn't have a star striker. Does that leave Flick to make what he feels is the best choice and stick with it? Or will he make some relatively rapid changes in hopes of finding and riding the hot hand?
What will Germany's World Cup starting 11 look like?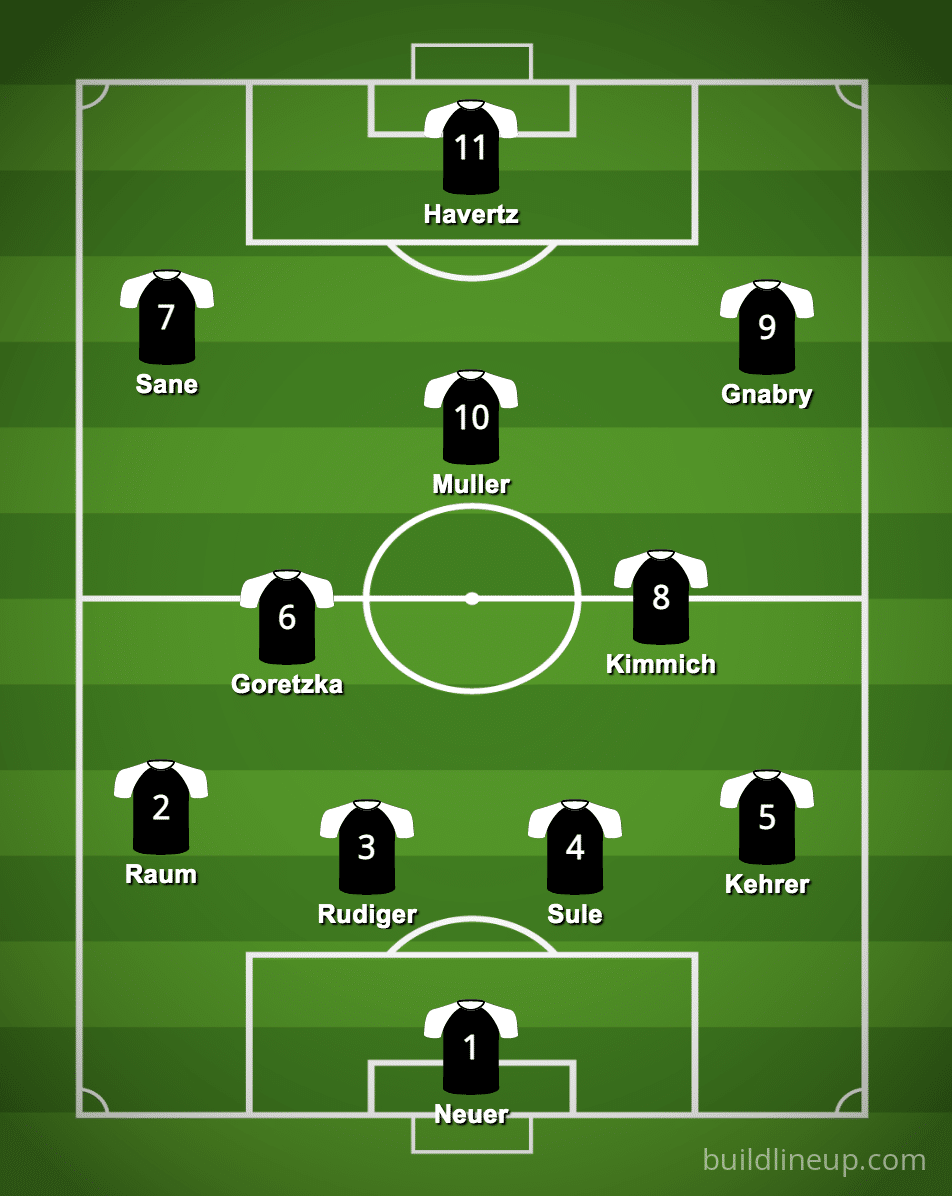 At this point, I'd assume that Germany's World Cup 11 will look something like the graphic above. With that being said, though, there are a few notes to highlight.
While I think the defense is probably set at this point, I would keep an eye on Nico Schlotterbeck. He earned a spot in the squad, and, should results go either very well or extremely poorly, I'm interested to see if he gets some playing time.
The midfield shape and how it affects Flick's personnel is the biggest question mark. I defaulted to a holding two with Muller in a more advanced role, as it lets Germany get their best players onto the pitch, but there's certainly an argument for a flatter 3. I'd honestly tie this one to game state and similar contexts, with the formation adjusting throughout the tournament.
Similarly, I'm interested in watching Germany's attack, both from an on-pitch and a more abstract sense. Without a focal number 9, will the wingers be isolated and without anyone to play off of? Who gets the start, and, in turn, will he be able to solidify his claim to that role? How patient will Flick be if someone isn't firing?
The last question verges on cliche/stereotype, but it is the crux of this entire German side: Can they become more than the sum of their parts? Or will the lack of a true star at the top of the pitch cause everything to crumble?
At this point, we'll just have to wait and see how everything plays out in Qatar.