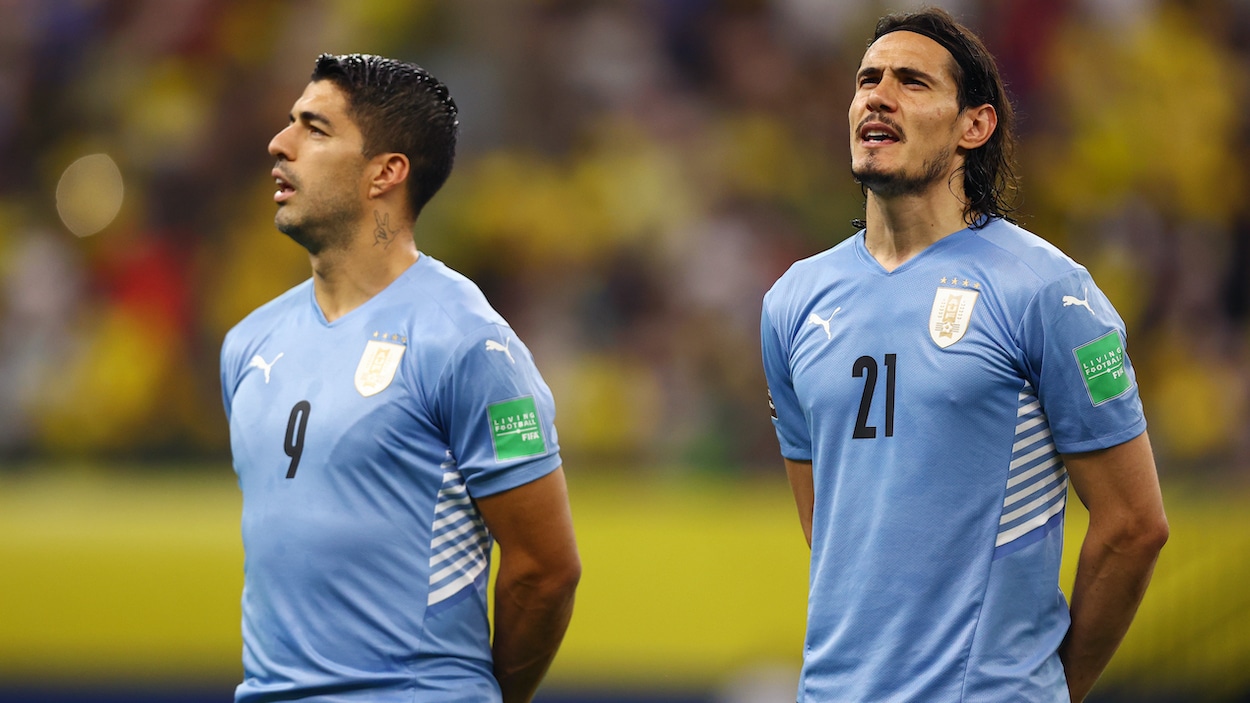 World Cup 2022: Can the Stars From Tiny Uruguay Shock the World Again?
Luis Suarez and his veteran Uruguay teammates can make a run in World Cup 2022 if they can get some help from the budding young teammates.
At World Cup 2022 in Qatar, the Uruguay National Team will have five players with over 100 international caps, including legendary hitmen Luis Suarez and Edinson Cavani. They will also have some of the hottest young names in soccer, like Darwin Nunez, Federico Valverde, and Rodrigo Bentancur. With this mix of old and young, can the smallest nation ever to win a World Cup do it again in the 21st century?
Uruguay's World Cup 2022 squad
Goalkeepers: Fernando Muslera (Galatasaray), Sergio Rochet (Nacional), Sebastian Sosa (Independiente)
Defenders: Martin Caceres (LA Galaxy), Sebastian Coates (Sporting CP), Jose Maria Gimenez (Atletico Madrid), Diego Godin (Velez Sarsfield), Mathias Olivera (Napoli), Jose Luis Rodriguez (Nacional), Guillermo Varela (Flamengo), Matias Vina (AS Roma)
Midfielders: Rodrigo Bentancur (Tottenham), Agustin Canobbio (Athletico Paranaense), Giorgian De Arrascaeta (Flamengo), Nicolas De La Cruz (River Plate), Lucas Torreira (Galatasaray), Manuel Ugarte (Sporting CP), Federico Valverde (Real Madrid), Matias Vecino (Lazio)
Forwards: Edinson Cavani (Valencia), Maxi Gomez (Trabzonspor), Darwin Nunez (Liverpool), Facundo Pellistri (Manchester United), Luis Suarez (Nacional), Facundo Torres (Orlando City)
Sergio Rochet takes over for Fernando Muslera after an illustrious international career
Fernando Muslera became the first-choice keeper for Uruguay in the 2010 World Cup. Since then, he's been an institution between the pipes for his home country, helping the tiny South American nation achieve a fourth-place finish in 2010 and a fifth-place finish in the 2018 World Cup.
However, at 36, Muslera has lost a step while playing in Turkey at Galatasaray, and manager Diego Alonso has decided to put 29-year-old GK Sergio Rochet in net for World Cup 2022.
Rochet, who plays for Nacional in his home country, has started eight of Uruguay's last nine matches. In those games, he has seven wins, six clean sheets, and has allowed just two goals. He might not have the name recognition of Muslera, but the Uruguay goal is in good hands at World Cup 2022.
Legends and young bucks on the Uruguay defense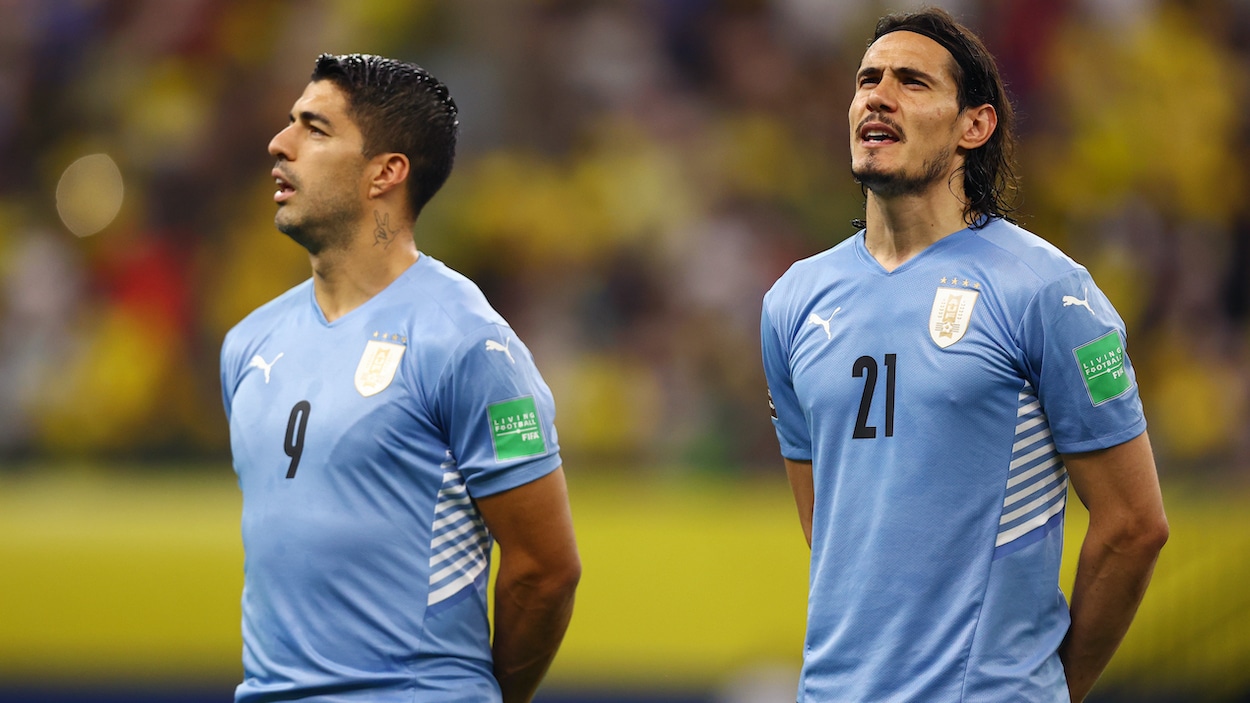 Like the goalkeeper situation (and the forward situation below), Uruguay's World Cup 2022 defensive squad is made up of players at the tail end of their careers and young up-and-comers.
On the older side, you have Diego Godin and Martin Caceres, who are best known for their times at Atletico Madrid and Juventus, but now play for Valez Sarsfield in Argentina and LA Galaxy in MLS, respectively.
On the other side of the equation is the man who took over for Godin at Atleti, Jose Maria Giminez (27), and Barcelona's budding star Ronald Arujo (23).
The way Diego Alonso will deal with this is by playing the captain, Godin, next to Giminez and moving Arujo at right-back to help protect Godin. The manager has also been playing a holding midfielder right in front of the back two for even more support.
This isn't ideal for Uruguay tactically, but Godin is the leader of this team, so it seems like Alonso will trade some tactical aggressiveness to have the man with the armband on the pitch.
The midfield is the new strength of the Uruguayan squad 
In recent World Cups past, Uruguay did its best in the midfield while Fernando Muslera, Diego Godin, and Martin Caceres held down the back, and Luis Suarez and Edinson Cavani did their thing up front.
Nowadays, the midfield is the team strength with the age and youth questions on the polar ends of Uruguay's setup.
Tottenham's Rodrigo Bentancur and Real Madrid's Fede Valverde are two of the most versatile, exciting young playmakers in the world right now, and they will control Uruguay World Cup 2022 matches in this tournament.
Giorgian De Arrascaeta and Nicolas De La Cruz, who both play in South America, will also see time on the outside. Lucas Torreira and Matias Vecino will play at holding MF in front of the back line. 
Luis Suarez plays in World Cup, face Ghana one more time 
Uruguay is famous for producing attacking talent, and World Cup 2022 will be a farewell to two great ones. Luis Suarez and Edinson Cavani, both 35, will likely hang up their international boots after this tournament, but there could still be some magic in those shoes for the next few weeks.
These two legends are joined up front by a slew of young players who are aiming to be the next Suarez and Cavani.
Liverpool forward Darwin Nunez (23), Manchester United winger Facundo Pellistri (20), and Orlando City forward Facundo Torres (22) will all get some time alongside the icons to see if they can add to the Uruguayan legacy of goal-scorers.
What will the Uruguay lineup look like in Qatar?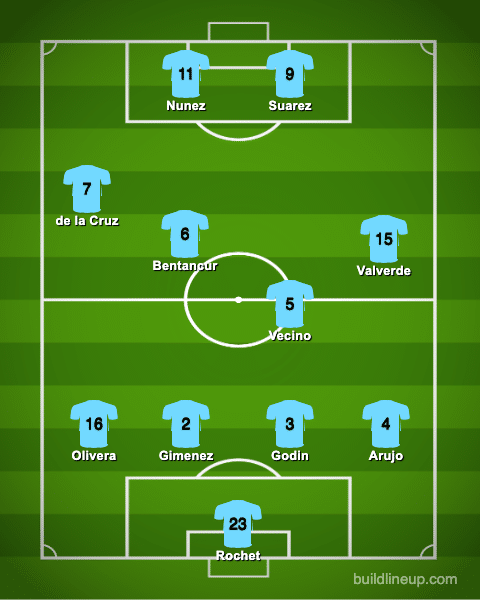 Uruguay nominally plays a 4-4-2 most games that morphs into a 4-2-2-2 or a 4-1-3-2.
As mentioned above, Diego Godin and Jose Angel Giminez will be the CB combo, and Ronaldo Arujo will play at right-back, although he is fresh off an injury, so that could change with his health. On the left side of the D will be one of the Italian-based dup of Mathias Olivera and Matias Vina. Olivera is the slightly better defensive options, and that's what Uruguay needs more of in its full-backs right now.
In the midfield, it will always be Rodrigo Bentancur and Federico Valverde. Based on recent lineups from international tune-up friendlies, the best guess for the World Cup 2022 opener is Nicolas De La Cruz over Giorgian De Arrascaeta and Matias Vecino over Lucas Torreira for the first match.
Finally, it will be Luis Suarez upfront, with Darwin Nunez by his side. Edinson Cavani will surely make a late cameo for one of them, and Facundo Pellistri will get his time, too, maybe even on the right side of the midfield on occasion.