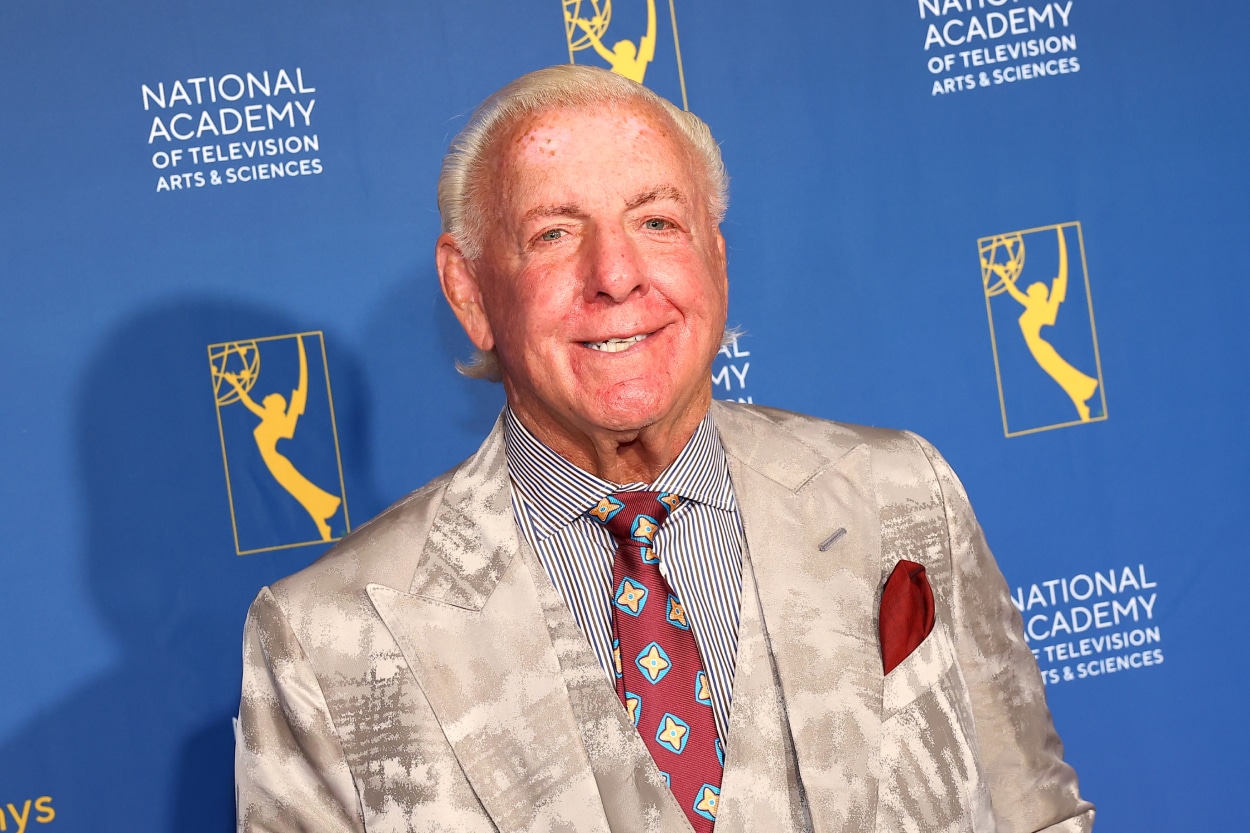 Wrestling Legend Ric Flair Pulls No Punches When Blasting Today's NBA Players
Wrestling legend Ric Flair had some harsh words for some of today's NBA players.
Ric Flair knows a thing or two about being tough. The Hall of Fame wrestler made a living inside the ring, but he was certainly tested out of it.
The 74-year-old Flair, referred to by many as the greatest wrestler ever, has survived lightning strikes and a plane crash in addition to the pounding his body took during his 50-plus years as a professional wrestler. Recently, Flair had a few not-so-nice things to say about today's NBA stars, who get paid the big bucks but don't always show up to play.
Ric Flair knows a thing or two about being tough
OK, so wrestling is fake. That doesn't mean Ric Flair isn't tough. Flair has seen it all, and he's survived. He's been tested inside and outside the ring. If he was a cat, he'd be pretty darn close to using up all nine of his lives.
"I call myself fortunate," Flair told Mike Tyson during an appearance on the former boxer's Hotboxin' With Mike Tyson podcast last year. "I survived a plane crash, struck by lightning twice. Then, I almost died four years ago. I was real sick. I was on life support for 13 days and in the ICU for 31 days."
Fortunate? It all depends on how you look at it. Flair is a glass-half-full guy. He doesn't focus on the problem as much as he does overcoming it.
"I came back around," he said. "It took me a couple of years, literally, to kick back out of it. I couldn't walk, and I couldn't pop a can on a Diet Coke. I lost 43 pounds.
"My intestine ruptured. I was drinking. Everyone thought it was because of excessive drinking, but it was actually because I had what is called a bowel adhesion in a prior surgery for appendicitis. It's like one in a million. Trust me, I've researched it for a million reasons but mostly because I wanted to drink again.
"Anytime you have a bowel correction, one in a million times, they can bust again, and it did right there."
Flair, who said he was given a 10 percent chance to live, overcame those grim odds.
"I was septic, and I had pneumonia," Flair recalled. "I had respiratory heart failure, total kidney failure. Ten percent chance to live for 13 days. Then I got off the respirator."
Flair blasted today's basketball players for being soft
While Flair fought for his life, he recently pointed out how the NBA has gone soft. Flair is a fan of all sports, but the NBA is turning him off because of the way players aren't always able to participate.
It's one thing if a player is injured and can't go, but players sitting out because of "load management" drives Flair crazy.
It's not even the veteran players with a history of injuries who are given rest days. The San Antonio Spurs shut down prized rookie Victor Wembanyama after just two Summer League games in order to keep him healthy.
"These basketball players that whine and b***h, it's taken a lot of the sport away from me," Flair told Fox News Digital while promoting his new energy drink, Wooooo! Energy. 
He compared wrestlers to NBA players by saying there's no comparison.
"They go to work hurt," Flair said about wrestlers. "That's what pisses me off today about these basketball players that stub their toe. No s**t. How do you think I feel about that knowing I wrestled six months after I broke my back in a f***ing airplane crash? 'I got a torn thumbnail. Whoa, whoa, whoa.'"