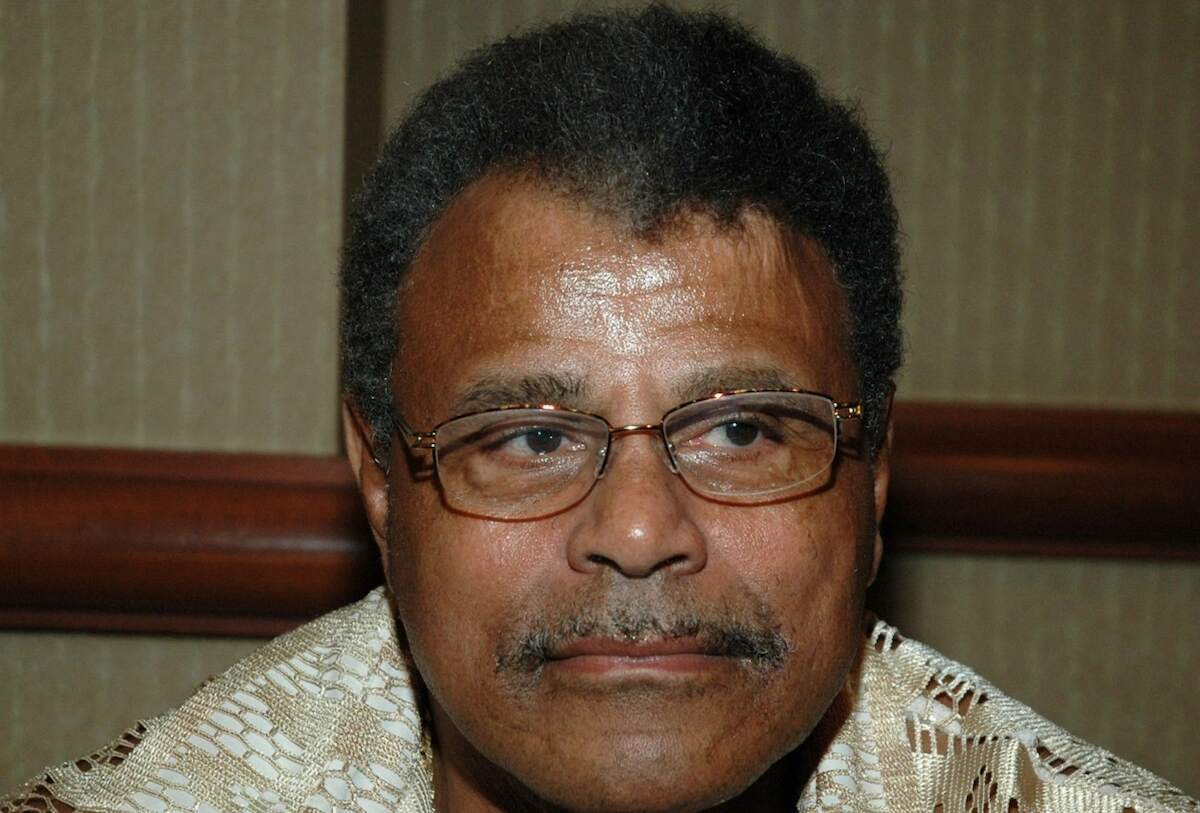 Before Making WWE History, Dwayne Johnson's Father, Rocky Johnson, Was a Boxer Who Stepped in the Ring With Some of the Greatest Heavyweights in History
Before embarking on a pro wrestling career, Rocky Johnson trained as a boxer and used to spar with the likes of Muhammad Ali and George Foreman.
Before WWE Hall of Famer Rocky Johnson made a name for himself in the world of professional wrestling — a name, by the way, that isn't even the one he received at birth — the father of Dwayne "The Rock" Johnson trained as a boxer in his home country of Canada.
Rocky even used to spar with some of the greatest heavyweight fighters the world has ever known. But his true passion grew for pro wrestling, and he became one of the first Black champions in WWE history.
Rocky Johnson used to spar with Muhammad Ali and George Foreman
Rocky Johnson was born Wayne Douglas Bowles in Amherst, Nova Scotia, in 1944. Just before his 13th birthday, he lost his father to cancer and moved west to Toronto. His mother remarried, but the man she wed was an abusive alcoholic, and Bowles simply needed to get away.
He worked odd jobs to make ends meet but would spend his free time at a Toronto community center where he would lift weights and swim — he was a phenomenal swimmer, according to Slam Sports — while also learning how to box.
Even after beginning his career as a professional wrestler, Bowles continued to box and even spar with the likes of Muhammad Ali and George Foreman in the early years of their respective careers — a pretty cool thing for anyone to say.
No, the man who would become Rocky Johnson wasn't the future heavyweight champion of the world as he was often called in his early days in wrestling, but he was said to have been a talented fighter who could have made something of himself in that world had he pursued it. Although he chose professional wrestling, boxing became a permanent part of his life.
He chose the ring name Rocky Johnson to honor his two favorite boxers
As Wayne Bowles embarked on his career in pro wrestling, he decided he needed a ring name and chose Rocky Johnson.
But that wasn't just some random name he came up with. No, that's the combination of his two favorite boxers, Rocky Marciano, who remains the only undefeated heavyweight champion in history, and Jack Johnson, who was the first Black man to become heavyweight champion.
Bowles liked the name so much that he legally changed his name to Rocky Johnson in the mid-'60s. So Dwayne Johnson could have been Dwayne Boles if you think about it. Throw that out there at your next trivia night.
Rocky Johnson and Tony Atlas became the first Black men to hold the WWE tag titles
Rocky Johnson enjoyed quite a bit of success in various NWA promotions throughout the '70s. Although he never won the NWA Worlds Heavyweight Championship — the Big Gold Belt later replaced that title — Rocky did become the first Black man to win the prestigious NWA Georgia Heavyweight Championship, a title that's been held by the likes of Nick Bockwinkel, Freddie Blassie, Bill Watts, Harley Race, Dusty Rhodes, and Tony Atlas just to name a few.
In 1982, Rocky joined WWE, forming a tag team with Atlas known as "The Soul Patrol." He and Atlas made history the following year by becoming the first Black men to win the WWE tag titles when they defeated The Wild Samoans. The duo held the belts for 154 days. Both became members of the WWE Hall of Fame, Atlas in 2006 and Rocky in 2008.
Rocky Johnson died in January 2020 at the age of 75.