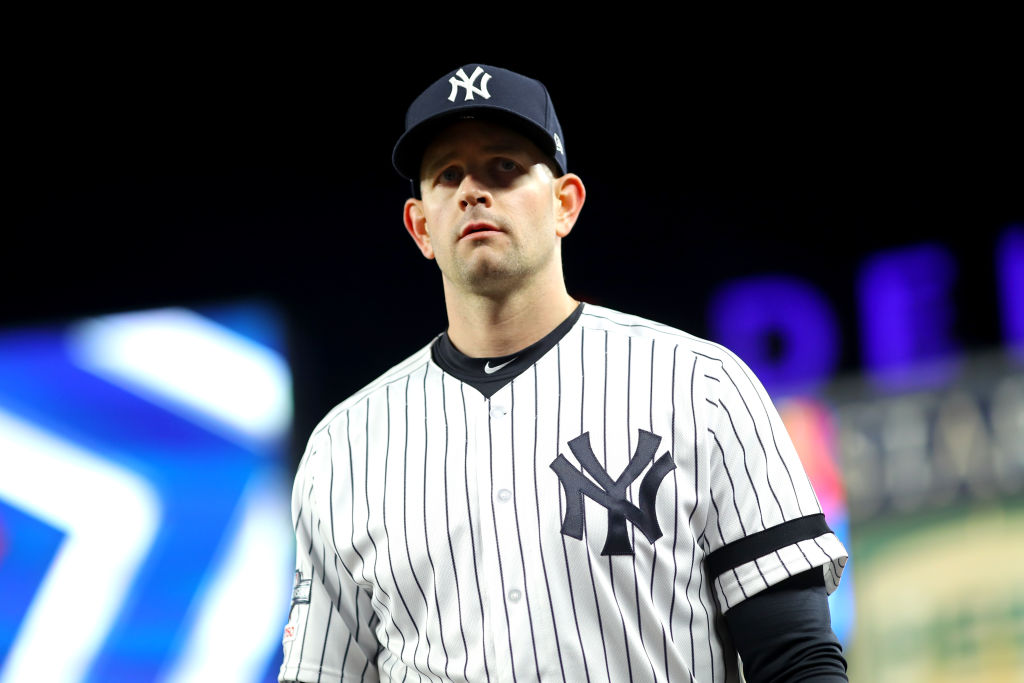 Yankees Pitcher James Paxton Calls out His Own 'White Privilege'
Left-hander James Paxton called himself 'oblivious' to the everyday challenges faced by the black community.
The killing of George Floyd during his arrest by Minneapolis police last week has triggered not only outrage but self-reflection. In the course of watching what has since transpired, New York Yankees pitcher James Paxton has come to the conclusion that he has been "oblivious."
A somewhat unconventional path to stardom
Left-hander James Paxton's path to major-league stardom has been quite a bit different than the typical pitcher on the verge of signing a massive contract. He was not the three-sport kid from middle America descended upon by scouts at high school games and handed a lavish bonus out of high school.
Rather, Paxton grew up in British Columbia and played amateur-league ball in the provincial Premier Baseball League, which has been a launching pad for numerous professional players. His work there landed Paxton on Canada's Junior National Team and set him up for a college career at the University of Kentucky.
Paxton made progress in each of his three seasons with the Wildcats and was taken by the Toronto Blue Jays in the first round of the 2009 MLB draft. However, he did not reach an agreement with the organization on a contract and intended to return to Kentucky for his final season, a move derailed when the NCAA ruled him ineligible because of his dealings with agent Steve Boras.
That landed Paxton in an independent league for a season, after which the Seattle Mariners picked him in the fourth round in 2010. Paxton reached the majors in 2013 but didn't stick there for good until 2017 because of inconsistency and a string of injuries.
He's now one of the most reliable lefties in the majors, posting a 38-17 record and 3.54 ERA over the past three seasons.
James Paxton calls out his "white privilege"
The national events of the past 10 days have led to some reflection by James Paxton. The New York Yankees pitcher is coming to terms with the fact that his long journey to major-league success wasn't nearly as difficult as what average Americans face just getting through day-to-day life.
Paxton didn't mince words on Instagram on Monday while chiming in on the death of George Floyd. According to SNY, he called out his "white privilege," saying it caused him to be oblivious to hardships and outright "oppression the black community faces.
"My silence to this point is also a product of my white privilege," he continued. "I'm beginning to realize my privilege and ignorance. Time to listen, learn, and take action. #blacklivesmatter"
Paxton also posted an image that read, "I understand that I will never understand. However, I stand with you." 
Recovery and free agency ahead for James Paxton
If and when there is s a 2020 MLB season, James Paxton has some work to do and then decisions to make.
Paxton should have headed to spring training on an upbeat note coming off a 15-6 season with a 3.82 ERA and 186 strikeouts in 150 2/3 innings. However, he had back surgery in February to repair a herniated disk and remove a cyst.
The recovery from that surgery would normally have cost Paxton a chuck of his 2020 season, but the coronavirus pandemic shut down spring training and the season in early March. Paxton has thrown numerous bullpen sessions and thinks he'll be at full strength if players and owners reach an agreement on how to proceed.
"My back is a non-issue," he said two weeks ago. "I feel totally healthy, so I'll be ready to go as soon as the season comes about."
That's significant for Paxton, who was scheduled to make $12.5 million this year. Paxton, who arrived in New York in a November 2018 trade that sent three prospects to the Seattle Mariners, is eligible for free agency at the end of this season.
At 31 years old, he's staring at what is potentially his last long-term contract. Five years and $100 million would seem to be a given whether he remains a Yankee or moves on to another team. But proving this summer that the back surgery isn't an issue would raise his price tag substantially.