The Tragic Death of Former College Basketball Star Yinka Dare, Who Passed Only a Few Years After His Short-Lived NBA Career
Over the years, countless college basketball stars have left school a bit too early to attempt careers in the pros that simply don't work out. Such was the case with Nigerian-born center Yinka Dare, who played just two years at George Washington before beginning an NBA career that lasted just 110 games.
Tragically, that's not the saddest part of Yinka Dare's story as the former Colonials star, who helped GW to two consecutive NCAA Tournament appearances and their only Sweet 16 appearance in school history, died far too young.
Yinka Dare helped George Washington to consecutive NCAA Tournament appearances in the 1990s
Born in Kano, Nigeria, in 1972, Yinka Dare didn't play basketball growing up but did play a lot of tennis in his spare time, which naturally helps with footwork. He was discovered by Nigerian-born attorney Lloyd Ukwu, who was based in the U.S., who saw a tall man sitting on a bench during a trip to Lagos and struck up a conversation about his height. Dare said he had no idea how tall he was (he stood 7'1½") but decided to give basketball a shot and soon after found himself in the States.
After playing one season at Milford Academy High in New York, a school that focuses on academically preparing athletes who have the potential to play college sports, Dare enrolled at George Washington University. While his fundamentals weren't great, he was a phenomenal athlete and continued to learn the game under Colonials head coach Mike Jarvis.
As a freshman in 1992-1993, Dare was the second-leading scorer for GW, averaging 12.2 points per game while also recording 10.3 rebounds and 2.3 blocks per night, and helped the Colonials to just their third-ever appearance in the NCAA Tournament and their first-ever appearance in the Sweet 16, where they lost to the top-seeded "Fab Five" Michigan Wolverines.
As a sophomore, Dare averaged 15.4 points, 10.3 rebounds, and 1.9 blocks and again led the Colonials to the NCAA Tournament, where they defeated UAB in the first round before being eliminated by UConn in the round of 32.
He played four seasons in the NBA with the New Jersey Nets
After just two seasons at GW, Yinka Dare declared for the 1994 NBA draft, which was a bit surprising as he'd only been playing basketball for a few years and hadn't fully developed his skills. Nevertheless, he was taken with the 14th overall pick by the New Jersey Nets.
Just three minutes into his first official NBA game, Dare suffered a torn ACL and missed the remainder of the 1994-1995 season. The Nets left him unprotected during the '95 expansion draft but neither the Raptors nor the Grizzlies selected him.
Dare appeared in 58 games in 1995-1996, starting 23 of them, but averaged just 2.8 points and 3.1 rebounds in just over 10 minutes per game and set an unfortunate NBA record for playing the most games in a season without dishing out a single assist. Over the next two seasons, he appeared in 51 games for the Nets and was then traded in 1998 to the Orlando Magic, who immediately waived him, ending his NBA career. In 110 career games, Dare averaged 2.1 points and 2.6 rebounds per game.
In 1998-1999, Dare suited up for the New Jersey Shorecats of the USBL and then played for the CBA's Fort Wayne Fury in 1999-2000. He finished his professional career with the USBL's Pennsylvania ValleyDawgs in 2003.
Yinka Dare tragically passed away in 2004 at the age of 31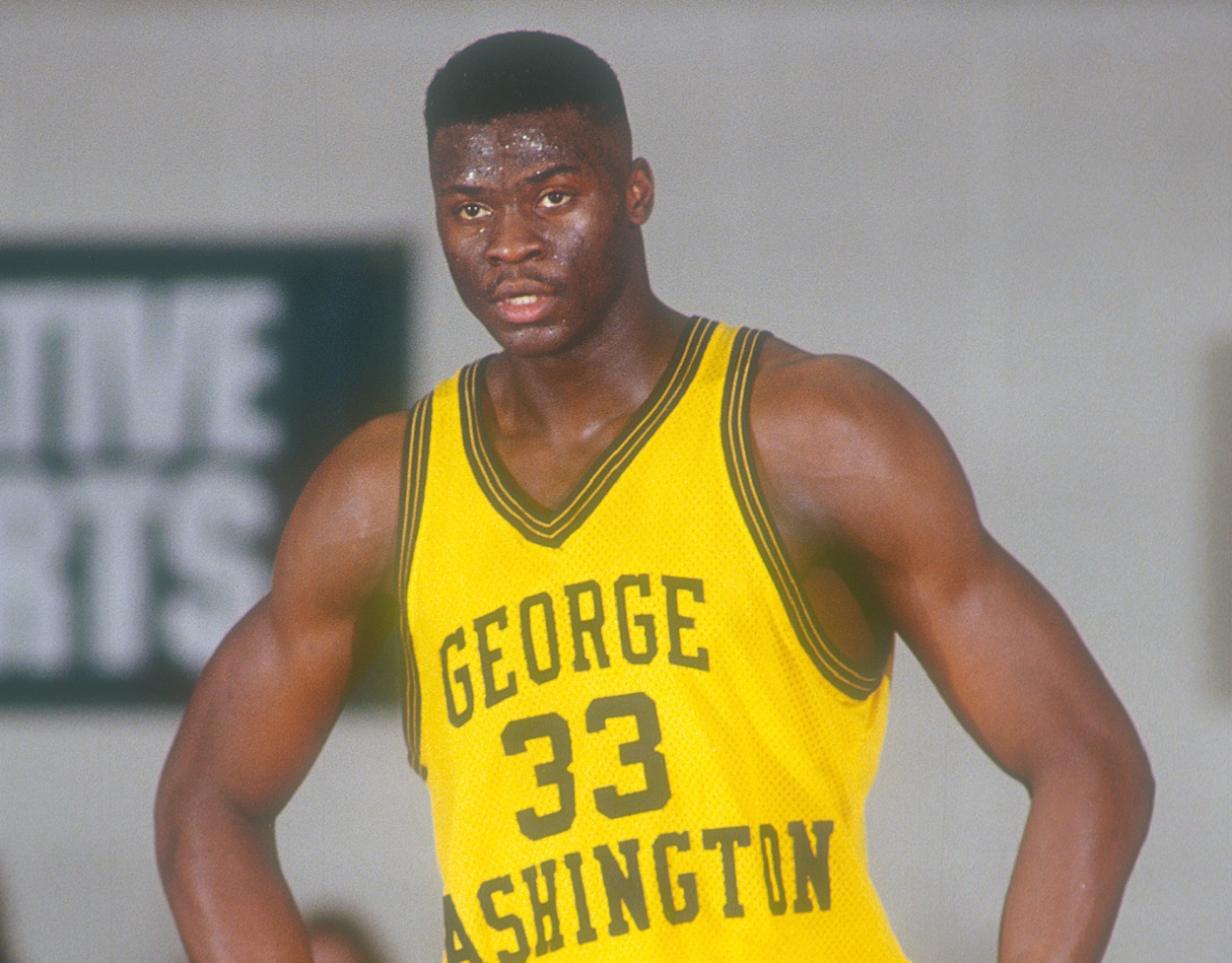 On January 9, 2004, Yinka Dare suffered a heart attack and passed away at his home in Englewood, New Jersey.
According to his best friend and former college roommate, Adama Kah, Dare had gone for a run that morning and was making breakfast when he collapsed. According to GWSports.com, Dare's younger brother, Michael, performed CPR until paramedics arrived on the scene.
Dare had a history of heart arrhythmia dating back to his days at George Washington. Kah says he knew of a few instances in which his good friend had received electrical stimulation treatment and claimed he had no knowledge of Dare ever being told he couldn't play basketball.
Yinka Dare was just 31 years old at the time of his death.
Stats courtesy of Sports Reference