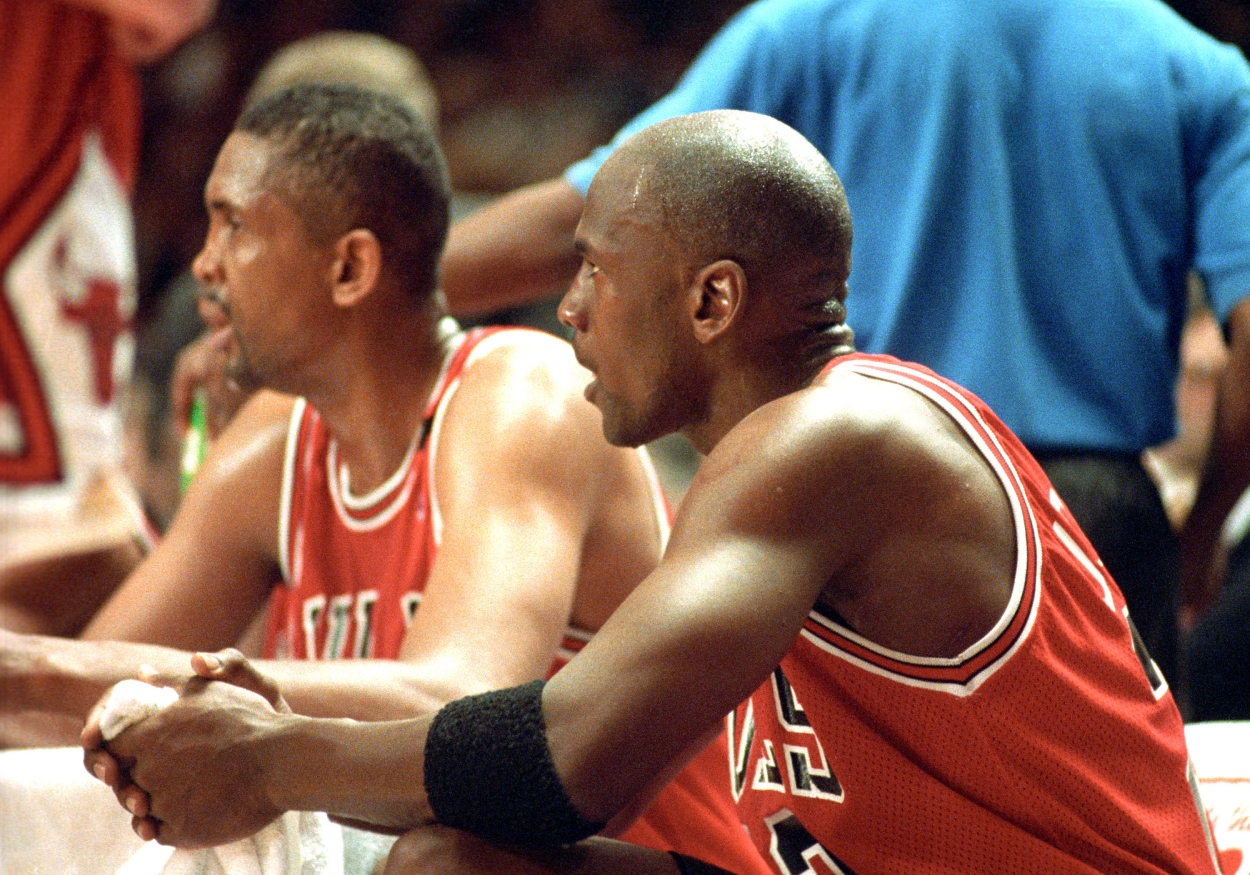 Young Michael Jordan Was Fuming When the Chicago Bulls Traded for an NBA Legend: 'Just Say I am Unhappy'
Michael Jordan had a problem with the Chicago Bulls bringing in a veteran in 1985.
Michael Jordan had just finished his rookie season in the NBA. He didn't have the reputation yet of being one of the league's best, but he was well on his way. He started all 82 games, averaged 38.3 minutes, and put up 28.2 points per game. Prior to his second season, the Chicago Bulls made a deal for an NBA legend. Jordan was not a happy camper.
Michael Jordan had a spectacular rookie season for the Chicago Bulls
Jordan was the third overall selection in the 1984 NBA Draft. Taken behind Hakeem Olajuwon and Sam Bowie, Jordan was grabbed by the Bulls and showed he was a future Hall of Famer from the get-go. He started every game, shot better than 51% from the floor, and put up 28.2 points per game.
More importantly, he helped give the Bulls hope. He also helped give them an identity. With Jordan in the fold, the Bulls finished the season 38-44, building a foundation for their future success. They were 27-55 the year before, and they had 28 wins the season before.
Jordan was flashy. He was good. He sold tickets. The Bulls needed a marketing machine and got it with their pick out of North Carolina. Jordan's rookie season set the tone for his Hall-of-Fame career.
Michael Jordan wasn't happy hearing about a trade for George Gervin
After Jordan's rookie season, the Bulls traded David Greenwood to the San Antonio Spurs for veteran George Gervin. Gervin had apparently worn out his welcome in San Antonio, according to The Chicago Tribune. "He had some major differences with Angelo and Cotton, obviously," Bulls then-vice president Jerry Krause said in 1985 of Gervin regarding Spurs team owner Angelo Drossos and coach Cotton Fitzsimmons.
"I don't think we'll have any problems with him. Stan (Bulls' coach Albeck) had him for three years in San Antonio. Stan talked to him yesterday and he was very happy. He is glad to have The Iceman back."
One key member of the Bulls – Jordan – was not happy to have Gervin on board. "'I have no comment on the trade," Jordan said then. "Just say I am unhappy."
According to the Tribune, the problem between Jordan and Gervin began at the previous year's NBA All-Star Game. Gervin allegedly was part of a plan to embarrass Jordan at the game. Reports stated the Eastern Conference team had a plan to keep the rookie out of the offense to teach him a lesson about humility. Jordan's teammates also reportedly weren't going to help him out when he guarded Gervin, a 10-time NBA All-Star.
Jordan broke his foot three games into the 1985-86 season and missed 64 regular-season games. Gervin filled in for him.
Jordan and Gervin got along just fine
Gervin recalled those playing days with Jordan. The two were at opposite ends of their careers, and Gervin knew this would be his last go-round. He realized that during his first practice with Jordan.
"He played just as hard at practice as he did in the game," Gervin told The Post Game in 2017. "I'll never forget it, I'm at practice with him one time, I'm lackadaisical going through it and stuff. I say, "Dang, young fella." He said, "Hey, old man, go sit down over there." I sat down. I was done. He helped me understand I was done. You've only got so long to be on top. I was on top for about 12 years. You only have your turn. My turn was pretty much up. I retired after that."
Gervin was asked if he believed Jordan was happy when The Iceman left the Bulls.
"That I was gone? Hell yeah," he said. "I didn't belong there. I should have never went and I knew it. They got a shell of me down there. I had some great games. I still averaged about 16. Shot about 87 percent from the free-throw line. I could still play, but I was half a man. I'm being honest. It was at the end. Being at the end, it was how you accept it. None of us can last forever. Some of us try. Some of us just hate to give it up."