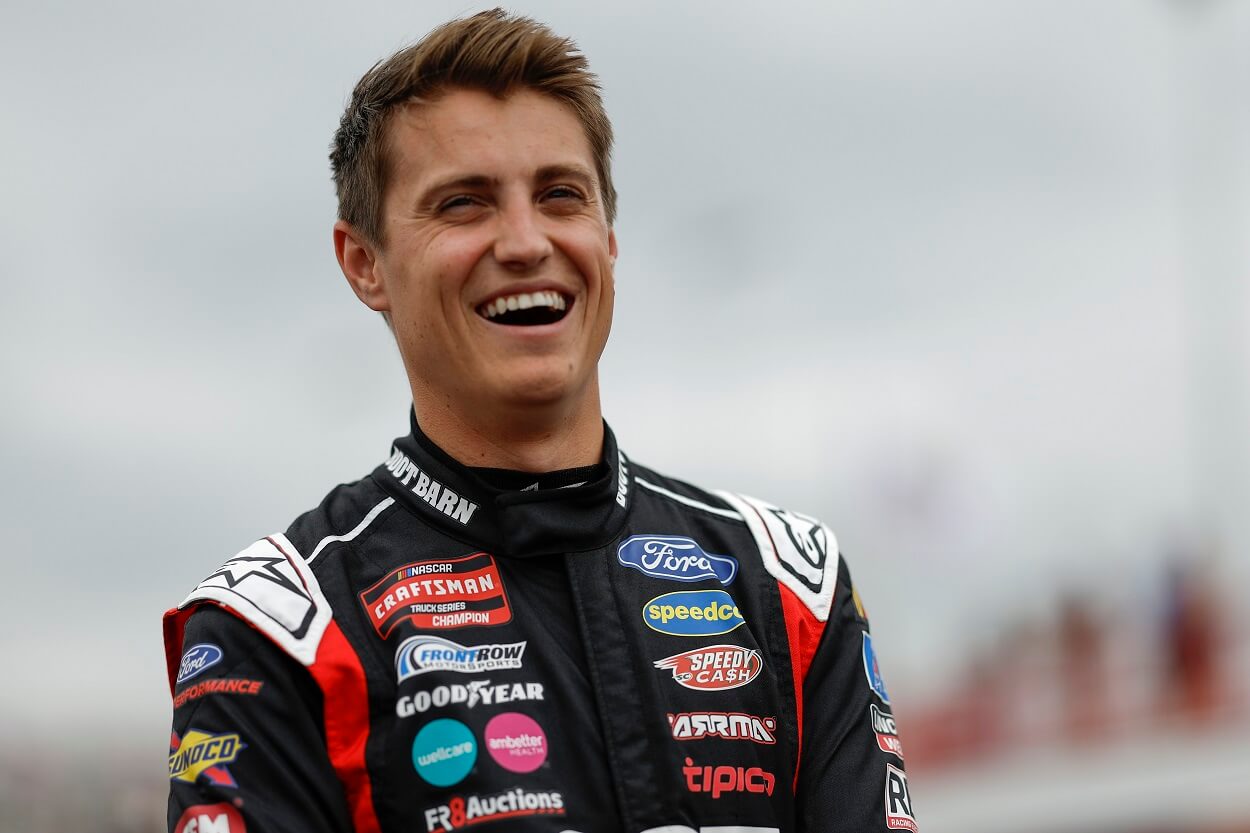 Zane Smith Continues to Boost His Top Prospect Status
Reigning NASCAR Truck Series champ Zane Smith had a solid run in the Cup Series in Charlotte.
Reigning NASCAR Truck Series champion Zane Smith has been arguably the top Ford prospect driver for years now, and he only stoked that claim with his first Cup Series top-10 finish Monday in the sport's longest race.
Smith, 23, delivered a career-best 10th-place finish in the Coca-Cola 600 at Charlotte Motor Speedway, which was postponed a day because of rain on Sunday. He ran a clean race and ranked fifth among all 37 drivers with 172 green-flag passes and a +20 pass differential during the 400-lap event.
Zane Smith has had three straight stellar seasons in the Craftsman Truck Series
Zane Smith's current full-time job is still in the Truck Series, where he has spent the last three seasons. He moved from GMS Racing to Front Row Motorsports in 2022 after two consecutive runner-up finishes in the Truck Series championship standings, and he promptly won a career-high four races and his first career title in a NASCAR national series. He had a dominant season with four more top-fives than the next closest competitor and three more top-10 results while leading a series-high 492 laps throughout the season.
That campaign solidly put him on the map as a driver with the potential to eventually move up to the Cup Series and succeed, even after he registered seven top-10s in 10 Xfinity Series starts for JR Motorsports in 2019. FRM does not operate an Xfinity Series team, so the organization booted Todd Gilliland from his full-time status as the driver of the No. 38 Cup Series car in February and gave Smith six of those starts.
Smith had made his debut in the sport's top series a year ago as a replacement driver for Chris Buescher in June 2022 at World Wide Technology Raceway near St. Louis when Buescher was unable to race because of a positive COVID-19 test result. Smith ran a respectable race and finished 17th in the No. 17 car for RFK Racing after starting 32nd.
FRM then revived the No. 36 car for Smith to run the Daytona 500 in February, and he registered a 13th-place finish only two days after he had triumphed in the season-opening Truck Series race at Daytona International Speedway.
His first two races in the No. 38 car did not go well. He finished 31st in March at Phoenix Raceway and 37th in April at Talladega Superspeedway, with a 34th-place run in the No. 51 car for Rick Ware Racing sandwiched in between in April at Martinsville Speedway.
Those types of poor performances are to be expected from a rookie driver. The three full-time rookies in the Cup Series in 2022 combined for seven top-five finishes, and five of those came from Austin Cindric for the traditionally strong No. 2 team for Team Penske.
Ty Gibbs has four top-10 finishes and sits 18th in the points standings this season as a rookie, while his only Rookie of the Year competitor, Noah Gragson, has only one finish better than 20th and sits 32nd in the points standings.
Smith already eclipsed that mark in only five races this season as a part-time driver for an organization that typically struggles on intermediate tracks between 1.0 and 1.5 miles in length, where aerodynamics and downforce are key elements to have a fast car.
Smith has performed well despite Front Row Motorsports' limitations
FRM cars have started a combined 1,251 races since the Ford-affiliated organization first entered the Cup Series as a part-time team in 2005. Smith's finish at Charlotte was only the 51st top-10 in the organization's history and only the third on a 1.0-1.5 mile intermediate track. Smith also now has as many top-10s in the Cup Series as 16-year veteran Michael McDowell does across all of his 14 points-paying starts this season in the No. 34 car for FRM.
Mid-tier organizations such as FRM are always at risk of having the talent they develop hired away by larger operations that can likely pay higher salaries and offer more consistent chances to win races, so Smith's long-term future with FRM is far from certain.
Still, he has displayed the most potential of any Ford driver in either the Xfinity or Truck series the past two seasons. He currently sits third in the Truck Series points standings with two wins and should challenge to defend his title in an attempt to become the first back-to-back champion of the series since Matt Crafton in 2013-14.
Smith has three more Cup Series starts in the No. 38 car lined up for this season. He will hop back in the car in two weeks at Sonoma Raceway, and he is then scheduled to start the playoff races at Texas Motor Speedway and the Charlotte Roval, respectively.
Regardless of his final results in those events, Zane Smith has already proven he can run a smart, clean race at the Cup Series level and should be considered one of the top prospects to enter the series full-time in 2024.