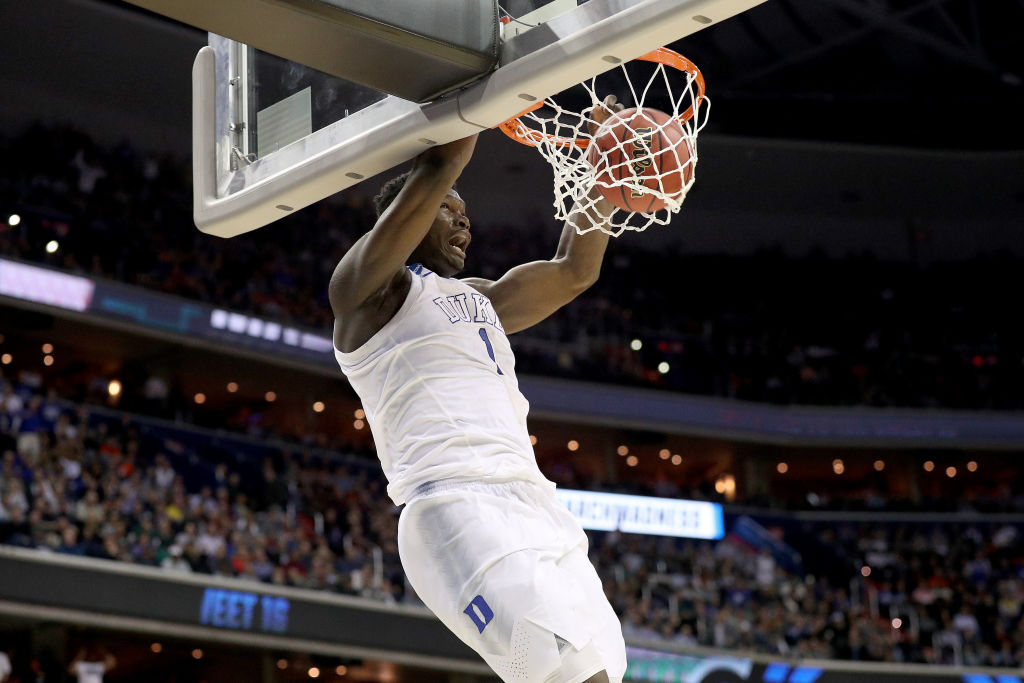 Zion Williamson Will Be Among the Elite the Minute He Joins the NBA
Zion Williamson will probably join an elite group that includes LeBron James, Kevin Durant, and Stephen Curry before he plays an NBA game.
The 2019 NBA draft should be one of the most intriguing in recent memory. It's virtually a lock that Zion Williamson will go No. 1 overall, but the rest of the top 10 picks could all be household names in a few years.
Fans have seen Trae Young, DeAndre Ayton and Luka Doncic light up the court all season long, and there's no reason to think Williamson won't do the same.

Many fans are speculating Zion Williamson will end up with the Knicks paired up with two potential superstars on max deals. However, Williamson will probably join an elite group before he plays an NBA game. There are reports he could sign the largest rookie shoe contract in NBA history.

Zion Williamson's strengths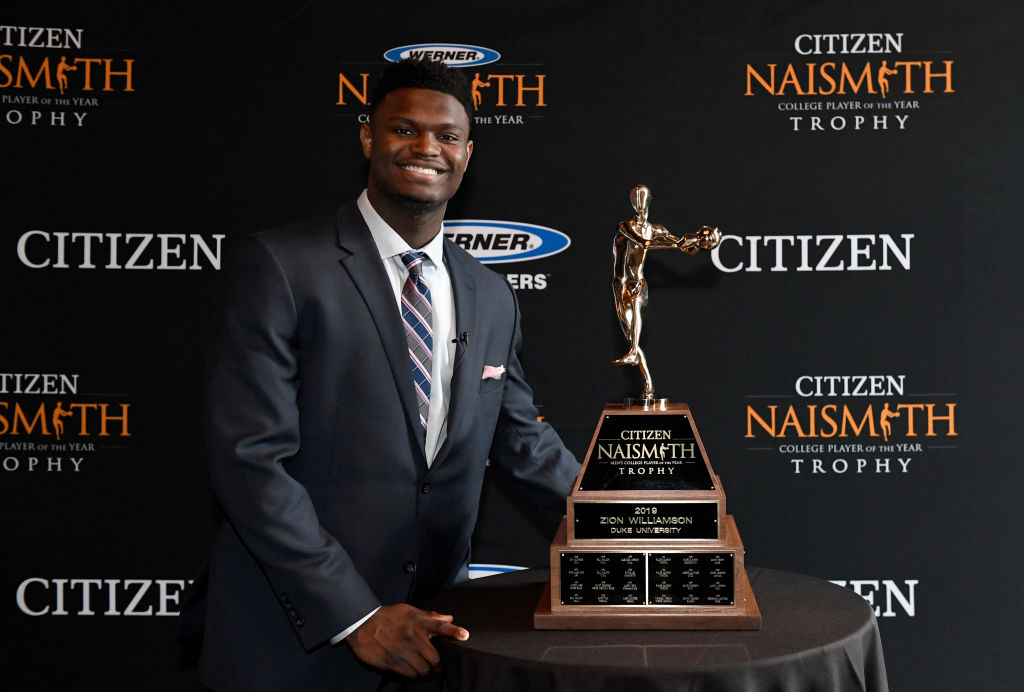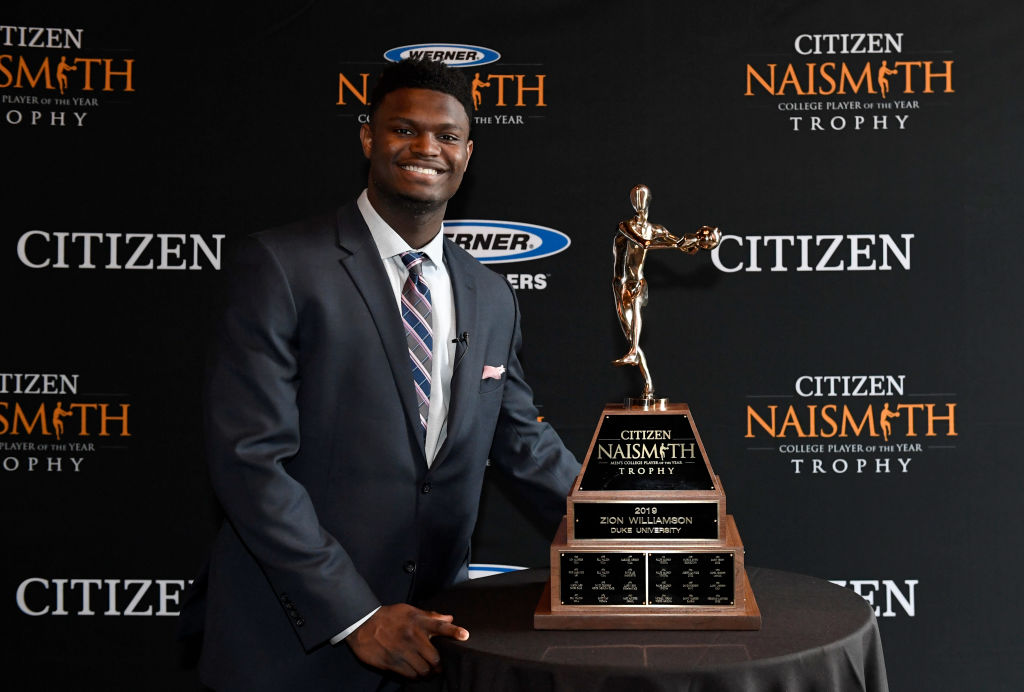 There hasn't been a draft pick as hyped as Zion Williamson since LeBron James. Williamson stands 6-foot-7 and weighs 285 pounds, but he can drive to the hoop like a point guard and throw down ferocious dunks on defenders. He can also score from the perimeter and grab down rebounds with ease.

Williamson will be the second-heaviest player in the NBA when he enters the league, and his strength brings back memories of a young Zach Randolph. He averaged more than 22 points and nearly nine rebounds per game with a whopping 40.8 player efficiency rating in his lone season at Duke. The Blue Devils reached the Elite Eight, and although they came short of a national championship, he was easily the best player in college basketball. We won't be surprised if he tops the list of best Duke players to make it to the NBA when all is said and done.

His marketability is off the charts
Zion has a very robust social media following thanks to years of YouTube and Instagram highlights showing him posterizing defenders. Signing him would be a marketer's dream as a shoe deal could instantly make millions of dollars with the right marketing strategy. The largest rookie shoe contracts in NBA history belong to LeBron James and Kevin Durant.

James' seven-year, $93 million deal with Nike is the richest ever. He signed for $87 million as a rookie. James has since resigned with Nike on a lifetime contract and earns $10 million annually from the sneaker giant. Durant's deal was for seven years and netted the Golden State Warrior $60 million. If Zion Williamson signs a shoe deal worth as much as Durant's, then it will dwarf his rookie contract and instantly put him in elite company among NBA players.

Who could Zion Williamson sign with?
The suitors most likely to sign Willamson are probably Nike and Under Armour. Nike has the money and global brand that no other shoe company can rival. If he gets a deal with Nike, his signature shoe could be in the works before he begins his rookie season.

Under Armour would be an intriguing option because it boasts arguably the best shooter in NBA history, Stephen Curry, as its No. 1 sponsor. The company also has household NBA names such as Joel Embiid and Mohamed Bamba, who was a lottery pick in last year's draft, on the roster. Under Armour has become very innovative in their sneaker designs and the opportunity to stand out against a crowd of competitors could entice Zion Williamson.

One brand that isn't getting much publicity is Puma. For years Puma was not a player in the basketball shoe game, but things changed after signing Marvin Bagley III last year. Rap superstar Jay-Z is in a leading position with the company and has the cache to bring in premier talent.

Zion will bring in a boatload of cash
Regardless of which shoe company signs Williamson, they can expect years of sales behind the talented player. His marketability is off the charts, and his play on the court could take him to potentially All-NBA heights. If Zion wins an MVP or two, we could see one of the most lucrative deals in basketball history. If you were Zion Williamson, who would you sign with?