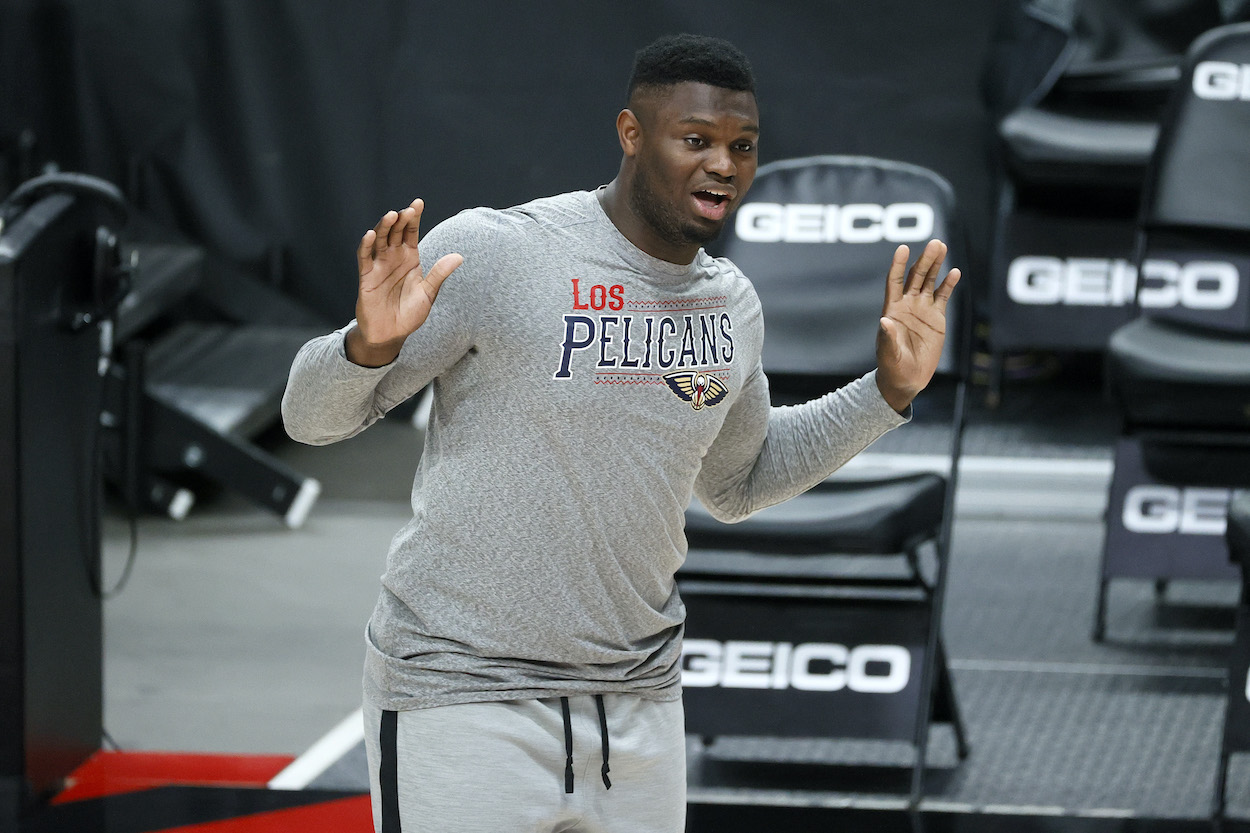 Zion Williamson and the Pelicans Just Revealed a Shocking Secret They've Curiously Kept From Fans All Offseason
Zion Williamson recently revealed he broke his foot and underwent surgery this offseason.
Zion Williamson has sky-high expectations entering his third year in the NBA. After two injury-plagued seasons that showed glimpses of a rising superstar, Williamson is entering the 2021-22 campaign fully healthy and in the best shape of his life.
Well, at least that's what New Orleans Pelicans fans thought.
As it turns out, Williamson fractured his foot earlier this offseason and later underwent surgery to repair it. Oh, and the Pelicans kept the whole thing a secret all summer until finally making the shocking revelation on Monday.
The Pelicans have been keeping Zion Williamson's injury a secret for months
We haven't seen much of Zion Williamson this offseason. No summer workout videos, no public appearances, and very little activity on social media.
Well, that's because the All-Star forward might've been wearing a walking boot for the past few months.
During Monday's team media day, Pelicans Executive Vice President of Basketball Operations David Griffin revealed that Williamson fractured his right foot earlier this offseason and underwent surgery to repair the injury.
"Zion is returning from a foot surgery suffered at the beginning of summer — well, the beginning of summer isn't exactly accurate, but earlier in the offseason prior to summer league," Griffin said. "He had a fractured right foot that was repaired surgically. His timeline should get him on the court in time for the regular season. That would be our hope and our view. We're very optimistic about what that looks like. Unfortunately, I know that's going to be taken as a very big negative for all of you. It's really not for us because we were dealing with it all offseason. We feel very confident about where things are."
So, what did Zion have to say about the situation?
Zion Williamson confident he'll be healthy to start the season
Despite the grim news, Griffin seemed optimistic that his star player will be back in time for the Pelicans' season-opener against the Philadelphia 76ers on Oct. 20. Williamson also sounded confident in that timeline during his chat with the media on Monday.
"I expect to be back for the first game," Williamson firmly stated.
The 21-year-old explained that his foot injury occurred during an offseason workout, and his recovery has been nothing but positive thus far.
"It's a part of the game," he said. "I think I was overdoing it when I was training because I felt like I had this huge chip on my shoulder — this huge boulder — that I was just getting after it overly every day. But the process through healing has been great. Been working with the team trainer every day, so it's been good."
Cause for concern?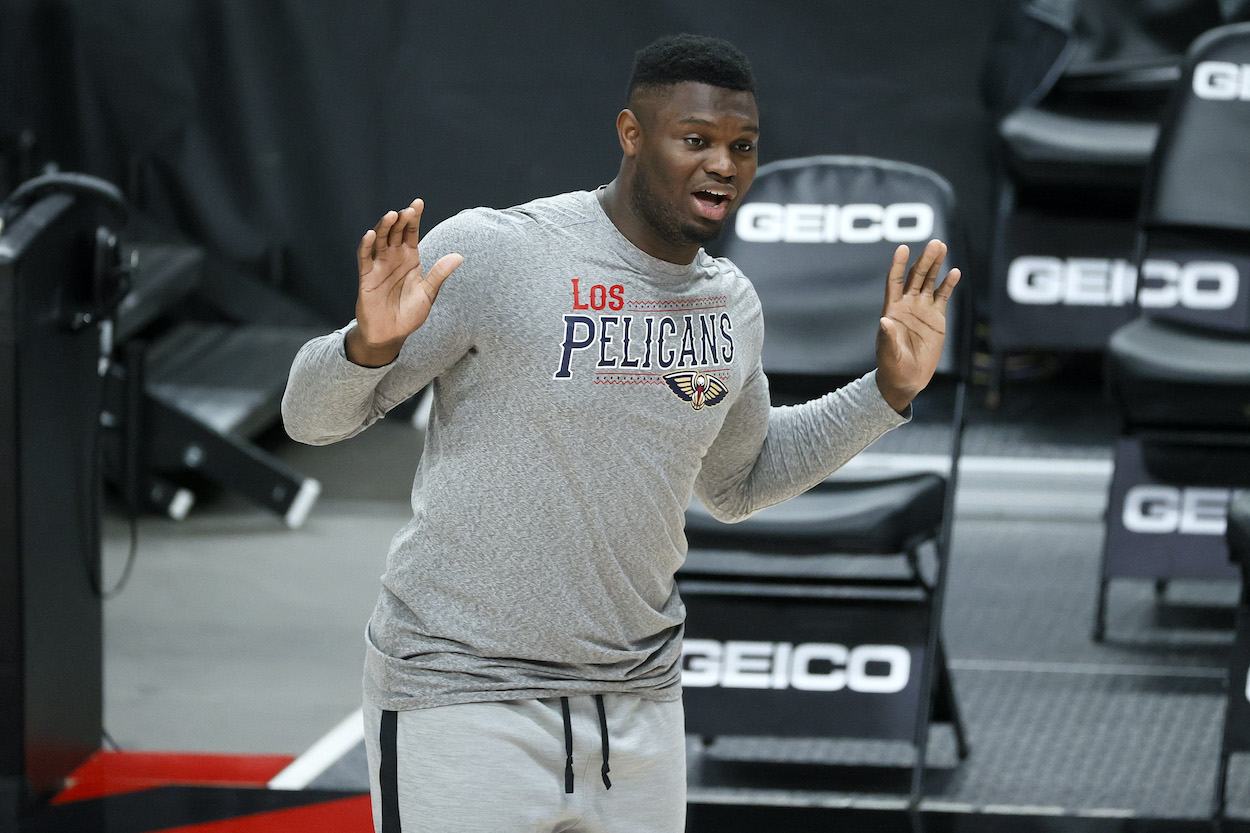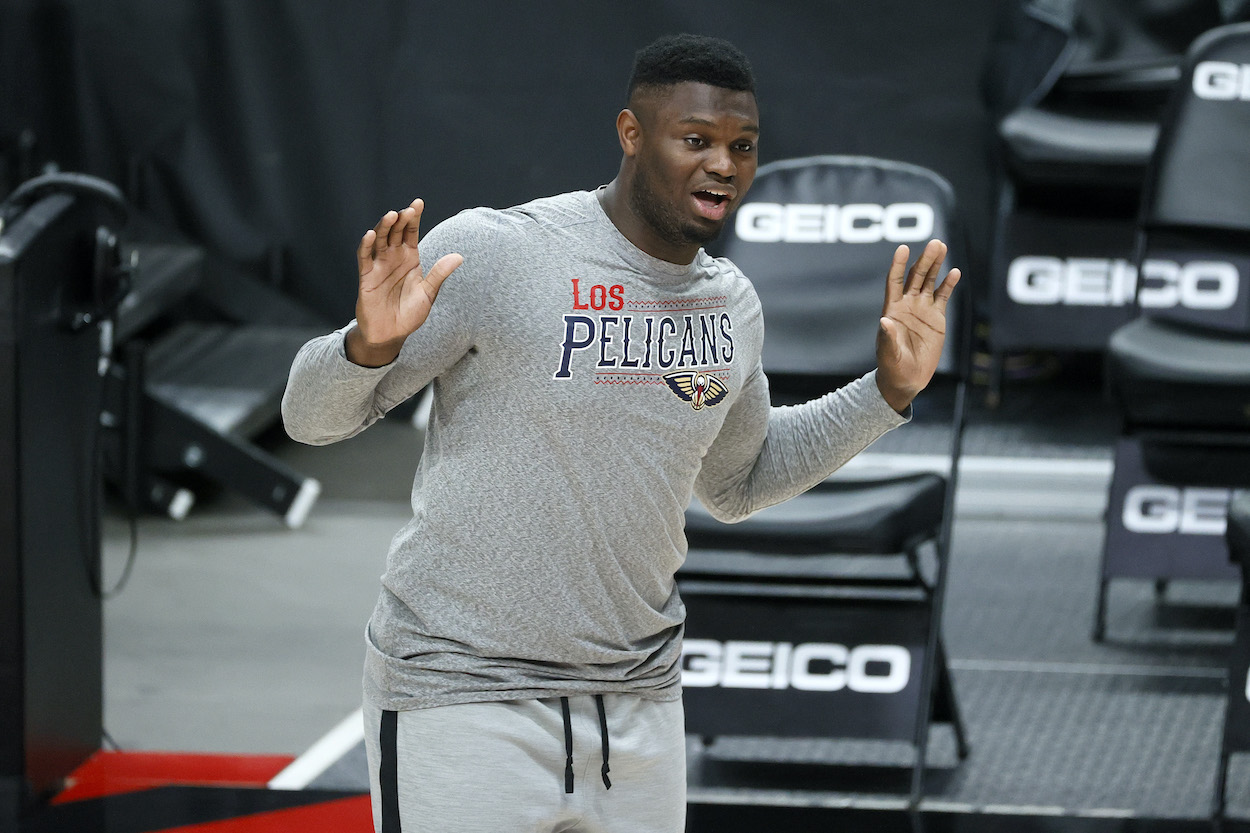 The Pelicans don't seem too worried about Williamson's broken foot jeopardizing his start to the season, but keeping the injury and surgery a secret from fans sure does raise a few red flags.
Was the team worried New Orleans fans would overreact to yet another Williamson injury? After all, the forward has only appeared in 85 of a possible 144 games through two seasons in the NBA. He's already dealt with a torn meniscus, a sprained thumb, and a fractured finger since joining the Pelicans in 2019. Maybe the Pelicans figured fans would freak out if they heard about yet another surgery, even though the team knew it was just a minor setback.
But keeping Williamson's injury a secret can only make the New Orleans faithful feel worse about their franchise and its star player. If the team is willing to keep major news like that from the fan base for months, what else could they be hiding?
Like Sportscasting on Facebook. Follow us on Twitter @sportscasting19.