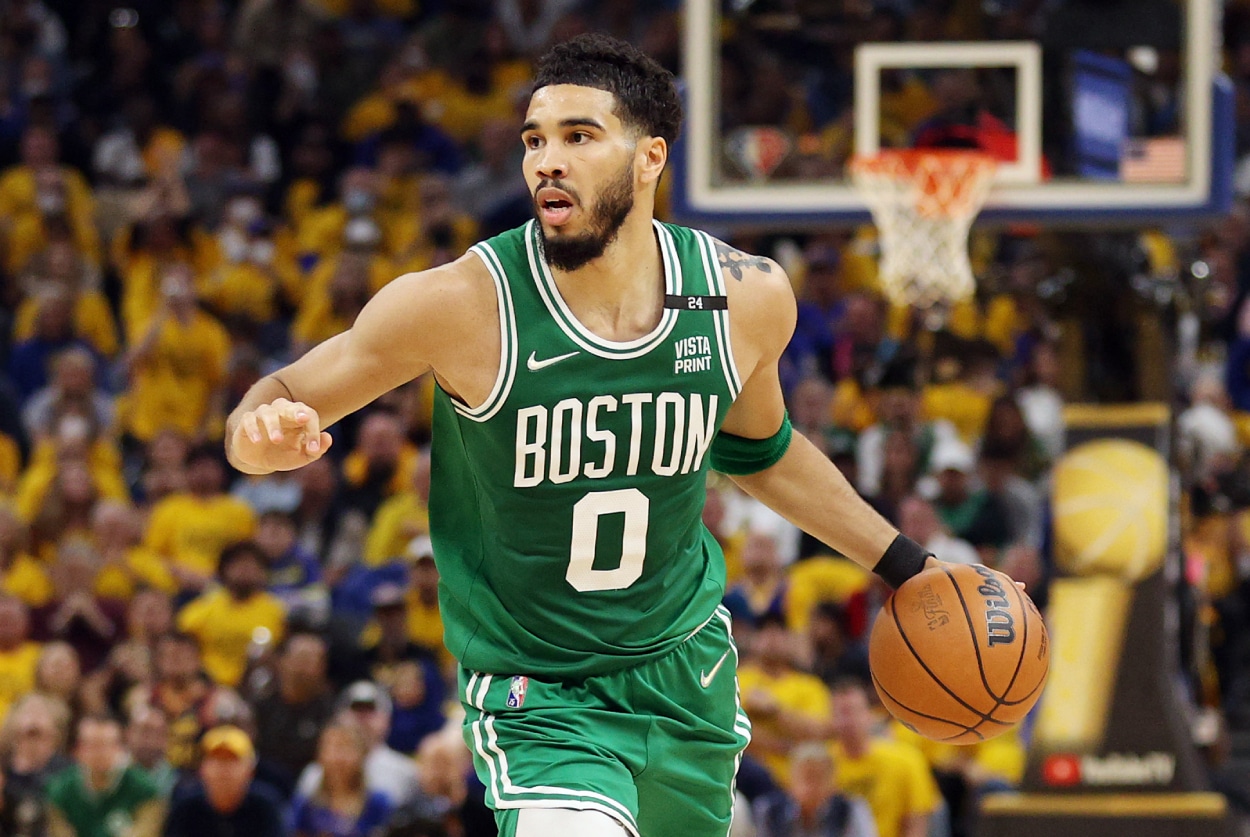 2022 NBA Finals: Jayson Tatum's Impressive Finals Record Proves Why Warriors Should Be Terrified
Despite shooting poorly, Boston Celtics superstar Jayson Tatum broke an NBA Finals record in Game 1, proving why the Golden State Warriors should be terrified.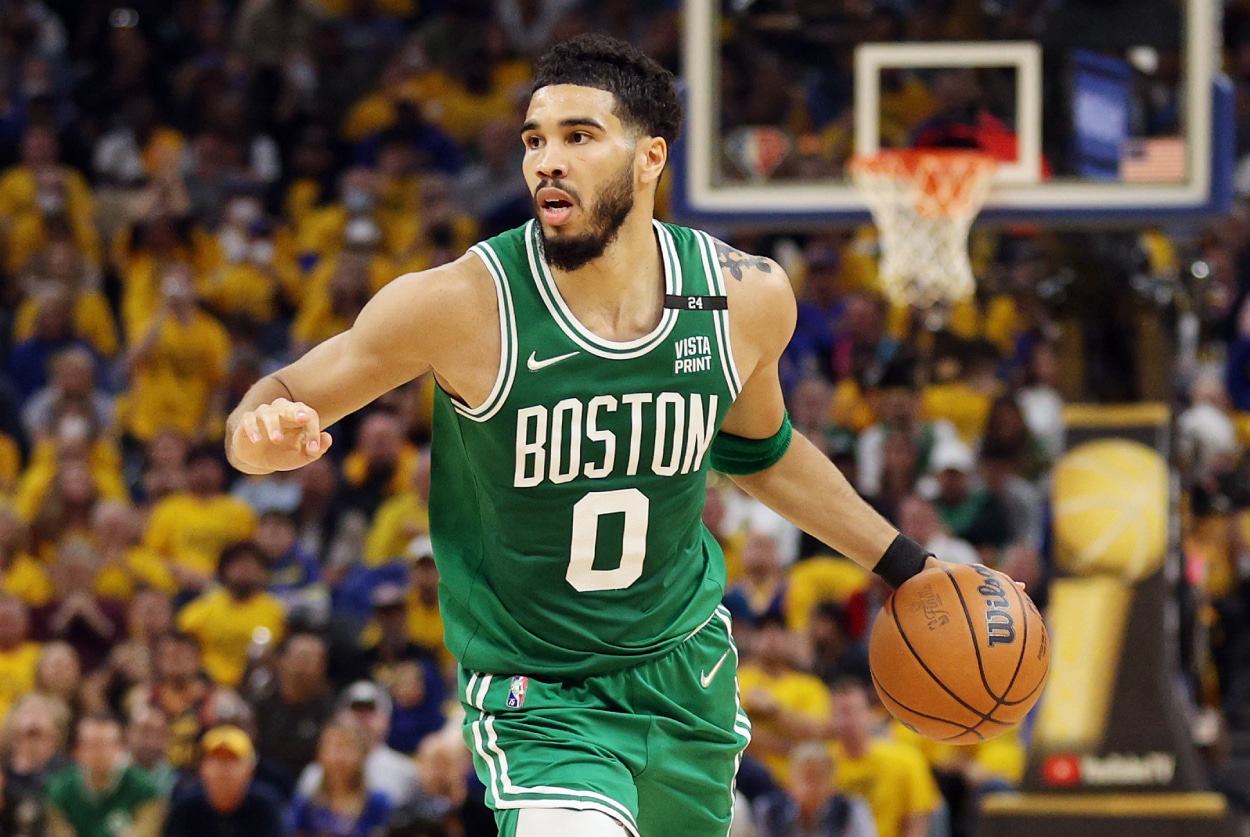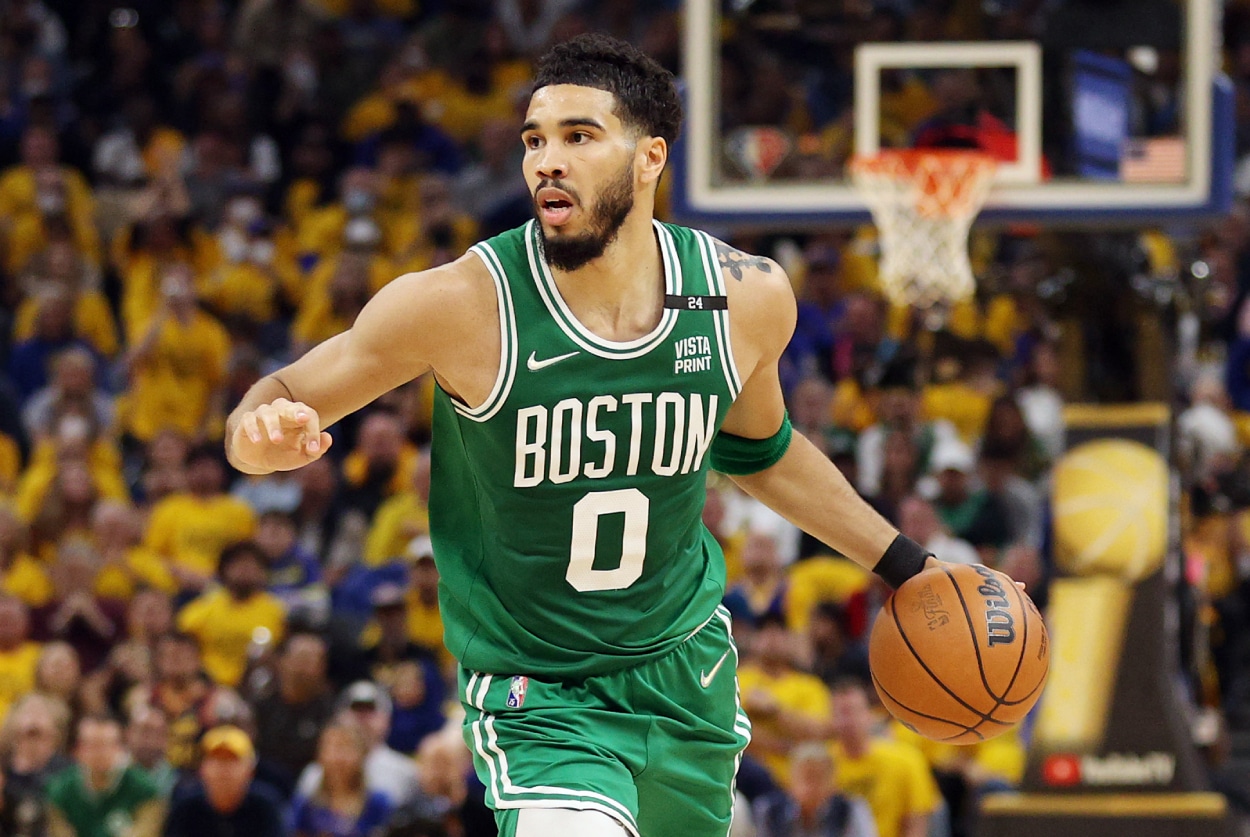 Did anyone else go to bed stunned after Game 1 of the NBA Finals? Heading into the fourth quarter, it looked like the Golden State Warriors' dynasty was on its way to a victory over the inexperienced (Finals wise) Boston Celtics. However, the Cs shocked everyone and outscored the Dubs 40-16 in the final period to steal the 120-108 win on the road.
It was just one game; we all must remember that. The Warriors are still the favorites to win this series. However, one stat shows why Golden State should feel terrified.
Jayson Tatum's 13 assists in Game 1 (a Finals record) prove why the Celtics are in an outstanding position.
Jayson Tatum broke a Finals record in Game 1
Jayson Tatum didn't play up to the level we all expected him to in Game 1. He shot 17.6% from the field and scored just 12 points.
However, Tatum broke the record for total assists in a Finals debut with 13. Michael Jordan, John Stockton, and Isiah Thomas shared the previous record of 12. He continued proving his excellent playmaking skills and his ability to do much more than just score for the Celtics.
While he shot poorly, the three-time All-Star still played a vital role in Boston's comeback.
The Celtics, who split their regular-season series with the Warriors this year, trailed 92-80 heading into the fourth quarter. But after some buckets from Jaylen Brown, Robert Williams, and Payton Pritchard, the three-point barrage began.
With 7:09 left and the Celtics trailing 99-94, Tatum dished out an assist to Pritchard, whose long-range basket trimmed the score to 99-97. Derrick White then made two deep attempts, and Al Horford made one to give the Celtics the 106-103 lead before Tatum found Horford beyond the arc again to make it 109-103.
At this point, the Celtics couldn't miss. Tatum recorded two more assists, one on a Horford mid-range jumper and another that led to a Marcus Smart three, and he helped cap off a 14-0 run for Boston. The team led 117-103 with 1:44 left and ended up winning 120-108.
He may not have scored as many points as he normally would, but Tatum played an integral role in the Celtics' comeback.
Jayson Tatum's poor shooting should have the Warriors terrified
As mentioned earlier, the Warriors still have a tremendous chance to win this series. They have a deep team and the three-point king, Stephen Curry. However, they should be nervous about Tatum's facilitating role in Game 1. He wasn't one of his team's leading scorers, and Golden State still lost.
What happens when he starts making his shots?
Tatum averaged 26.9 points on 45.3% shooting this season. He won Conference Finals MVP over Miami Heat star Jimmy Butler and is averaging 26.2 points in the playoffs thus far.
The Warriors won't limit him to just 12 points per game throughout the rest of this series.
If he gets his shots to fall and role players like Derrick White continue to play well, the Celtics will immediately become unguardable. The Warriors will have to continue focusing on Tatum, which could leave shooters like White and Marcus Smart wide open.
Maybe White and company wouldn't have made all their shots had Tatum made his. But the Duke product has been both a facilitator and scorer in the playoffs before, recording 29 points and eight assists in a game against the Milwaukee Bucks earlier this year. He also had 22 and nine against the Miami Heat. Tatum can easily get his points while still helping his teammates score as well.
If that scenario plays out, the Warriors could be doomed.
Will Derrick White and Al Horford continue dropping 20 points each? No. But they won't have to if Jayson Tatum starts making a few more shots. Stephen Curry and the Dubs aren't out of this series, but they must figure out a way to slow Tatum and the Celtics' role players down. If they don't, the 2022 Finals could be over sooner than expected.
Stats courtesy of Basketball Reference