Ranking the Top 3 Cup Drivers Who Called it a NASCAR Career When They Likely Still Had Some Juice Left in Them
Several of the NASCAR Cup Series' best drivers have hung up their helmets over the past few years, calling it good on a career at the highest level of motorsports.
Among the big names who've stepped away from the sport — at least in a driving capacity — are Jimmie Johnson, Jeff Gordon, Tony Stewart, Matt Kenseth, Kurt Busch, Dale Earnhardt Jr., Carl Edwards, Juan Pablo Montoya, Ryan Newman, Greg Biffle, and Jamie McMurray (although Johnson is making a return in 2023, albeit on a part-time basis).
While the record books clearly show that some of the drivers who've moved on were well past their prime and needed to go, this wasn't true in all cases. Let's take a look at the top three relatively recent Cup Series retirees who were far from over the hill and probably had a good number of wins still left in the tank.
3. Juan Pablo Montoya
Juan Pablo Montoya made his 255th and final NASCAR Cup Series start in 2014, having logged just seven full seasons at NASCAR's highest level.
Over those seven seasons, Montoya won just two races — both on road courses — and was remembered more for running into a jet dryer and igniting a big fire at the 2012 Daytona 500 than his accomplishments.
However, it's what the Colombia native has done both before and after his time in NASCAR that suggests he was capable of so much more.
Before ever joining NASCAR's top series, which he did with Chip Ganassi Racing in 2007, Montoya had already won nearly 20 open-wheel races — including the 2000 Indianapolis 500 — between IndyCar, Formula One, and CART, a now-defunct racing series where Montoya captured the championship in 1999.
Since leaving NASCAR, Montoya has added another Indy 500 win and three additional IndyCar victories to his impressive open-wheel resume. It stands to reason that if Montoya had been with one of NASCAR's top teams, like Hendrick Motorsports or Joe Gibbs Racing, he would've continued in the sport for a while longer and been able to show his true potential.
Based on the success Montoya enjoyed in IndyCar after leaving the Cup Series, there's no denying he had a few good years left in him when he took his talents elsewhere at the age of 38.
2. Carl Edwards
Unlike Jeff Gordon, whose retirement from full-time racing was carefully planned well in advance of his last dance, Carl Edwards enjoyed no farewell tour.
Shortly after a highly successful three-win 2016 season in which he rang up 18 top-10 finishes and reached the Championship 4, Edwards, out of nowhere, announced he was leaving the sport and wouldn't return for another year as driver of Joe Gibbs Racing's No. 19 Toyota.
The move came as a shocker to virtually everyone, considering that Edwards was on the heels of a terrific, championship-contending season and was only 37 years old. Over 12 full seasons in NASCAR's premier division, where he started out with Roush Fenway Racing and later joined JGR, Edwards amassed 28 victories and was the championship runner-up on two occasions.
Nine of his wins came over his final four seasons in Cup — a vivid testament to the fact Edwards was still on his game when he decided to pack it in. Since retiring from NASCAR, Edwards has kept an extremely low profile — unlike Gordon and others who've gone on to pursue other roles in the sport.
1. Jeff Gordon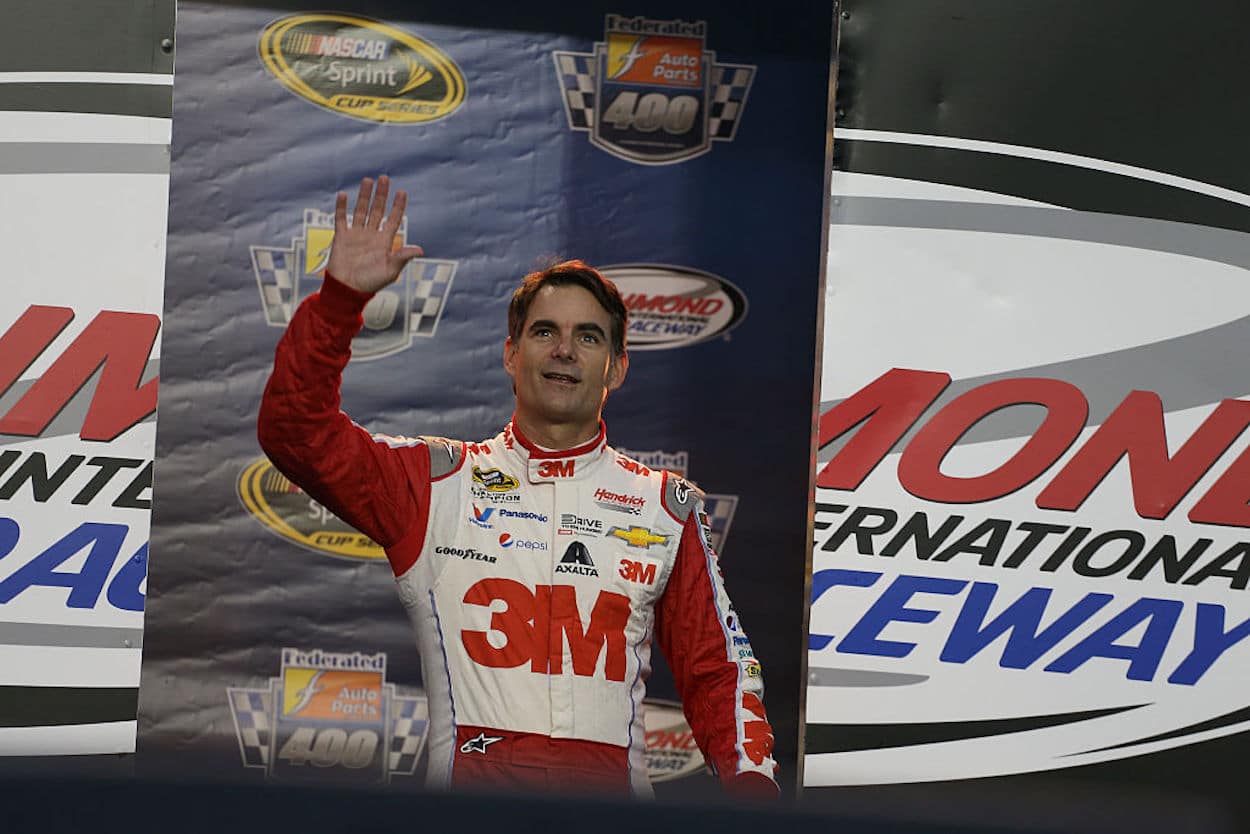 While it might be tempting to focus on the fact that Jeff Gordon won only one race in his final season as a full-time Cup Series driver, the four-time Cup champion's dearth of victories that year fails to paint the full picture.
Sure, Gordon didn't go to Victory Lane as often in 2015 as he did throughout most of his legendary career in the No. 24 Hendrick Motorsports Chevrolet, but let it not be overlooked that the California native recorded 21 top-10 finishes in 36 starts and finished third in the standings after making it all the way to the Championship 4.
That's a pretty impressive season by any objective measure, but especially for a guy who turned 44 years old in August of his final season as a full-time driver. Gordon actually made a brief return in 2016, serving as a substitute driver for former Hendrick Motorsports teammate Dale Earnhardt Jr. in eight races, but at that point, Gordon was simply trying to keep the seat warm and didn't want to take any unnecessary risks.
But had Gordon continued for another two or three seasons in his iconic No. 24, it's quite possible — likely even — that he'd have won at least a few more races, perhaps even reaching the elusive 100-win mark that only two drivers — Richard Petty and David Pearson — have ever surpassed. As it was, Gordon finished his Hall of Fame career with 93 Cup Series victories — good enough for third on the all-time win list.
Did he have more wins or perhaps even another championship left in him? We'll never know. But what we do know is that Gordon — now the vice chairman at Hendrick Motorsports — didn't spend his final Cup season just riding around.