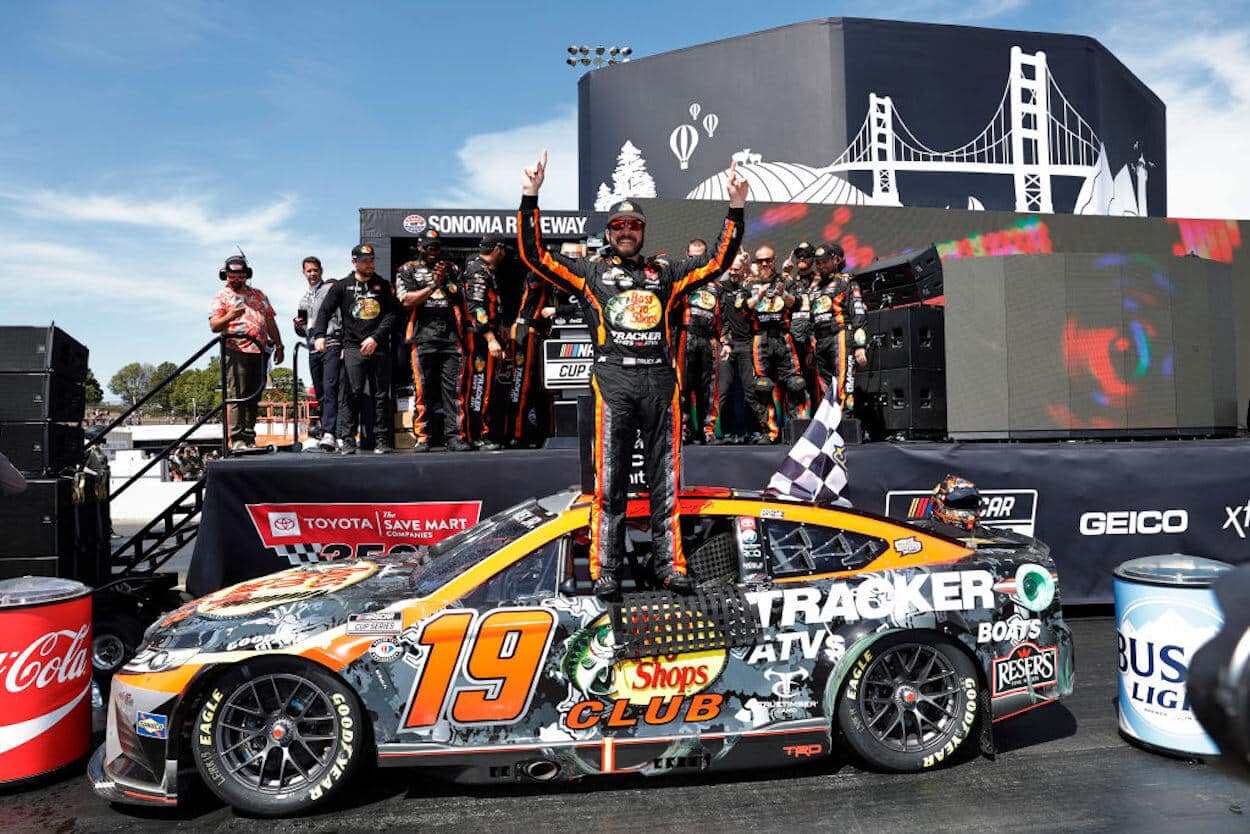 3 Cup Series Drivers Who Are Hot and 3 Who Are Not: Nashville Week Edition
After a weekend away from the track, which Cup Series drivers will be keen to get behind the wheel? And who will be longing for another break ASAP?
After a much-deserved weekend off, the NASCAR Cup Series returns to action on Sunday night with the running of the Ally 400 at the 1.3-mile Nashville Superspeedway in Lebanon, Tennessee.
Up next are three drivers who are red-hot and three others who are certainly not so hot as NASCAR's premier division rolls into the Music City.
Hot: Martin Truex Jr.
It's been virtually a dream season for Martin Truex Jr., who entered 2023 with a lot of question marks after enduring one of his worst seasons ever in 2022.
Truex's return-to-glory tour, if you will, continued last time out at Sonoma Raceway, where he drove a nearly flawless race and went to Victory Lane for the second time this year.
With that triumph, the Joe Gibbs Racing driver has finished no worse than eighth in four of his last five outings, and he took over the points lead outright for the first time since 2019.
Hot: Kyle Busch
Thought Kyle Busch might need a year to adjust to his new life in a Chevrolet at Richard Childress Racing after 15 years in a Joe Gibbs Racing Toyota?
Think again. The two-time Cup Series champion has surpassed all expectations in the first 16 races of 2023, winning a total of three races on three very different types of tracks.
Busch heads to Nashville on a particularly high note, having finished second, first, sixth, and seventh, respectively, in the last four events.
Hot: Joey Logano
Despite his wildly inconsistent season to date, Joey Logano is trending upward after finishing third in each of the last two races.
It's the first time in 2023 that the two-time and reigning NASCAR Cup Series champion has pieced together back-to-back top-fives, which should give Logano a shot of confidence moving forward as he seeks to become the first winner of consecutive titles in over a decade.
Not: Tyler Reddick
No one will show up in Nashville more in need of a strong finish than Tyler Reddick. In his first season with 23XI Racing, Reddick has enjoyed some terrific moments — like his March win at the Circuit of The Americas road course in Austin, Texas — but the past two races have been a major disappointment.
How big of a disappointment?
Well, Reddick came home 33rd at Sonoma — after arriving at the Northern California road course on the shortlist of favorites to go to Victory Lane. A week earlier, Reddick finished 35th at World Wide Technology Raceway outside St. Louis, where he was involved in a crash and recorded a DNF.
Not: Denny Hamlin
It's been a wild season for Denny Hamlin, and the last several weeks have been no exception. Since winning at Kansas on May 7, Hamlin has finished 12th (Darlington), 35th (Charlotte), second (Gateway), and 36th (Sonoma).
In the two races over this stretch where Hamlin has failed to finish, his DNF has been the result of a crash, so staying out of trouble has recently been a problem for the Joe Gibbs Racing driver, even if he wasn't necessarily at fault.
Not: Chase Briscoe
How bad of a slump has Chase Briscoe been in as of late? Bad enough for Stewart-Haas Racing to decide he needed a crew chief change on his No. 14 Ford during the off-week.
Beginning this weekend at Nashville, Briscoe will have a new but familiar face atop his pit box in Richard Boswell, who replaces Johnny Klausmeier — now a part of SHR's vehicle performance group as a result of the shakeup.
Boswell, a former driver who competed for JR Motorsports in the Hooters Pro Cup and Xfinity Series, was most recently the crew chief for SHR's No. 98 Xfinity Series team and driver Riley Herbst. Boswell has also previously paired with Briscoe in the Xfinity Series, where the two captured seven wins together over two seasons.