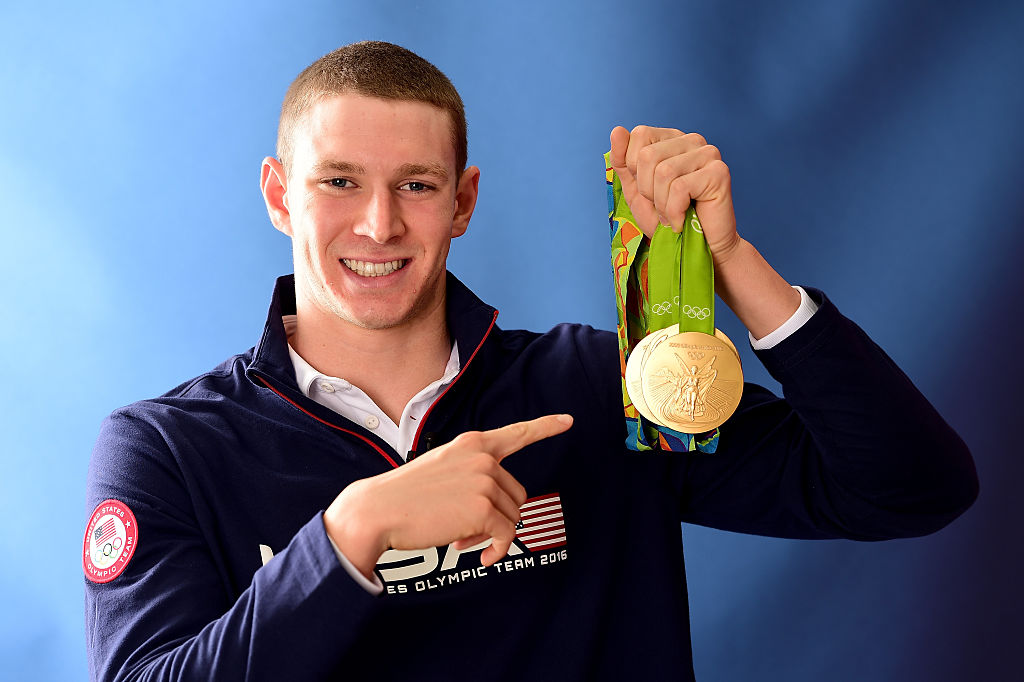 3-Time Gold-Medal Swimmer Ryan Murphy Speaks on the Postponement of the Tokyo Games, How It's Affected Training, and What an Olympic-Level Athlete Does in Quarantine
In an interview with Sportscasting, three-time gold-medal swimmer Ryan Murphy discusses how the cancellation of the Tokyo Olympics has impacted his schedule and how he's using the downtime to his advantage
Like so many kids around the world, Ryan Murphy dreamed of one day making it to the Olympics. As a youngster in Jacksonville, Florida, Murphy wanted to win a gold medal and break world records. And then he actually went out and did it. The backstroke specialist won three gold medals in Rio in 2016 and went ahead and achieved that goal of breaking a world record in the process.
Ryan Murphy set big goals for himself very early on
Ryan Murphy was born just outside of Chicago in July 1995. His family moved to Jacksonville later that year and with the hot summers that come along with living in the Sunshine State, young Ryan spent a lot of time at a community pool and fell in love with swimming immediately. At age eight, he drew a picture for his parents mapping out goals for his life. Look at that picture above and tell me it isn't adorable.
With a dream in mind, Ryan Murphy got to work. He won his first international medals at the age of 16, winning bronze medals in the 200-meter backstroke at the Junior World Championships and the Pan American Games. He missed out on the 2012 Olympics in London but took his talents to Cal-Berkeley and became one of the best collegiate swimmers in the country, winning the 100 and 200-meter backstroke events at the NCAA Championships three years in a row before earning a spot on Team USA for the 2016 Olympics.
He was perfect at the Rio Olympics and set a new world record in the 100-meter backstroke
Ryan Murphy was a perfect 3-for-3 in Rio. He took gold in the 100 and 200 backstroke events and was also a member of the 4×100-meter men's medley relay team that won gold. His relay split time of 51.85 broke the 100-meter backstroke world record and still stands to this day. He returned to Cal for his senior season in 2017 and capped off his college career by again sweeping the backstroke events at the NCAA Championships.
Murphy was hoping to continue his success this summer in Tokyo. However, with the 2020 Olympics being postponed until next year due to the COVID-19 outbreak, he's found his life turned somewhat upside down. Olympic-level athletes are used to training a certain way and living a certain way and Murphy, like so many others, has had to adapt. However, he's found new ways to train and even took some time off when the news came down that he'd have to wait a year for Tokyo.
But he's used this time to his advantage, putting his energy into other projects like "Recess with Ryan" or working with the Tom Coughlin Jay Fund.
I spoke with Ryan Murphy recently about how he's had to adjust his training schedule, his work in the community, and exactly what downtime for an Olympic-level athlete looks like.
Sportscasting's interview with Ryan Murphy
Sportscasting: With the COVID-19 outbreak, there was so much up in the air regarding the Olympics with it being later in the summer and it was one of the last things to be postponed. How did you react to that and what was that process like?
Ryan Murphy: From the competitor's perspective, it was a total whirlwind for a couple weeks. There were a bunch of conversations going on behind the scenes with the athletes, with USA Swimming, with the USOC that were really interesting in this time. We were expecting this to happen. The news continued to progress in a bad direction every single day and it got to the point with the athletes where we were on board. We totally recognize that this decision had to be made for public health and society. We wanted to make sure that we were supporting our community, our family, our friends, and the medical community. It definitely hurt. It's a big bummer that the Olympics are postponed but at the same time, every single person has a sacrifice in this time and the sacrifice of postponing the Olympics one year is relatively a very small sacrifice compared to the sacrifice that the medical community is making.
Sportscasting: What does that do to someone like yourself who's been preparing for years? What does this do to your training schedule? How do you keep that in check knowing that there's been another year tacked onto the process that you've put so much time into already?
Ryan Murphy: When that decision was official, that was closure on my season. It's not what I'm used to and it's not the closure I wanted. I wanted to finish because I was in a really good spot. So I ended up taking about two weeks off…no working out, just getting away from everything because it was a very stressful period in the weeks leading up to this decision. I was trying to make sure that I was ready to do that while at the same time keeping up with the news. I was checking up on my family and making sure everyone was safe and doing the things that they had to do to stay healthy. But taking the two weeks off was awesome. It was great to just relax and get away and now it's figuring out how to get back. So I've got an at-home gym in my garage now. I've got a couple dumbbells, some kettlebells, my roommate's got a boxing bag, and some ropes we've been using. Another one of my roommates set up a pull-up bar outside so we're getting creative. I've been consistently using a stationary bike for the first time in my career. It's cool to try new things.
Sportscasting: So you mention this downtime. What does an Olympic-level athlete's time off look like?
Ryan Murphy: Just relaxing, trying to be a totally normal 24-year-old guy. Just like everyone, I was binge-watching "Tiger King" and my girlfriend's in our house so she made me watch "Love is Blind" and now we're watching "Ozark". There's a lot of cool shows out right now that I'm enjoying, like the Michael Jordan documentary. My calendar is set for every Sunday night now and I've been super fired up about that. It's just being a normal 24-year-old for a couple of weeks here that I'm really enjoying.
SportsCasting: You're also involved in many projects within the community. How have you been using this time to give back?
Ryan Murphy: I do have more time on my hands these days and I don't want to sit idly by when there are people that want me to engage with them. So something like "Recess with Ryan", that's a really awesome thing. I'm able to interact with these young kids and it's tough for them. They can't go out to the playground and play with their friends. So my hope is that this gives these kids something to look forward to in the middle of the day, something quick for 10 minutes, but something that can give them a challenge that they can go off and do on their own. I did a couple of Zoom videos on behalf of the Tom Coughlin Jay Fund. He's got a great foundation in Jacksonville and the New York area where he visits kids that have cancer. And it's tough in this time because they can't have visitors as all of the hospitals are basically on lockdown. So I got to interact with some super-inspiring, optimistic kids and that's so cool for me. I was talking to a girl and the day after I had a call with her, she was going in for some chemo treatment. So I asked her 'How are you doing with that? Are you nervous?' and her reaction was that she was just looking forward to getting out of the house. And that just blew my mind. The amount of positivity and optimism that these kids are bringing to the table just has a huge impact on me and so that motivates me to want to do more and to challenge other people to reach out to kids like this. That was a small thing that I felt I could do to help inspire these kids and, honestly, they inspired me more than I inspired them. I guess the main message that I'm trying to get across to everyone is to do their part, no matter how small or great their influence. I think there's been an incredible sense of community throughout this entire pandemic and so I think we just need to continue to foster that no matter how long this thing drags on.
Sportscasting: So what does this next year look like for you?
Ryan Murphy: I'm fired up. My motivation was at an all-time high when this news came down but now I've got another 15-month period to take that motivation that's just pent up inside of me and really attack the training. I still get to look forward to the Olympics so I'm really fired up to get back into the pool, talk with my coach, and look at the path here. What is it that we can do better? Try to hit the ground running and hopefully have a really great Olympic performance. I'll tell you though, watching that Michael Jordan documentary on Sundays…I wish they weren't airing it at night because I wanna do something right after it's over. So I guess I just save that. It's really motivating me.
For more from Ryan Murphy, you can follow him on Facebook, Twitter, Instagram, and at RyanMurphy.com.