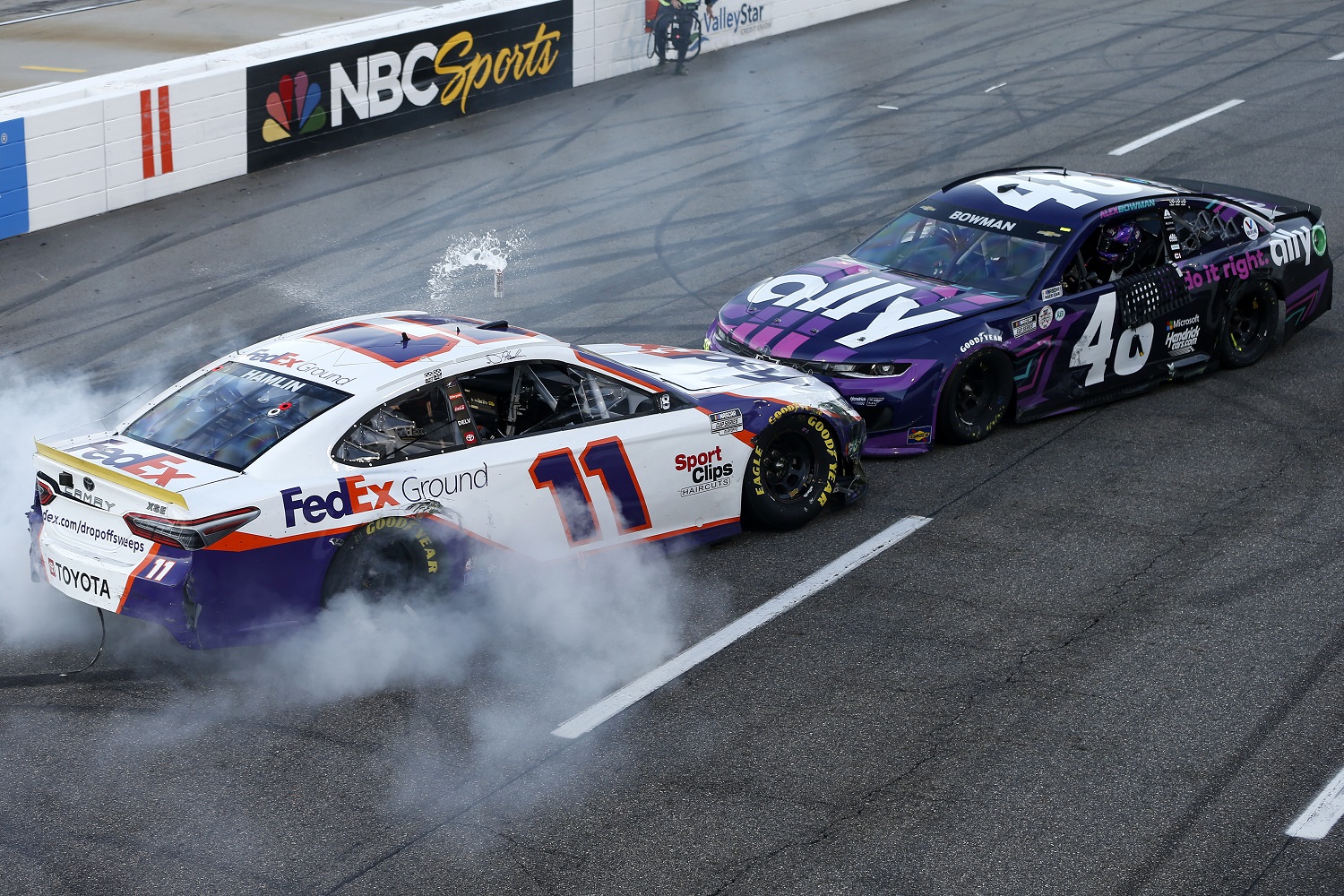 4 Lingering NASCAR Cup Series Feuds Will Spice up the 2022 Season
Denny Hamlin likely has residual hard feelings over a couple of incidents during the 2021 NASCAR Cup Series season. He's not alone, and there are several feuds to watch beginning at Daytona on Feb. 20.
Seasons change. Hard feelings don't. The most recent NASCAR Cup Series season ended with Kyle Larson holding the championship trophy and several top names holding grudges.
Larson might repeat. Some of the feuds most definitely will carry over to 2022, beginning next month at Daytona. Here's a look at four worth keeping an eye on as the season unfolds.
NASCAR Cup Series champion Kyle Larson vs. Christopher Bell
With apologies to Strother (no relation to Mark) Martin, what we've got here is failure to communicate. Consequently, Kyle Larson vs. Christopher Bell is both the most needless carryover beef and the easiest to fix.
Kyle Larson and Christopher Bell raced against each other this week at the Chili Bowl Nationals in Tulsa, Oklahoma, where one or the other has won every title since 2017. That dirt-track rivalry has been spirited but civil, and there were no known issues as they went head-to-head in the 2017 and '18 Xfinity Series.
Bell won the NASCAR Cup Series race on the Daytona road course two weeks into last season, but he experienced a slump beginning at Talladega. Just when it looked like two second-place showings in a three-week span had him back in form, Bell took a setback at Watkins Glen as Larson tapped him from behind while the Toyota was stalking Joe Gibbs Racing teammate Martin Truex Jr. for the lead.
The relatively mild contact was enough to spin Bell out on lap 55 of 90. He recovered to finish seventh, but Larson overtook Truex 10 laps after the incident and went on to victory.
Larson volunteered afterward that the contact was his fault but did an interview the next day in which he claimed to have "reached out and tried, but I guess he's not willing to talk to me, which is kind of whatever. I think any adult in the field would at least have a conversation with you, but he doesn't care to."
Bell told a different story. He said he got a short text from Larson but that the eventual season champion "cried to the media" before he could text back.
They had more than two months after that to hash it out, but it never happened. Maybe they fixed it this week in Tulsa. We should know within about 15 seconds of the pair driving side-by-side for the first time in the 2022 NASCAR season.
Kevin Harvick vs. Chase Elliott
The referee should have stepped in and stopped the Kevin Harvick-Chase Elliott fight the moment Harvick locked up his brakes and hurled his Stewart-Haas Racing Ford into a barrier on the Charlotte roval. Elliott scored a knockout without doing anything other than creep up on Harvick moments earlier.
Harvick came into the race bitter about Elliott blocking him at the Bristol night race, which paved the way for a victory by Hendrick Motorsports teammate Kyle Larson. Three weeks later at Charlotte, Harvick tapped Elliott into the wall, causing substantial rear-end damage that nearly ended Elliott's day. The move was universally panned as suspicious.
Then came Harvick's fateful moment with 11 laps to go. The crash left him 33rd in the standings, which was enough to keep Harvick from transferring into the playoffs field of eight.
Elliott taunted Harvick in a postrace interview by wishing him "a merry offseason." NASCAR fans know this one is far from over.
NASCAR veteran Denny Hamlin vs. Chase Briscoe
A theme is developing here: Road courses create issues. Kyle Larson might have been a little sloppy. Kevin Harvick almost certainly was trying to take Chase Elliott out, triggering karma later. But NASCAR Cup Series newcomer Chase Briscoe had a major brain cramp in derailing Denny Hamlin's bid to win on the Indianapolis road course.
Briscoe may have intended no harm when he spun out Hamlin in the late going and condemned him to 23rd place, opening the door for an AJ Allmendinger victory. But continuing on through the grass and rejoining the race as though nothing happened was a bad look. It looked worse when Hamlin lost the regular-season points title to Larson by 18 points.
Later, the two swapped paint in Texas during the seventh round of the playoffs.
"There's cars racing for a championship," Hamlin wrote on social media. "In case you forgot about taking out the leader and costing him one championship already this season."
Briscoe has written off the incidents as no big deal. It's doubtful, however, that Hamlin concurs.
Denny Hamlin vs. Alex Bowman
Yes, Denny Hamlin's potential to-do list for the 2022 NASCAR season seems inordinately long.
Alex Bowman had already been knocked out of the playoffs, but Hamlin was still in the fight at Martinsville, the last elimination race. With seven laps to go, Bowman went gunning for the lead with an inside pass and brushed Hamlin as the Chevy got loose.
Hamlin spun, finished 24th, and squeaked into the Championship 4 anyway. As Bowman drove to the frontstretch to celebrate his victory, Hamlin parked his Toyota in front of him to head off the celebratory burnout.
Bowman took the blame for initiating the costly spin but said it was unavoidable. Hamlin responded with his now-famous "He's just a hack" speech, which Bowman answered by printing "Hack" shirts.
Bowman was showing a sense of humor. It's doubtful Hamlin has yet to laugh at the joke.
Like Sportscasting on Facebook. Follow us on Twitter @sportscasting19.