Why Don't NASCAR Champion Kyle Larson and Christopher Bell Get Along?
Kyle Larson and Christopher Bell began this week on a path toward a showdown at the Chili Bowl Nationals. Five years of head-to-head battles with one or the other prevailing in the championship race created a rivalry, but it took an incident last summer to generate hostility.
Larson vs. Bell in a showdown Saturday night might not match the season-long motorsports drama of Max Verstappen vs. Lewis Hamilton, but it definitely would be worth the price of admission in Tulsa, Oklahoma.
Chili Bowl week is the highlight of the offseason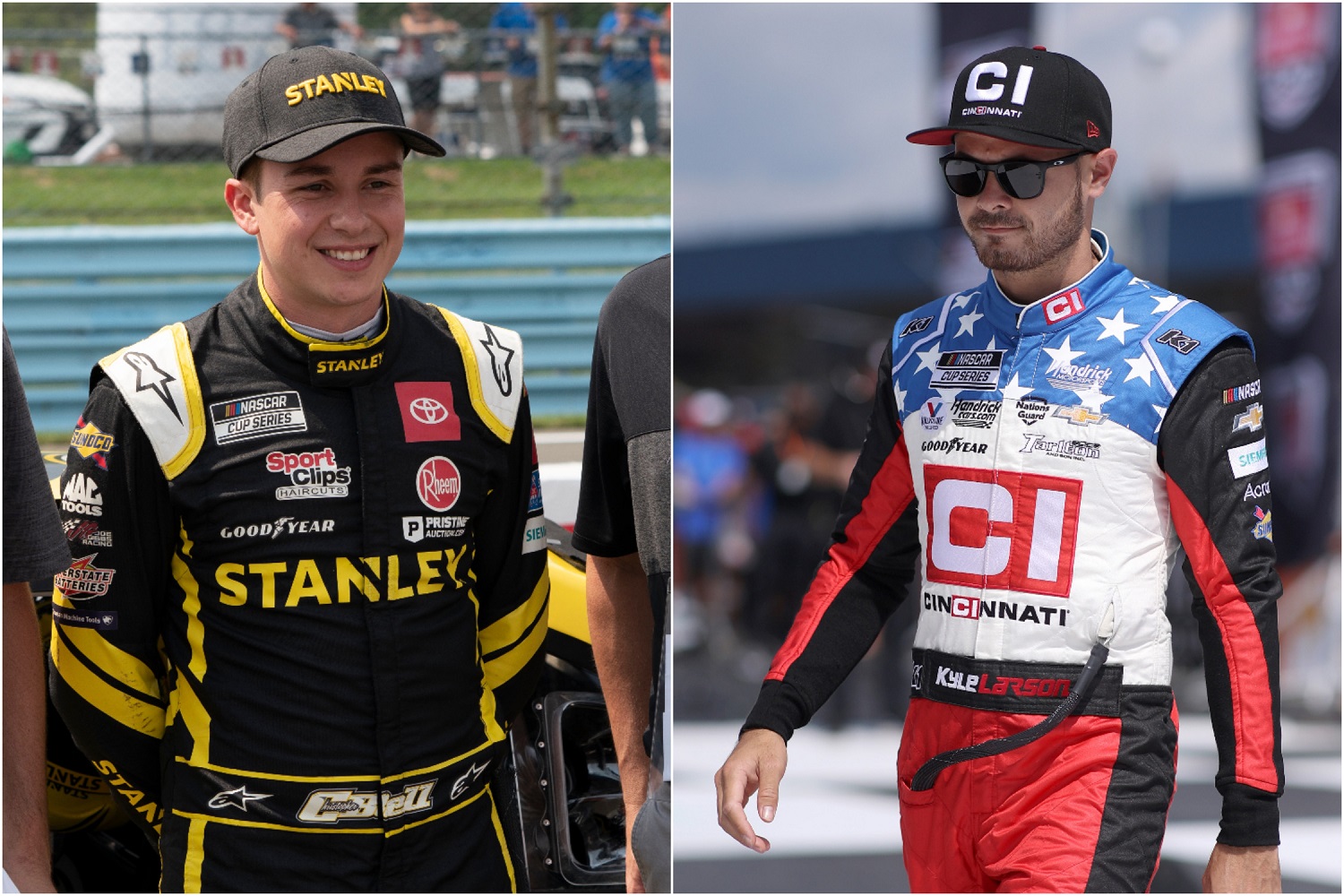 How important is Chili Bowl Nationals week for top midget car racers and fans? It's big enough to attract NASCAR stars, including 2021 Cup Series champion Kyle Larson. In fact, Larson would normally be a candidate to participate in Next Gen testing for Hendrick Motorsports this week at Daytona. Instead, HMS driver William Byron's teammate at the superspeedway this week is Dale Earnhardt Jr. while Larson, Chase Elliott, and Alex Bowman race on the dirt in Tulsa.
Christopher Bell is there, too, likely anticipating a clash with Larson. Bell won the Chili Bowl Nationals title three straight years beginning in 2017. Larson has won the last two.
If Bell didn't already want to keep Larson from matching his three-peat the moment the 2021 checkered flag came down, then he certainly does now. It's the fallout from an incident between the two last summer that they never resolved.
Why don't Kyle Larson and Christopher Bell get along?
Kyle Larson and Christopher Bell competed against each other in the Xfinity Series in 2017-18, and last season was their first full year together in the NASCAR Cup Series. Larson was making his comeback from a nearly year-long suspension, and Bell was trying to build off a rookie season in which he placed in the top 10 seven times and placed 20th in points.
Bell won on the Daytona road course two weeks into 2021, but he went into a two-month slump beginning at Talladega. He looked like he was righting himself with a pair of second-place finishes in the three races leading up to Watkins Glen.
On the other hand, Larson had already triumphed four times on his way to a 10-win season, and he made the Watkins Glen road course his fifth victory. Along the way, though, he tapped Bell from behind as the Joe Gibbs Racing driver was stalking teammate Martin Truex Jr. for the lead.
The light contact was enough to spin Bell out on the 55th of 90 laps. Bell recovered to finish seventh, but Larson overtook Truex 10 laps later and went on to victory.
Larson volunteered after the race that the contact with Bell was his fault, but The Athletic reported that wasn't the end of the episode.
The two NASCAR stars didn't speak afterward
There isn't a NASCAR Cup Series race that doesn't include contact between cars. Typically, the drivers get together after the race or within a day or two to talk. The conversations don't always clear the air, but lingering issues are rare.
Kyle Larson vs. Christopher Bell turned out to be one of those exceptions. A day after the race, Larson said in an interview that he "reached out and tried, but I guess he's not willing to talk to me, which is kind of whatever. I think any adult in the field would at least have a conversation with you, but he doesn't care to."
Bell told a different story. He said he got a short text from Larson but that the eventual season champion "cried to the media" before Bell could text back.
"On-track incident, whatever," Bell said. "Him crying to the media that I didn't reply to his sorry text message? Like, come on."
It got worse from there because Larson and Bell traded missed phone calls after that and let ample opportunities to sit down at tracks go by over the rest of the season.
Without a resolution, any incident between the two beginning with the Daytona 500 next month will be magnified. Worse, races in close confines on the Chili Bowl Nationals' short track practically demand something that looks like hand-to-hand combat compared to most NASCAR action.
If something goes down in Tulsa this week, then the still unresolved Chase Elliott vs. Kevin Harvick saga could look like child's play come February.
Like Sportscasting on Facebook. Follow us on Twitter @sportscasting19.