William Byron Is Taking a Cue From Kyle Larson to Become a Better NASCAR Driver
William Byron rose through the motorsports ranks at near-record speed to earn a job driving for the most successful organization in the NASCAR Cup Series. But while he demonstrated exemplary skill each step of the way, Byron missed out on a significant aspect of his development.
Taking a page from Hendrick Motorsports teammate Kyle Larson's playbook, Byron is addressing that missing piece now, which could set him up for his best Cup Series season yet in 2022.
William Byron climbed the NASCAR ladder with impressive speed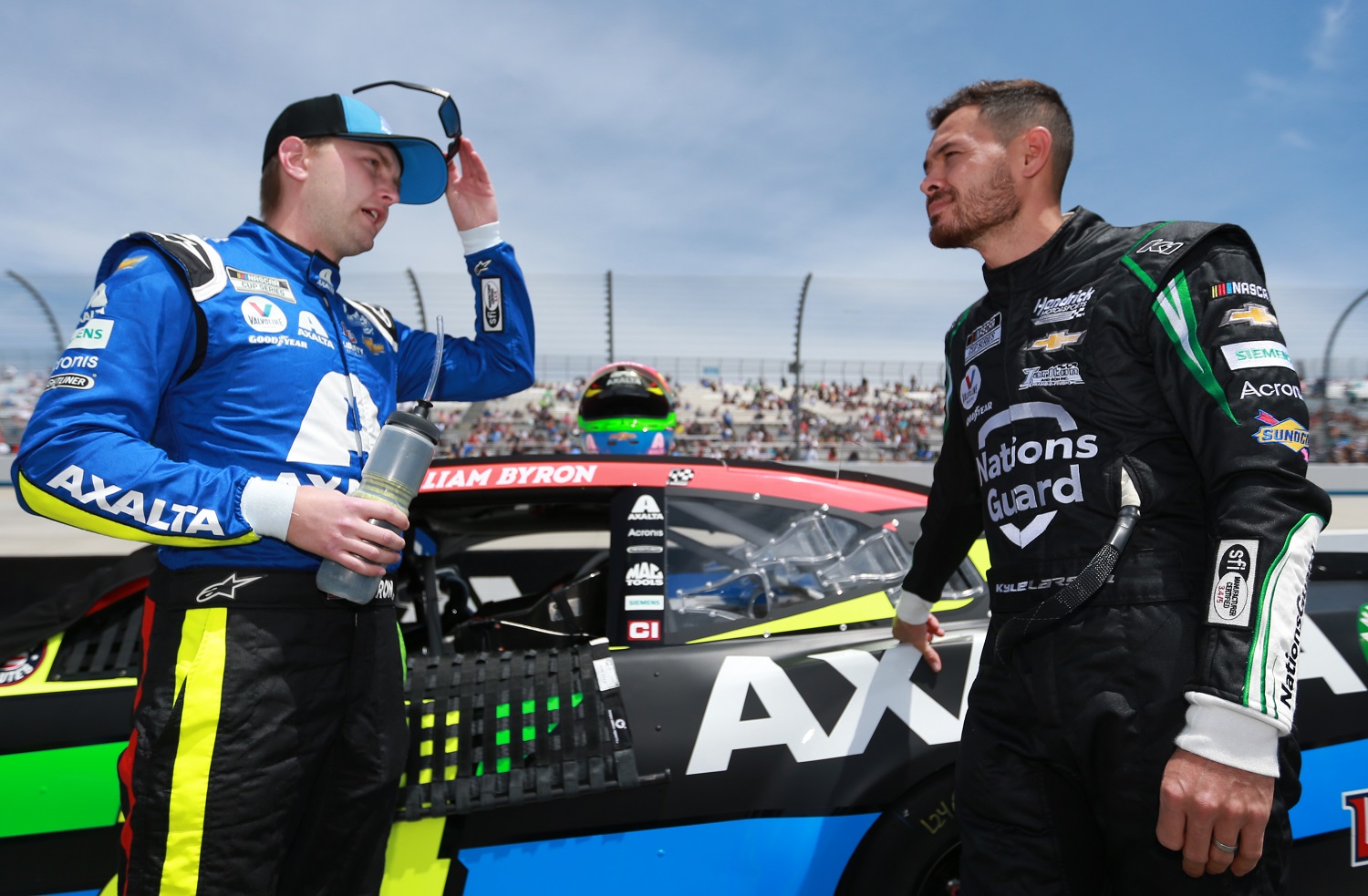 William Byron just turned 24 years old last month but is already a veteran of four full NASCAR Cup Series seasons and 144 starts. The value of so much top-level racing at a young age is obvious. It means a good working knowledge of the nuances of tracks on NASCAR's annual schedule.
But those four years amount to more experience than he racked up in all the sport's developmental levels combined.
At 17 years old, Byron was tearing up the NASCAR K&N Pro Series East with four victories and 11 top-10 finishes in just 14 starts in 2015. The following season, he was driving in the Camping World Truck Series, where he won seven times and scored 16 top-10 showings.
In 2017, Byron moved to the Xfinity Series with the JR Motorsports team. Byron won four races, finished in the top 10 in 18 others, and captured the series championship before hitting his 20th birthday. It earned him a ticket to the big show.
William Byron is taking a cue from Kyle Larson to become better
Completing his best NASCAR Cup Series season yet left William Byron yearning for more last month. Attribute some of it to the fact that his career before arriving at the sports top competitive level amounted to just 79 races over three seasons with little extracurricular midweek or offseason racing.
Understandably, he valued his time off then, but he didn't fly home from the 2021 season-ending race feeling that same need to get away from it all.
"It was different this year," he told NBC Sports. "I didn't leave Phoenix and be like, 'Oh my gosh, I'm ready for a break.' I left, and I was like, 'Let's go to the next race. Let's figure it out.'"
Kyle Larson, who just won the Cup Series title in his first season with Hendrick Motorsports, is a racing junkie. He hops into midweek dirt-track races during the NASCAR season and lines up additional events during the offseason.
Driving karts and sprint cars may not have much in common with what he does on Sundays during the summer, but there is some value in staying mentally sharp. To that end, Byron has started looking for racing opportunities in between the occasional Next Gen tests this fall and winter.
"I'm doing a karting race (this week in Mooresville, North Carolina), and I like those a lot," he said. "I was racing out there with Will Power the other afternoon. I think just doing some other stuff that I enjoy. I don't want to go do any huge races, but it's fun to just maybe go race the kart sometime or maybe go do a Trans-Am race or something."
Larson was happy to hear of it.
"He's an amazing racecar driver," Larson said. "I get to see how dedicated he is to getting better. He puts in more effort than anybody I've ever seen."
He is coming off his best NASCAR Cup Series season yet
Kyle Larson was understandably the star of the show in 2021, winning 10 NASCAR points races, including the Championship 4 at Phoenix. But that should not detract from the improvement William Byron displayed with Hendrick Motorsports, the winningest organization in Cup Series history.
Byron was the team's first driver to roll onto victory lane, winning at Homestead in Week 3 for his second career checkered flag. His 12 top-five showings were three more than his total for the first three seasons combined, and Byron's average finish of 13.6 was easily his best.
With a little more seat time like what he's pursuing this offseason and a little good fortune, he could be a threat to reach the Championship 4 in any given year.
All stats courtesy of Racing Reference.
RELATED: William Byron Brilliantly Schools NASCAR Rivals on the Key to a Lengthy Cup Series Career