William Byron Is Chase Elliott's Best Weapon for Reaching the NASCAR Championship 4
Article Highlights:
Kyle Larson has already clinched a spot in the NASCAR Cup Series Championship 4
Defending series champion Chase Elliott has two shots left at advancing
Elliott can expect help from teammates on two tracks where Hendrick Motorsports does well
Kevin Harvick looked into his rearview mirror two weeks ago, saw an agitated Chase Elliott closing in, and promptly steered the No. 4 Ford into a wall on the Charlotte Roval. If Kyle Larson sees Elliott in his rearview the next two weeks, the odds are he'll wave his Hendrick Motorsports teammate around like a third-base coach sending his runner home on a single into the gap in Game 7 of the World Series.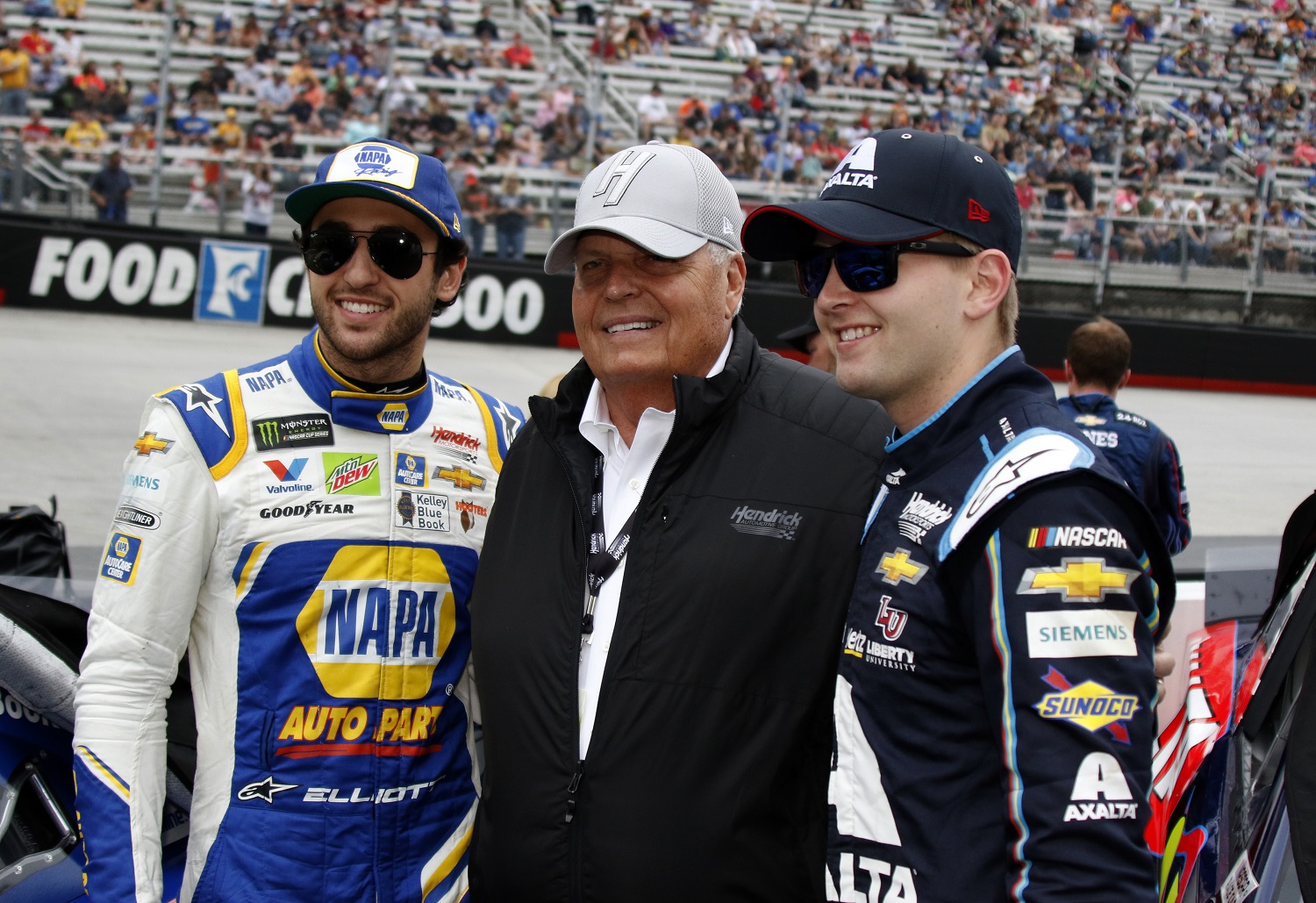 That perk belongs to a defending series champion when the star of the most successful NASCAR Cup Series team has already earned his way into the Championship 4. And if a driver from another playoff team has a problem with that, well, he should have tried harder.
If that sounds callous, merely refer back to Elliott throwing a block on Harvick to keep him from winning one race and Harvick returning the favor by dumping the No. 9 Chevy at the Roval. Drivers will do what it takes for their own sake, and helping the company runs a close second on the list of priorities.
That's why Elliott can feel a lot better than anyone else would right now while sitting eight points below the cutline for the Championship 4 in Phoenix next month. He's going to have friends on the track at Kansas and Martinsville.
Here's the situation:
Hendrick Motorsports can focus all its effort the next two weeks on one driver.
Larson is already locked into the Championship 4 in Phoenix by means of winning at Texas Motor Speedway last week to kick off the third round of the NASCAR Cup Series playoffs. Fellow Hendrick Motorsports driver Elliott, the defending series champion, is the organization's only other driver still alive in the playoffs. At just eight points below the cutline, he could still advance even without winning. Given that he finished fifth at Kansas and second at Martinsville during the regular season, that's plausible.
The Hendrick squad's William Byron also ran well (ninth at Kansas and fourth at Martinsville) at the two remaining tracks in this stage, and Alex Bowman drives the team's fourth car. Though Larson has been the star, the four teammates have won 14 points races this season, meaning all can run at the front.
If one of them is leading late in the next two races, and Byron would seem to be a pretty good candidate for that, and Elliott is on their tail, the obvious move is to let the No. 9 Chevy through to take the checkered flag and automatically advance, right?
Well, when interviewed by Bob Pockrass of Fox Sports, Byron makes it sound as though that might not be a sure thing. After all, he raced Elliott hard right to the end last weekend in Fort Worth.
"My team never told me where Kyle was in points and all that. But knowing before the race that he has a bunch of bonus points and then knowing throughout the race that he got a bunch of stage points, yeah, I wasn't super worried about his points situation. But I didn't want obviously to get in a wreck with him. So, we just raced hard and clean and just raced smart.

"But, you know, I want to win. And my team wants to win. So, I'm not going to do anything to sacrifice that. I just have to be aware of the situation."

William Byron
Well, William, here's the situation:
Liberty University just agreed to continue sponsoring your car for a third of the races through the end of the 2026 season, which means that Rick Hendrick will be announcing a driver contract extension, too.
Hendrick doesn't have to say a word for the world to know that the difference between a two- and an unheard of four-year extension may come down to Byron waving Elliott by on an upcoming white-flag race.
It's as simple as that.
Like Sportscasting on Facebook. Follow us on Twitter @sportscasting19.