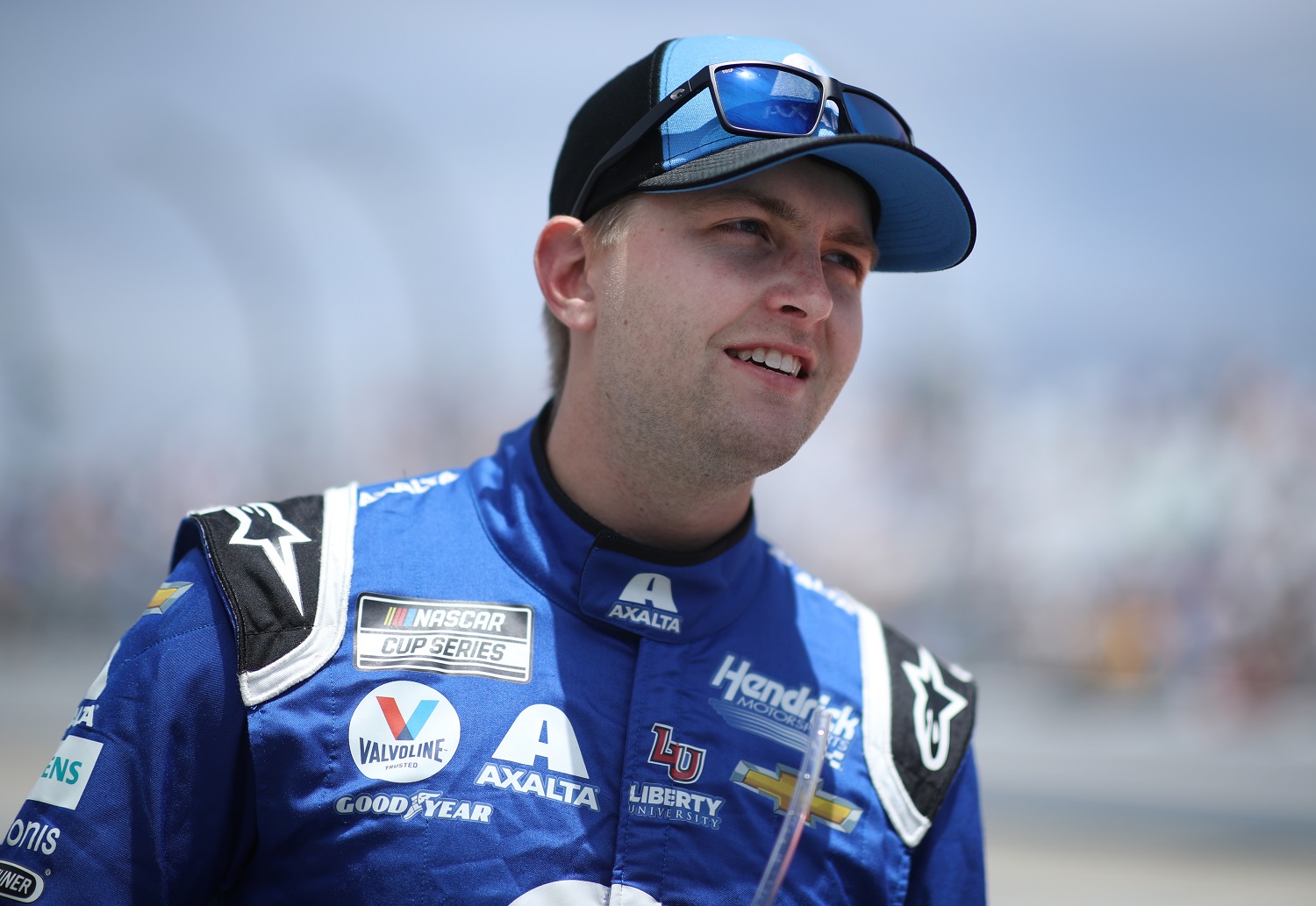 William Byron Brilliantly Schools NASCAR Rivals on the Key to a Lengthy Cup Series Career
Liberty University has extended its sponsorship of William Byron's No. 24 Chevy, which means the NASCAR Cup series driver can expect a long-term deal from Hendrick Motorsports.
William Byron did his racing undergrad work with Kyle Busch Motorsports, driving two seasons in the NASCAR Camping World Series. He earned the motorsports version of a Master's degree at JR Motorsports, winning the 2017 Xfinity Series crown.
Byron hasn't really made his mark yet in the Cup Series in four seasons with Hendrick Motorsports, so the doctorate will have to wait. But he has just taught his colleagues in the sport a little something about MBAs.
At 23, Byron has all but guaranteed himself a place in the NASCAR Cup Series until he's close to 30 years old.
William Byron has been moonlighting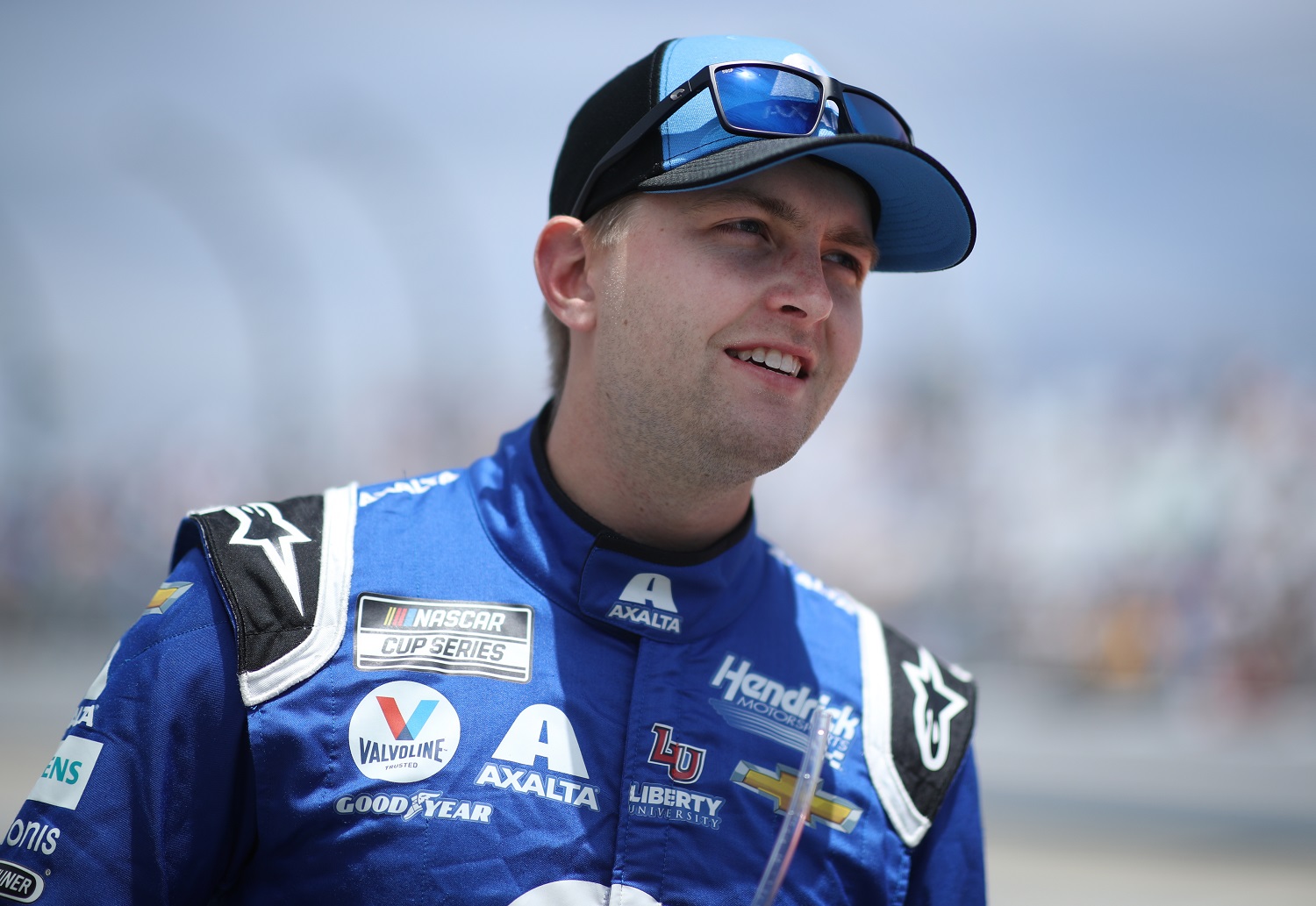 Saying that NASCAR driver William Byron has a solid career going qualifies as an understatement.
As a 17-year-old in 2015, he won four races and the K&N Pro Series East championship. In his only full-time season on the circuit, he won the 2016 truck series crown on the strength of seven victories.
That positioned Byron to move from the Kyle Busch organization to Dale Earnhardt Jr. Competing for JR Motorsports in 2017, he won four Xfinity Series races, finished in the top five of eight others, and snared another season championship.
That opened the door to his opportunity in the NASCAR Cup Series with Hendrick Motorsports, driving the No. 24 Chevy that the organization entrusted to Jeff Gordon from 1992-2015. That's where Byron can be found on weekends.
During the week and in NASCAR's offseason, however, Byron has been spending time with his nose buried in the books. Taking advantage of the school's online program, Byron studies at Liberty University in Lynchburg, Virginia. He is a junior working on his undergraduate degree in strategic communication.
Liberty University is all-in on its celebrity student
The relationship between William Byron and Liberty University goes back to the school sponsoring his K&N Pro Series car. They've continued to partner, and Liberty has been the primary sponsor for the No. 24 Chevy 13 times in the current NASCAR Cup Series, according to Racing-Reference.com.
That relationship will continue well into the decade. On Friday, Liberty University announced a long-term extension with Hendrick Motorsports. Under terms of the deal, Liberty will sponsor William Byron's No. 24 Chevy in 12 Cup Series races per season through 2026.
Aside from the Byron car serving as a 180 mph recruiting poster, Liberty derives another benefit from the relationship. Hendrick Motorsports supports the School of Engineering's Formula SAE effort to advance electric car technology, and the mammoth Hendrick Automotive Group is helping develop an academic track in automotive dealership management.
"I'm proud to represent an institution like Liberty University," Byron said in a statement announcing the extension. "I had the opportunity to go back to campus last weekend and see how much the school continues to grow. They inspire a lot of people my age to pursue their passions, and I look forward to continuing to represent them on and off the racetrack."
William Byron brilliantly schools NASCAR rivals
William Byron has made the NASCAR Cup Series playoffs the past three seasons, and he owns two race victories and 48 top-10 finishes in 140 career starts. That's the start to a prosperous career, but not a guarantee for a long career.
Motorsport.com reports that Byron is under contract through the 2022 season, but that's undoubtedly about to change. A sponsorship covering 12 races a season for five years is gold for a racing outfit, even one with the financial wherewithal of Hendrick Motorsports, which has scored more Cup series victories than any team in history.
That means that a long-term contract extension is on the horizon for Byron.
Other drivers have enjoyed similar job security, and Michael Jordan's startup team is a good example of the value of sponsors. Bubba Wallace brought multiple sponsors, including McDonald's, with him from Richard Petty Motorsports to 23XI Racing, and Kurt Busch will be hauling long-time sponsor Monster Energy along in 2022.
But those relationships were forged after the drivers reached NASCAR's top echelon. In Byron's case, he began nurturing the deal as a teenager, reinforced it by succeeding at every level, and has cemented it by enrolling as a student.
He may be studying strategic communication, but savvy planning like that ought to earn Byron an MBA when he walks the stage in a couple of years to pick up his undergraduate degree.
Like Sportscasting on Facebook. Follow us on Twitter @sportscasting19.