49ers vs. Eagles: Why Brock Purdy's Cinderella Story Could Come to a Painful End in Philadelphia
Philadelphia may be known as the City of Brotherly Love, but Brock Purdy better be prepared for the fight of his life when the San Francisco 49ers take on the Eagles in the NFC Championship. 
The rookie's rise from Mr. Irrelevant to starting quarterback for one of the final four teams remaining in the hunt for the Lombardi Trophy has been perhaps the most impressive and shocking storyline of the 2022 NFL season.
Considering some of the drama that's unfolded across the league over the last few months, from the Indianapolis Colts stunningly hiring Jeff Saturday to Damar Hamlin's scary collapse, Purdy's improbable ascension up the depth chart still seems like an almost-too-good-to-be-true scenario. 
Yet as the 49ers get ready to take on a soaring Eagles team that made easy work of the New York Giants in the divisional round, the idea of a seventh-round pick playing his first season of pro football taking down a squad led by Jalen Hurts, A.J. Brown, and DeVonta Smith may be more of a dream than a reality. 
In fact, Purdy's near-perfect season could easily come to a painful end in Philly.
The 49ers face a colossal challenge to slow down a ferocious Eagles pass rush
There's no doubt Kyle Shanahan knows how to put his players in the best position to succeed. From seamlessly incorporating do-it-all running back Christian McCaffrey into the offense to helping unleash 2020 first-round receiver Brandon Aiyuk to providing Purdy with protection and playmakers to make his life easier, the fourth-year head coach has done a fantastic job thus far. 
But even though Shanahan is rightfully regarded as one of the league's most creative and player-friendly schemers, he faces a tall task to craft a game plan that can thwart one of the NFL's best defenses. 
Thanks to the brilliant work of general manager Howie Roseman, the Eagles boast a complete roster that includes a dangerous defensive line and a stacked secondary. 
As a testament to both their talent and depth, the NFC East champions feature four players who recorded double-digit sacks during the regular season. Former fourth-round pick Josh Sweat (11 sacks) has developed into one of the league's top pass rushers, and free-agent acquisition Haason Reddick (team-high 16 sacks) should have earned a Pro Bowl berth for his efforts. 
Meanwhile, the 49ers have to account for not just those two explosive edge rushers but also versatile veteran Brandon Graham (11 sacks), underrated defensive tackle Javon Hargrave (11 sacks), and longtime Eagles standout Fletcher Cox (seven sacks, 25 pressures). 
Purdy's protection squad will have its hands full facing a front seven that can bring pressure in waves. And with Philadelphia able to rotate players to keep them fresh, a San Francisco offensive line that is relatively average outside of star left tackle Trent Williams will have to prove it can hold up over the course of four quarters in what should be a loud, raucous environment. 
Philadelphia's veteran-laden secondary poses a problem for Brock Purdy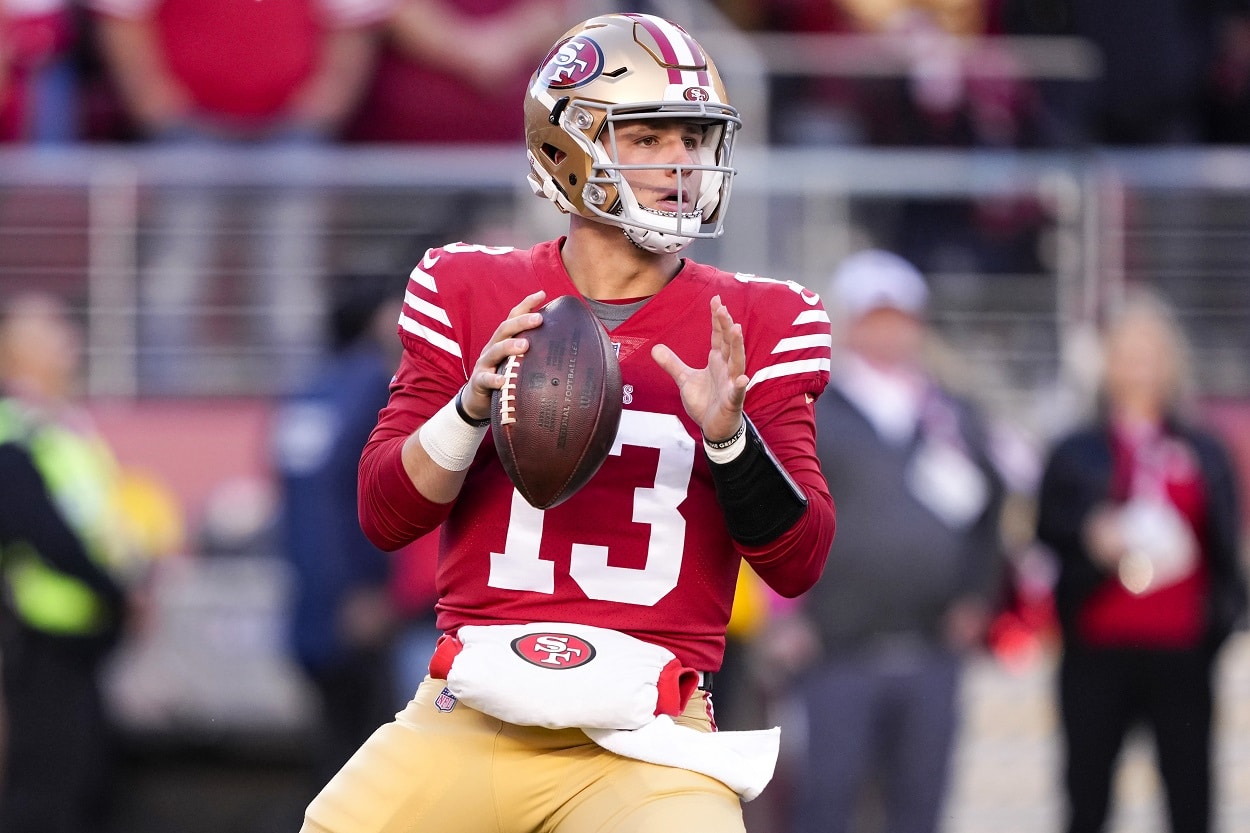 Unlike most young quarterbacks, especially ones who waited until Day 3 of the draft to hear their names called, Purdy has taken excellent care of the football. Accurate, efficient, and poised beyond his years, the 23-year-old only threw four interceptions on 170 regular-season attempts. 
Just how dialed in has Purdy been heading into the biggest game of his life? 
The first-year pro will enter the NFC Championship Game with a rookie record 59 straight postseason attempts without throwing an interception. 
But don't be surprised if the Eagles snap that impressive streak on Sunday. 
Defensive coordinator Jonathan Gannon has put himself in the mix to become an NFL head coach by overseeing a unit that makes life extremely difficult for opposing quarterbacks. Besides having to worry about the Eagles' onslaught of pass rushers, signal-callers can't afford any slip-ups against a secondary that includes multiple Pro Bowl-caliber players. 
Between five-time Pro Bowler Darius Slay and the criminally underrated James Bradberry, Philadelphia possesses two physical corners who can combat the likes of Deebo Samuel and Aiyuk. Plus, feisty safety C.J. Gardner-Johnson rounds out an opportunistic group that finished first in passing yards allowed (179.8 per game) and just held Dan Prescott and the Dallas Cowboys to a mere 12 points in the divisional round. 
Ultimately, the combination of a deep defensive line and an experienced secondary doesn't bode well for a quarterback who has just seven starts under his belt. So, even though Purdy has proven capable of playing smart, turnover-free football to this point, he will have to take his game to another level in order to send San Francisco to the Super Bowl.
Purdy's performance is only part of the equation for a 49ers team that has to prove it can get over the hump
Will Brock Purdy play a pivotal role in whether Shanahan gets to coach another Super Bowl?
Of course. 
But the 49ers' championship hopes hinge on much more than the right arm of their rookie quarterback.
For a team that's persistently fallen short in the postseason over the last few years, Sunday's showdown in Philadelphia offers a chance to exorcise those playoff demons. For all of his success as a head coach, Shanahan is still in search of his first Super Bowl ring, and it's fair to question his ability to close out games and make the right play calls in key moments. 
After all, let's not forget Mike Shanahan's son oversaw an Atlanta Falcons offense that collapsed down the stretch against the New England Patriots in Super Bowl 51. And the Coach of the Year hopeful also suffered a blow to his resume when San Francisco squandered a fourth-quarter lead in Super Bowl 54 against Patrick Mahomes and the Kansas City Chiefs. 
If the 49ers plan on playing one more game, they must execute at a high level from the first whistle to the last. They must play smart, efficient football, control the clock, and contain a loaded Eagles offense headlined by a legitimate MVP candidate. 
That's quite a lot to ask of a team quarterbacked by the most recent Mr. Irrelevant selection. 
Oh, and Brock Purdy has to do all of that on the road in the cold, hostile confines of Lincoln Financial Field?
Although his Cinderella story has been a source of inspiration, this tale may not have the happy ending 49ers fans are hoping for.