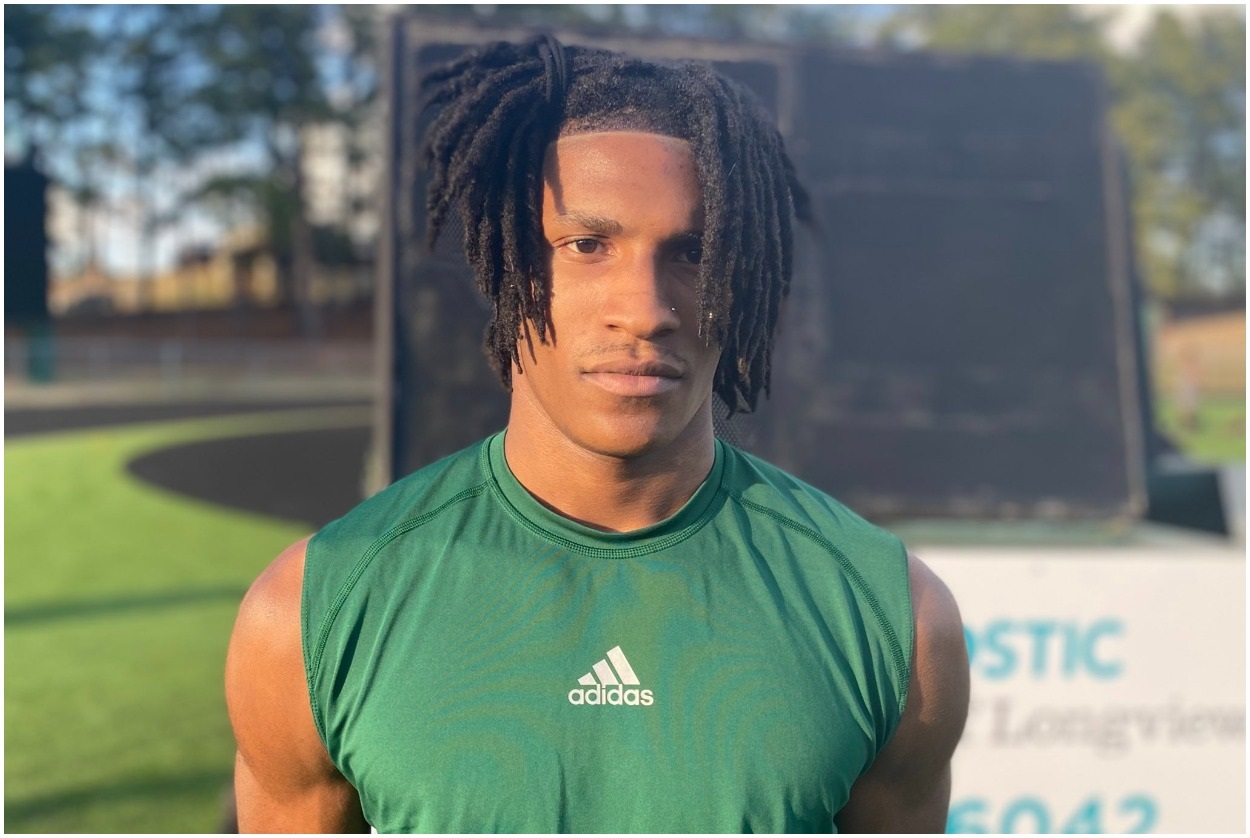 5-Star Wide Receiver Jalen Hale Has 'Double-Me' Speed and Offers to Prove It
Jalen Hale has incredible potential as on of the top college football recruits in the country.
Jalen Hale, 5-star recruit from Longview, Texas (Longview High School) is one of the better 2023 wide receivers in the country and he knows it.
Hale considers himself a "double-me" wide receiver, meaning the only way to actually have a chance at covering him is with a double team.
That's the type of confidence that can't be taught, it's earned. Hale has certainly done that on the high school football field as well as the college football recruiting trail.
Hale recently caught up with Sportscasting to discuss his recruitment and more.
Jalen Hale has big-play potential as an elite wide receiver recruit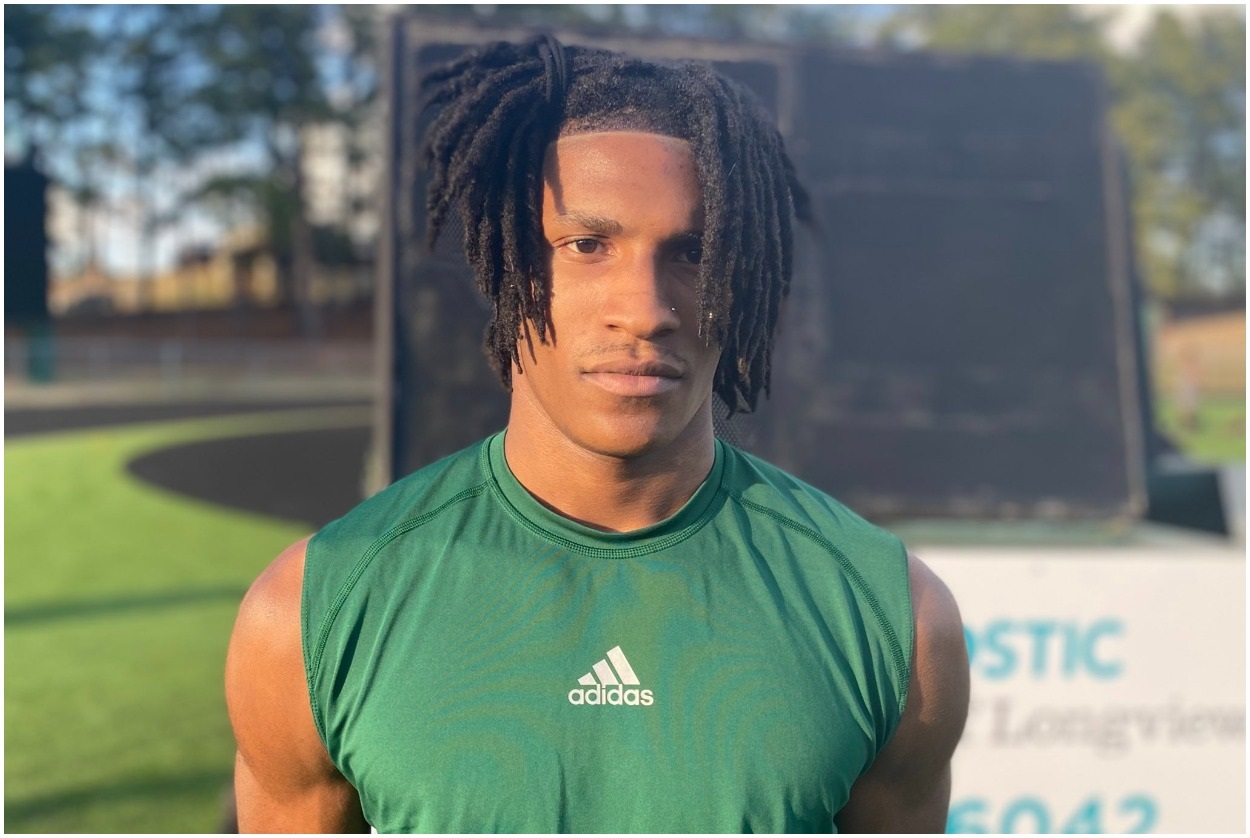 If his offer sheet reads like that of an elite and highly sought-after recruit, it's because it's true. Hale, is ranked as the No. 5 wide receiver in the country, according to the industry-generated 247Sports Composite. He's also ranked as the fifth-best recruit in Texas, a state known for pumping out college and NFL players on the regular.
At 6-foot-2, Hale already has great size for a receiver, and he hasn't even played his senior season of high school football yet. He already has tremendous skills when it comes to high-pointing the football and using his length and size to his advantage.
He's the type of receiver a quarterback just throws the ball up to, knowing that he'll be able to come down and make a play on it. Whether it's over-the-shoulder or a traditional 50-50 "jump ball" scenario, Hale has big-play written all over him .
Watch enough of his highlights, and you'll see a young Calvin Johnson in the way that he just goes up and makes a play. For his part, Hale says he tries to model his game off Justin Jefferson and Julio Jones, which are two apt comparisons.
Hale has offers from all over the country
Considering his skill set and potential, it's no surprise that Hale has offers from most of the top college football schools in the country.
He has 35 offers to his name, with schools such as Alabama, Auburn, Baylor, Florida, Florida State, Georgia, LSU, Miami, Michigan, Notre Dame, Ohio State, Oklahoma, Oregon, Texas, and USC immediately standing out.
For Hale, though, none of those offers means more than any of the others at the moment. He views his offer from Nick Saban and Alabama the same as he does the one he received from Tulane, for instance.
"All my offers mean a great deal to me," he told Sportscasting. "The fact that someone saw something special in me to even offer was an honor.
"Of course, everyone wants offers from the top schools, so I'm very grateful and thankful."
Even though Hale is one of the top recruits in the nation and a ton of schools are after his commitment, it's worth noting that he's taking the whole thing in stride.
"To be honest, I really don't think about it," he said when asked about the high-profile nature of his recruitment.
Hale knows what he's looking for in the college he'll play for
In general, Hale is just focused on having fun while also getting better as a player.
"I'm working on getting faster, stronger and [trying to] put on a little more muscle and work on my craft," he said.
Already at 175-pounds as a rising senior, if Hale adds a bit more muscle to his game downfield, there's a chance he'll end up being one of the best receivers in the country by the time all is said and done.
He already feels his strengths are high-pointing the football and making something happen after the catch, and he's right. Now imagine if he continues to improve over the next few seasons…
Though it doesn't sound like Hale is ready to narrow down his offer list just yet, at the very least, he does know what he's looking for at the college level.
He tells Sportscasting that the "vibe" of the school is essential, both on and off the field. He also wants a staff that will "push [him] to the limits to get him ready to compete at the next level."
"I have gotten to see some great schools and meet a lot of great people," he said about his experience on the recruiting trail so far, while not giving away any hints about which way he may be leading.
Succeeding in the classroom is also essential, so it sounds like Hall is looking for a well-rounded college experience.
For a highly-ranked as Hale is amongst wide receivers and in a state chock full of talent, it's worth noting that he's also the No. 33 ranked 2023 player in the nation, according to the 247Sports Composite.