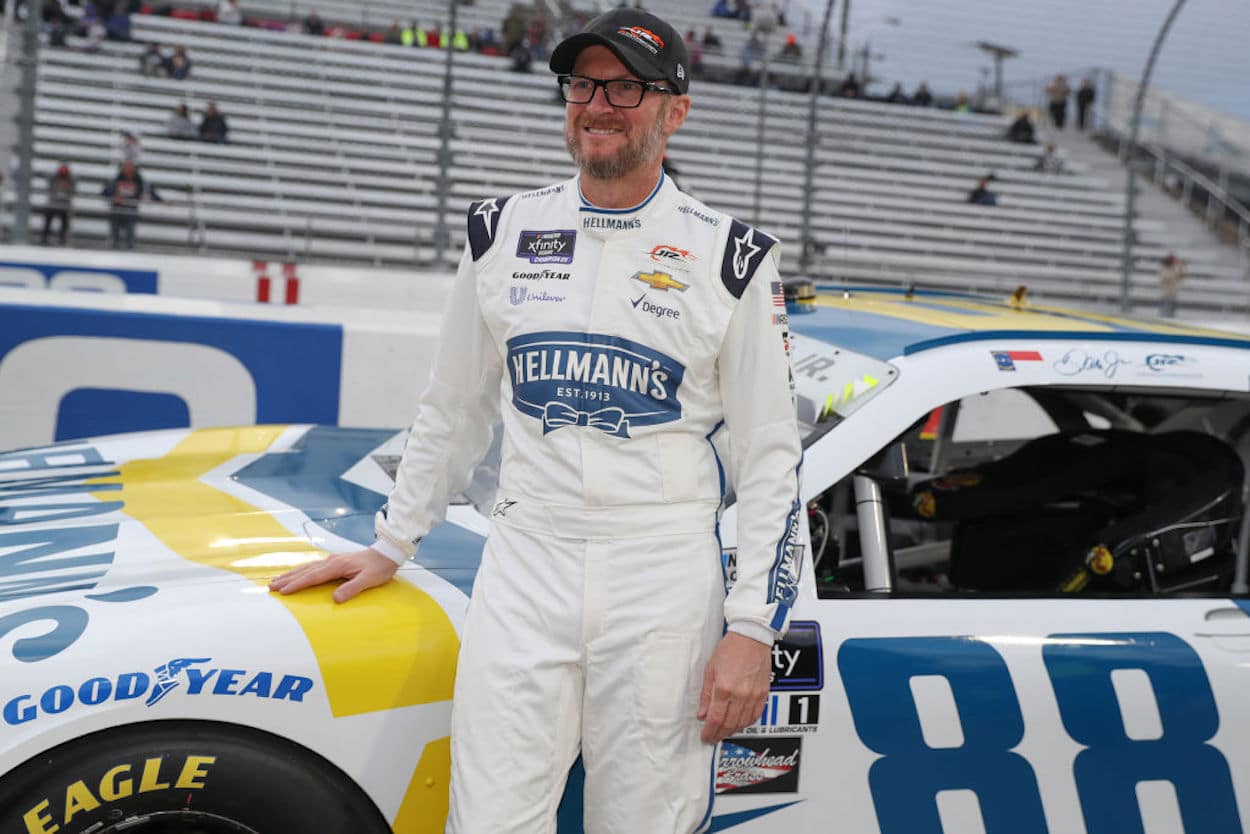 5 Things Every NASCAR Fan Should Be Especially Thankful for This Thanksgiving
Thanksgiving isn't just for turkey and football. There's plenty for NASCAR fans around the country to appreciate, too.
Well, it's Thanksgiving in the United States of America, which means there's no more appropriate time to reflect on the blessings that life affords.
With this in mind, let's take a quick look at a handful of things that every NASCAR fan from sea to shining sea should be especially thankful for on this Turkey Day 2022.
There's more parity than ever in the Cup Series
Unless you were living under a rock somewhere, you're probably aware by now that the 2022 NASCAR Cup Series season produced a greater level of parity than any season in NASCAR's modern era. Included among the record-tying 19 different race winners in 36 events were five first-time winners — Daniel Suarez, Ross Chastain, Chase Briscoe, Austin Cindric, and Tyler Reddick.
The season also saw the rise of two organizations — Trackhouse Racing and Richard Childress Racing — that virtually no one expected to win three and four races, respectively, when 2022 began.
This kind of parity is great for the sport and its various stakeholders, including the fans, who should consider it a reason for gratitude this Thanksgiving.
At long last, NASCAR is returning to North Wilkesboro
One of the biggest and most exciting developments of 2022 in the NASCAR world was that the sport is heading back to the iconic North Wilkesboro Speedway in 2023, when drivers will contest the NASCAR All-Star Race under the lights on May 21.
This will be the first Cup race at the fabled North Carolina venue since 1996 and will, without a doubt, be by far the most anticipated event of the season. 
And based on the overwhelming demand for All-Star Race tickets and the plethora of renovations happening at the .625-mile short track even as we speak, it's fair to expect a completely electric atmosphere and an event for the ages.
Want to thank somebody for putting the proverbial wheels in motion for this to happen? Try track owner Marcus Smith and 15-time NASCAR most popular driver Dale Earnhardt Jr., who both played a pivotal role in making the possibility of a NASCAR return to North Wilkesboro a reality.
NASCAR is finally addressing the safety issues with the Next Gen car
As much as the debut of the Next Generation Cup Series car in 2022 factored into the parity that permeated NASCAR's premier division, it came with a downside: an increased safety risk for the competitors.
Not one but two of the sport's star drivers — Kurt Busch and Alex Bowman — were forced to miss time with concussions that were a direct result of an impact they suffered in a wreck with the Next Gen vehicle. The scariest part was that neither accident looked particularly worrisome, but both wrecks involved a rear-end impact to the wall at high speed.
After several weeks of multiple drivers — most notably veterans Kevin Harvick and Denny Hamlin — lashing out at NASCAR and demanding safety improvements, the sanctioning body finally answered the call late in the season, holding a mandatory meeting with all the drivers where the drivers could express their complaints and concerns in an open forum.
After conducting a crash test of the Next Gen car at an undisclosed location in Ohio, NASCAR is now hard at work on implementing some changes to the rear composition of the Next Gen car ahead of the 2023 season. The changes will be designed to make the vehicle more malleable so that the cars — rather than the drivers — absorb the brunt of rear-end impacts.
Dale Earnhardt Jr. is as involved in the sport as he's ever been
Everyone loves Dale Jr., right? NASCAR's 15-time most popular driver, who retired from full-time competition at the end of 2017, has never been more visible in the sport than he is today — despite his driving heyday being long since passed.
Between Earnhardt Jr.'s role as an in-race announcer for NASCAR on NBC, his role as the co-owner of the JR Motorsports NASCAR Xfinity Series team that placed three drivers in this year's Championship 4, and his role as the co-founder and face of a burgeoning media empire — Dirty Mo Media — that made waves throughout the sport in 2022 with its expanding lineup of insightful, candid podcasts and YouTube offerings, the 26-time NASCAR Cup Series race winner is seemingly everywhere all the time. 
Throw in the fact that Earnhardt Jr. has also recently returned to his roots as a part-time Late Model Stock car driver, and it's fair to say that he's involved in a little bit of everything. If the fans dig Earnhardt Jr. being around, why not feed the beast, right?
Martin Truex Jr. and Aric Almirola passed on retirement and will be back in 2023
It took them a while to figure out their plans for 2023, but Martin Truex Jr. and Aric Almirola both ultimately decided during the 2022 season to remain in the job as full-time NASCAR Cup Series drivers for another year after seriously contemplating retirement.
Almirola even went as far as to declare his intentions to retire before ultimately changing course and deciding to remain the driver of Stewart-Haas Racing's No. 10 Ford through at least 2023.
This is good news not only for the drivers' respective teams, but it was a welcome development for their fans, who obviously want to keep watching them race on Sunday afternoons for as long as possible.