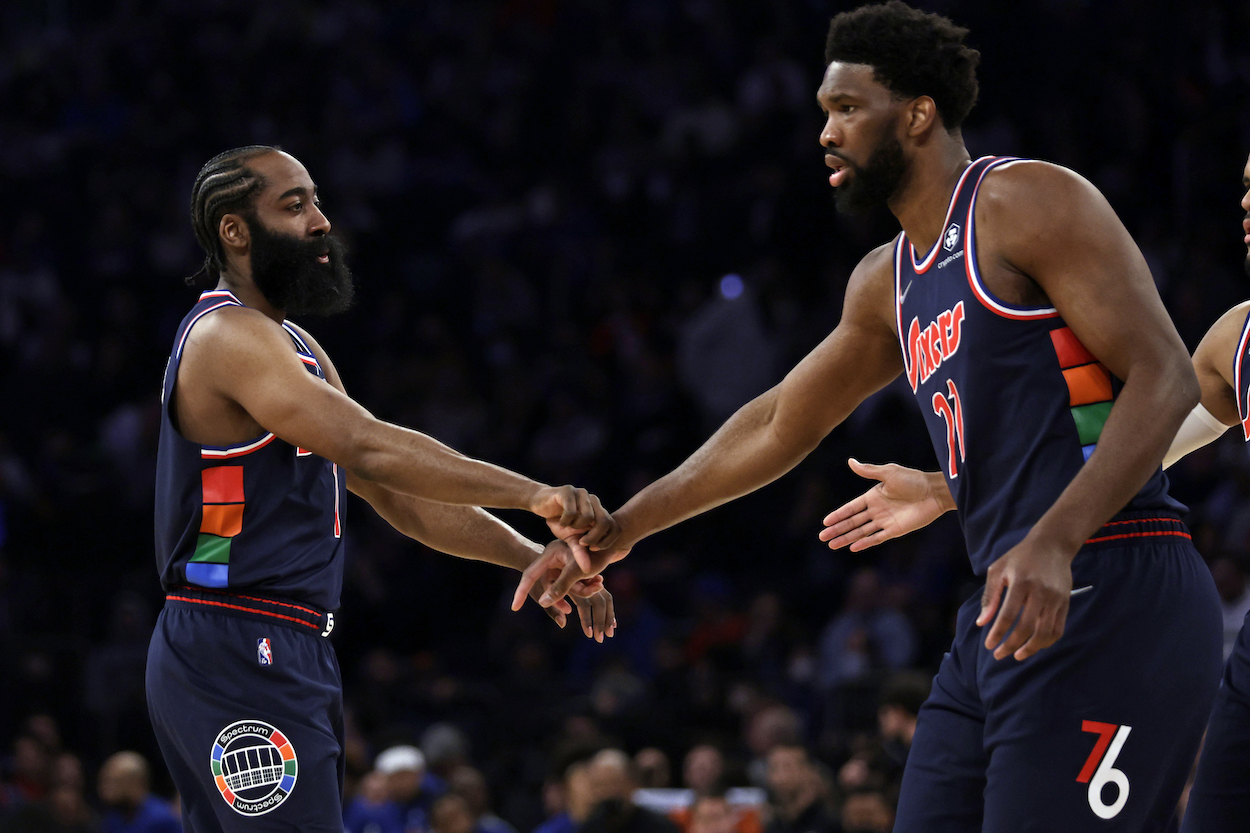 76ers Rumors: Joel Embiid Wanted Philly to Trade for Bradley Beal Instead of James Harden
Joel Embiid had a different superstar on his wish list before the 76ers traded for James Harden.
A myriad of rumors surrounded the Philadelphia 76ers leading up to the 2022 NBA trade deadline. Would they make a play for Damian Lillard? Would they panic on deadline day and accept a lesser deal with the Sacramento Kings or the Indiana Pacers?
Eventually, the Sixers got what they wanted all along when they swapped Ben Simmons for James Harden, but Joel Embiid was reportedly "pushing" hard for Bradley Beal all the way up until the final deal.
Joel Embiid reportedly wanted the 76ers to trade for Bradley Beal
Embiid didn't say much about a Simmons deal leading up to the NBA trade deadline. We knew he wanted the 76ers to make a move, but we didn't know whether he wanted Harden as badly as president of basketball operations Daryl Morey.
Apparently, he had his eyes on a different superstar.
In the most recent episode of The Bill Simmons Podcast, Bill Simmons said Embiid wanted the Sixers to trade for Beal instead.
"Embiid really wanted Bradley Beal and was pushing really hard for it and was talking to him all the time," Simmons said. "And was pushing, pushing, pushing. And part of the reason the trade stuff took so long was because there was this Sixers side that wanted Harden. Obviously, Daryl [Morey], because Harden is his guy. But Embiid really wanted Beal because he felt like he was a better fit. And was pushing, pushing, pushing.
"Then Beal gets hurt. But then Embiid is still pushing. 'No, no, no, Beal, Beal, Beal.' Still working on him. And then Beal's like, 'I'm out.' And he gets surgery. And then that's how we end up with the Harden situation."
Did Beal's injury kickstart the Ben Simmons-James Harden trade?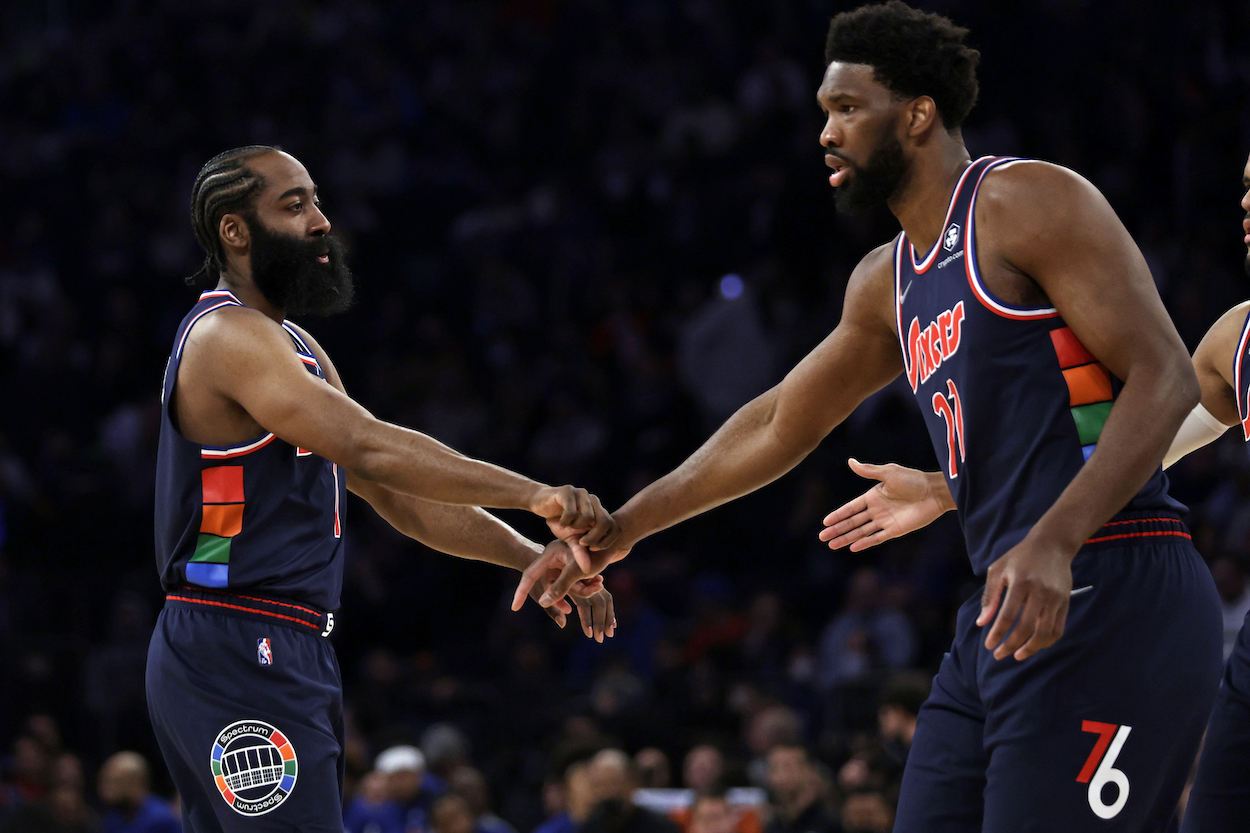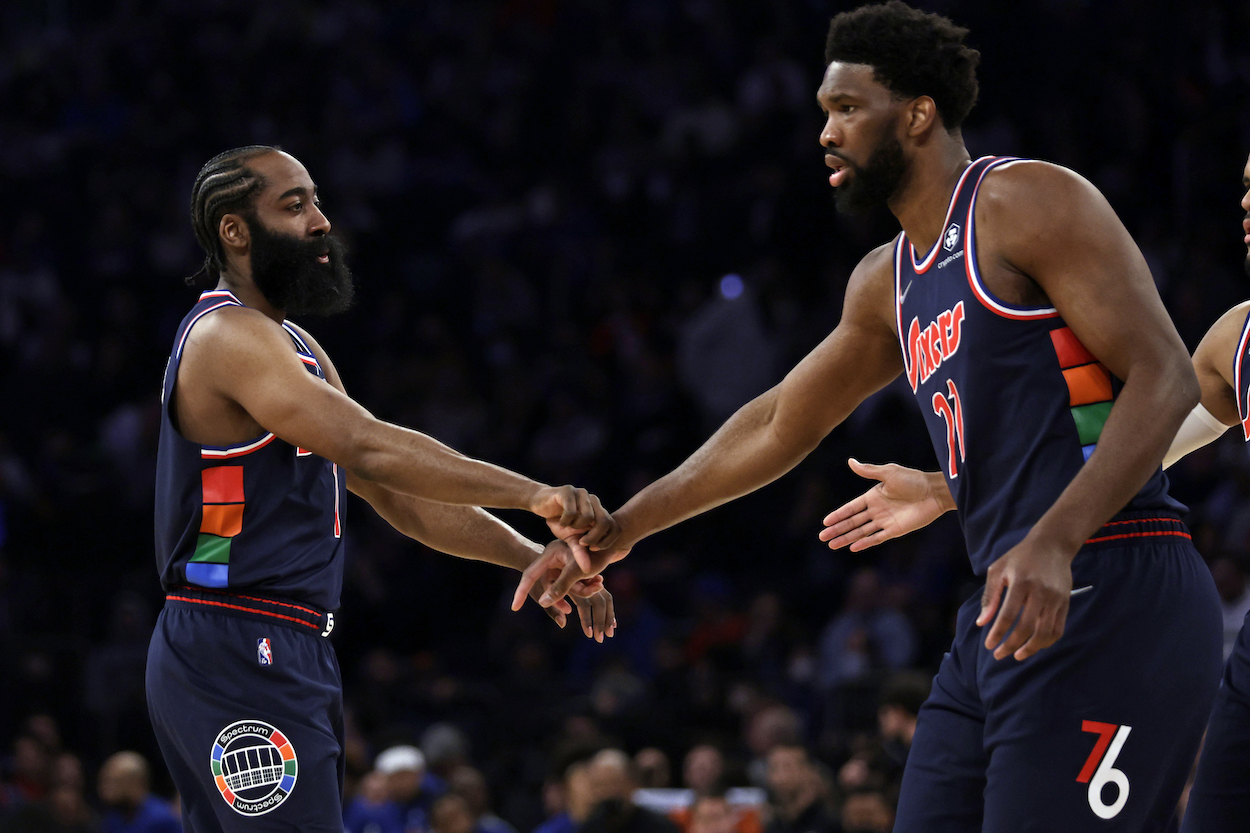 A day before the NBA trade deadline, the Washington Wizards announced that Beal would be undergoing season-ending surgery to repair a torn ligament in his left wrist. Beal was the subject of quiet trade talks leading up to the deadline, but that possibility went out the window after the surgery announcement.
But what if Beal never hurt his wrist in the first place? If Beal was still healthy before the deadline, it's likely the 76ers would've done everything in their power to satisfy Embiid's wishes.
There's a strong possibility Beal would be a Sixer right now if he was healthy, but Philadelphia had to make an audible on deadline day and go all in for Harden.
The 76ers' new duo is already dominating
Harden never would've made his way to Philly if Embiid got his reported wish, but the 76ers have to be thrilled with how their deadline shook out in the end.
In two games with his new team, Harden has recorded 56 points, 28 assists, and 18 rebounds. The 76ers are 2-0 since the All-Star break, and the duo of Embiid and Harden already looks like one of the most unstoppable in the league.
Embiid might've wanted to team up with a different star for the rest of the season, but he won't be complaining about the one he's been given.
Like Sportscasting on Facebook. Follow us on Twitter @sportscasting19.