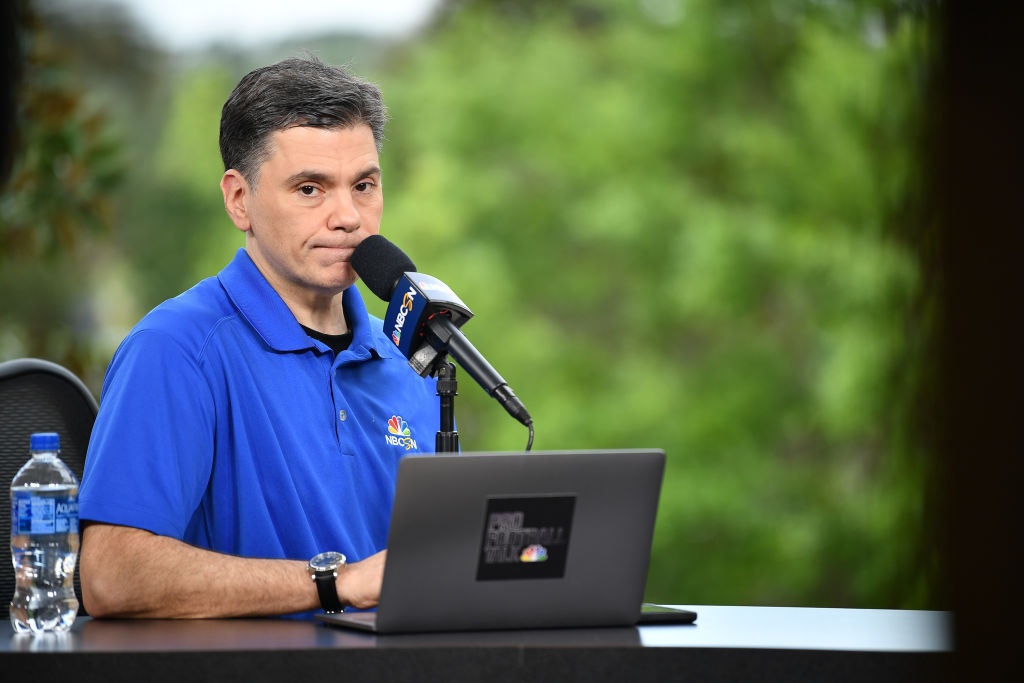 A Fight With Jason Whitlock Puts Mike Florio and 'PFT' in a Bad Place
Mike Florio of ProFootballTalk.com engaged in a bruising Twitter fight with Jason Whitlock and Clay Travis of Outkick.com.
One frequent criticism of media is that reporters manufacture controversy where none exists to sell newspapers, boost TV ratings, rack up online page views, and/or raise their status on social media. As for Jason Whitlock and Mike Florio, maybe it's just a case of hating each other.
Scratch that. They definitely hate each other. The weekend fight between the two, with Clay Travis sticking his nose in there for good measure, was jaw-dropping for the anger displayed, the insults exchanged, and a bit of history uncovered.
At the end of the day, though, the popular ProFootballTalk media brand took the heaviest hit, beginning with someone editing Florio's Wikipedia page in the early-morning hours Sunday to refer to him as a "bigoted sportswriter, radio host, and television commentator."
Jason Whitlock and Mike Florio are media heavyweights
Mike Florio, 55, began building one of the better-known brands in sports media from scratch in 2000. He created NFLtalk.com, quickly sold it to ESPN, and began ProFootballTalk.com in November 2001.
Florio generated an impressive following over the years and struck a deal with NBC Sports in 2009 in which he would continue to run his site as part of the network's online operation. The deal would also lead to Florio working on-air at NBC, including as part of Football Night in America on Sundays.
Jason Whitlock, 53, is a former college football player whose journalism career has included writing columns for the Kansas City Star, Fox Sports, and ESPN. He was also talk-show host and guest for the networks at various times before leaving Fox at the end of last month when his contract expired.
Last week, Whitlock announced that he was moving to Outkick.com in partnership with Clay Travis to write columns and host podcasts.
The fight between two well-known media figures
The bad blood between Jason Whitlock and Mike Florio can be traced to April 2018, when Florio criticized a Fox talk-show segment – not involving Whitlock — during which retired Baltimore Ravens great Ray Lewis spoke about controversial NFL player Odell Beckham Jr., suggesting the gifted receiver's life was in chaos because "Odell has removed God from his life. This is a kid that grew up under the covenant of who God really is. And everything that he's doing, he's crying out for help."
Florio wrote a short column calling the conversation exploitation in pursuit of ratings, which drew a rebuke on Twitter from Whitlock. He called Florio a "Limousine Liberal," a reference to people who claim to care about societal inequities but won't get their hands dirty to try to effect change.
The feud reignited with a fury Friday when Whitlock made the observation that Florio had never mentioned Juneteenth in his writing, nor had he ever hired a black writer for ProFootballTalk.com. Florio responded by saying he once approached Whitlock to write a column, but Whitlock rebuffed him by saying PFT couldn't afford him.
The fight got ugly in a hurry once Florio tweeted about "a segment of the media that blows dog whistles in order to curry favor."
When Clay Travis stepped in to offer support for Whitlock, Florio responded, "The king of all frauds chimes in."
Quite a bit more went on from there, with The Big Lead accurately documenting the blow-by-blow action.
Mike Florio and NBC have a problem on their hands
As the Jason Whitlock-Mike Florio fight raged on, Clay Travis continued his full-throated support on Twitter for his new business partner. Florio, on the other hand, may be in for an awkward conversation with executives at NBC.
At one point in the Twitter fight, someone supplied Whitlock with the URL for an archived copy of an unbylined PFT column from 2006 that had been deleted from the ProFootballTalk.com website, possibly just as a matter of routine maintenance. The column was a recap of NFL Week 14 action, but there was some controversial material interspersed with the rest of the content:
Speculation that then-New York Giants defensive end Michael Strahan's commercial for Subway with since-disgraced company spokesman Jared Fogle seemed to confirm insinuations made in court by Strahan's ex-wife about his sexual orientation.
A headline about ESPN football play-by-play announcer Mike Tirico labeling him with a distasteful descriptive for people of less advanced mental or intellectual development.
Although 2006 is a long time ago, and societal standards change over time, the "R-word" used in the PFT column has long been considered inappropriate under journalism standards. Along similar lines, injecting speculation and innuendo with respect to sexual orientation would have to be regarded as out-of-bounds in a recap of pro football games.
With the proliferation of social media, sports figures have been among the people called out over the years for comments posted long ago. As such, it will be interesting to see whether NBC executives feel they need to have a sit-down with Florio.
One parting tweet from Whitlock: