A Referee's Personal Hatred Toward Allen Iverson Once Cost the NBA Superstar $25,000
Allen Iverson has always been one for the theatrics. Whether paying for the Philadelphia 76ers or the Denver Nuggets, Iverson's persona consistently found a way to make waves in the media, on the court, and with officials.
A majority of the time, Iverson would be rightfully punished for his various on-court antics. However, there was one instance that saw the 6-foot superstar wrongfully fined $25,000.
Allen Iverson was fined $25,000 for his criticism of NBA referee Steve Javie in 2007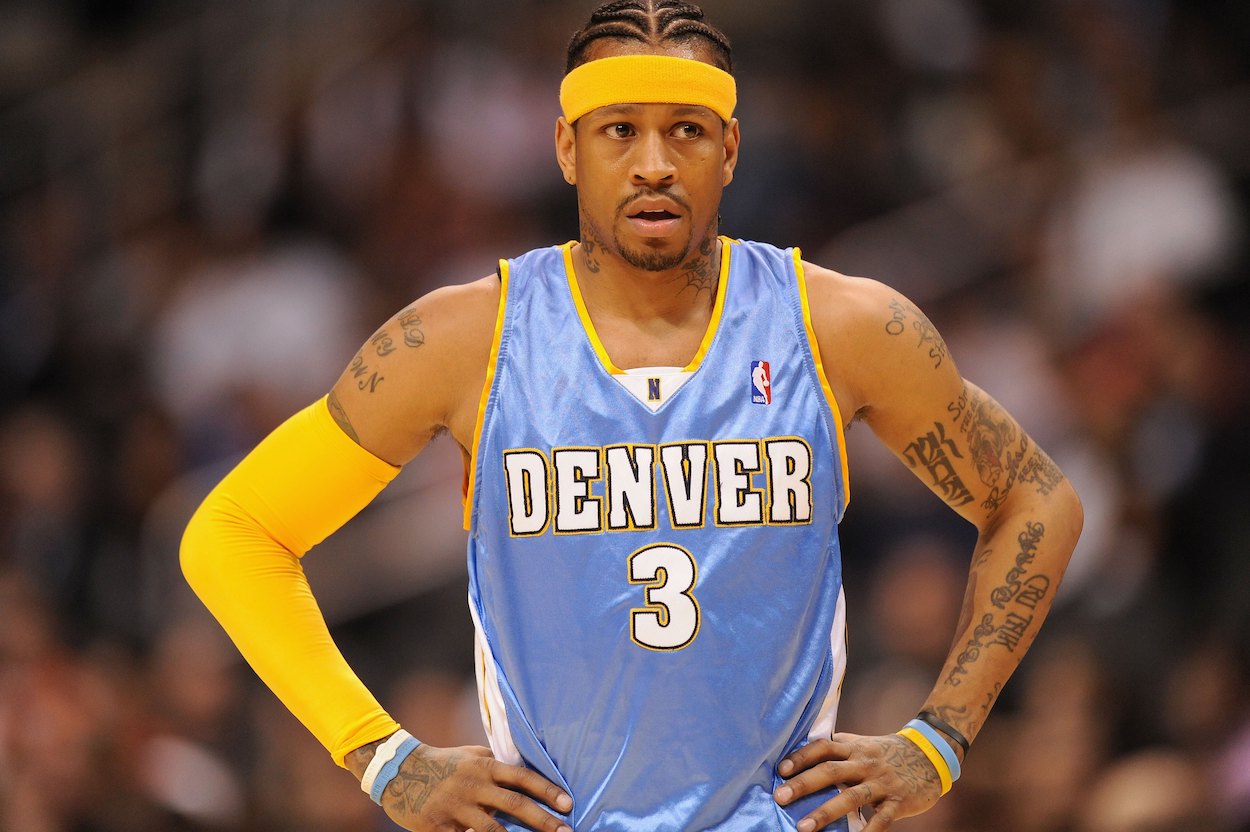 During a Nuggets game in January 2007, Iverson struggled to receive foul calls from NBA official Steve Javie. Iverson — the talkative individual he is — took exception to this and began verbally abusing Javie.
Javie handed Iverson his second technical foul with 1:44 remaining, which saw the Nuggets guard ejected. Following the game, Iverson had some choice words for the official:
"I thought I got fouled on that play, and I said I thought that he was calling the game personal, and he threw me out," Iverson said. "His fuse is real short anyway, and I should have known that I couldn't say anything anyway. It's been something personal with me and him since I got in the league. This was just the perfect game for him to try and make me look bad."

Allen Iverson via ESPN
Iverson was ultimately fined $25,000 for these comments. However, upon digging a little deeper, it appears Iverson may have been correct to express his frustration after all.
Javie had a 'longstanding hatred' for A.I.
After Javie retired in 2011, key details were released about his relationship with Iverson.
First, Javie went on record saying there was "something personal with me and him [Iverson] since I got in the league." The former referee didn't even attempt to hide that he and Iverson disliked each other, which is always concerning behavior from an official who is supposed to be unbiased.
It's unclear as to where this "something personal" stemmed from. Still, it's safe to assume that it resulted in less-than-favorable treatment toward Iverson whenever Javie officiated his games.
Second, another former NBA referee Tony Donaghy supported this notion of Javie hating Iverson in his book: Personal Foul: A First-Person Account of the Scandal that Rocked the NBA.
Not only did Donaghy support the claim that Javie owned a personal hatred toward Iverson, but he went one step forward and stated referees banded together after Iverson's post-game comments in 2007 and began completely ignoring foul calls in his favor altogether.
Not exactly fair treatment for a player who was being wrongfully targeted, to begin with.
Allen Iverson's poor treatment from officials didn't stop his Hall of Fame career
Javie isn't the only NBA official who disliked Iverson, but the frequent poor treatment that the guard received didn't slow down his Hall of Fame career.
Iverson finished his career averaging 26.7 points per game and won many awards, including the league MVP in 2001. Even with the malpractice that occurred from referees, Iverson found a way to be an all-time great.
Iverson never got that $25,000 back from the league, though. Something he is likely not too pleased with considering some of the information released about Javie post-retirement.
All stats courtesy of Basketball Reference.