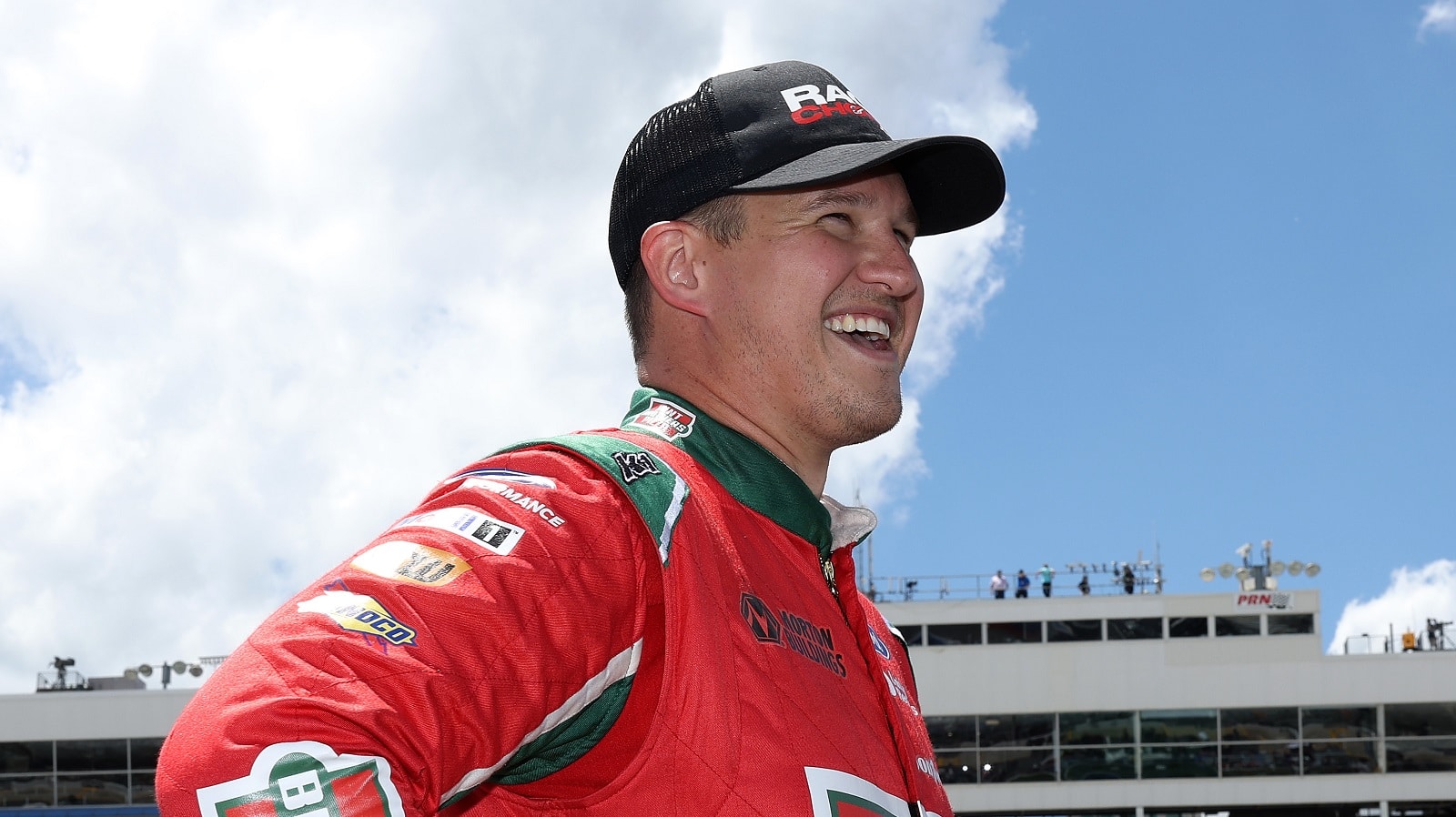 A Steamed Ryan Preece Tapes an Epic Public Service Announcement for an Oblivious Carson Hocevar to Watch
Ryan Preece was contending for a win in overtime when teen driver Carson Hocevar shoved him into the wall twice.
Carson Hocevar is no different than any other 19-year-old NASCAR driver: He wants to get to the Cup Series. Doing so, however, requires winning at the lower levels.
Meanwhile, Ryan Preece has already been to the Cup Series and wants to get back. Guys like Hocevar aren't helping his cause. And, as long as we're on the subject, Hocevar isn't doing himself any favors, either.
Carson Hocevar wiped out Cup Series veteran Ryan Preece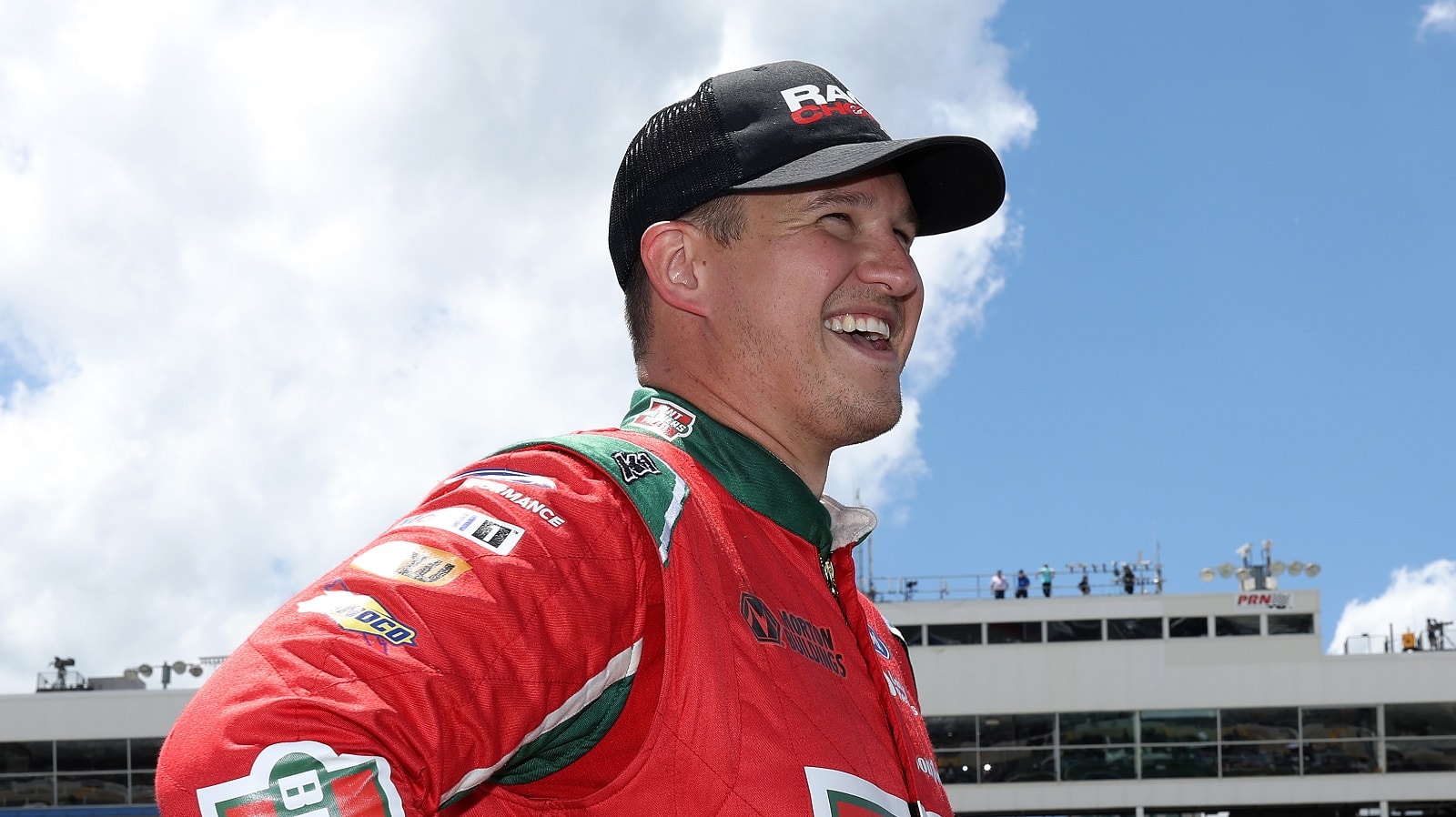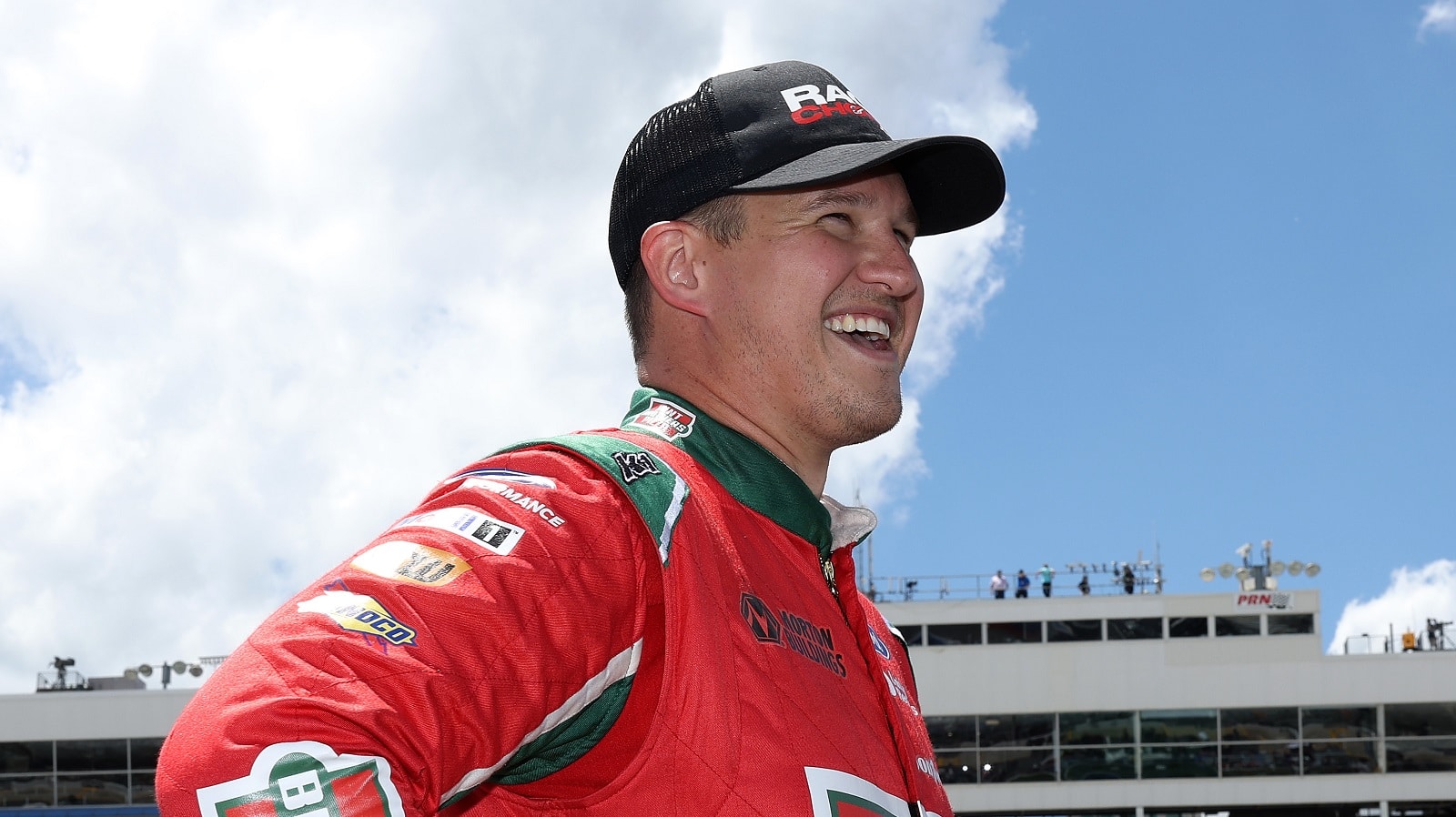 Carson Hocevar is a young talent with a genuine future in NASCAR. Already in his second full season in the Camping World Truck Series, he has posted 13 top-10 finishes in his last 32 starts. However, he hasn't driven onto Victory Lane yet. He's come close this season in consecutive races on the Bristol dirt and at Darlington, finishing second each time. Additionally, the Michigan native has finished on the lead lap in nine of 10 races in the Niece Motorsports No. 42 Chevy previously driven by Ross Chastain.
His latest race was shaping up as potential victory No. 1, but that ended abruptly Friday at Charlotte Motor Speedway.
Hocevar led by more than six seconds in the late going, but Jesse Little and Tyler Ankrum crashed to trigger a caution with four laps to go and throw the finish into an overtime restart. Hocevar took the inside and Ryan Preece lined up next to him, and it didn't take long for Hocevar to squeeze the No. 17 Ford into the wall twice. The second contact left Hocevar sideways, and his Chevy absorbed considerable damage.
A cut tire all but finished off Preece, who has been winless in 114 Cup Series starts but owns two triumphs in Xfinity cars and one in the truck series. Given that he doesn't have a full-time assignment following JTG Daugherty's decision to drop his charterless ride in the offseason, he could have really used the money and visibility from a first- or second-place finish.
Instead, Preece placed 11th. Finishing five spots ahead of Cocevar was of no consolation.
Ryan Preece went off on his teen nemesis after the finish
The North Carolina Education Lottery 200 went to a second overtime, with Ross Chastain adding a truck triumph to his two Cup Series victories this season. As happy as he was to see a victory fall into his lap, Chastain was not the interview that reporters wanted.
Fox Sports stuck a microphone in Ryan Preece's face after he exited his truck, and Preece did not disappoint with his thoughts on Carson Hocevar and the first overtime restart. Staring straight into the camera, he looked like a man delivering a campaign speech or an anti-drug public service announcement.
"All you kids watching right now, wanting to get to this level, don't do that. Race with respect. Don't wreck the guy on the outside of you trying to win your first race. It doesn't get you anywhere. … I race for a living. And if I don't run good, I don't make a lot of money. So, I'm pissed right now. We've got two more races to try (this weekend) and go have some good runs, but that's just stupid.
"It's just really stupid. Don't be like that."
We've come to expect quote-worthy interviews immediately after races, but the Stewart-Haas reserve driver went the extra mile by combining composure and coherence.
Carson Hocevar doesn't seem to get it
Upon getting out of his truck after the finish, a distraught Carson Hocevar slumped to the ground and crouched against his No. 42 Chevy. But Hocevar wasn't upset about denying Ryan Preece a shot at winning. Rather, he was frustrated at the thought of having to wait yet another week for a shot at a victory of his own.
That wasn't a great bit of prioritizing, and his postrace interviews weren't case studies in tact or humility.
"I mean, yeah. I crashed him. If he wants to high praise of young drivers with no respect," Hocevar said while tossing a word salad. "I just spanked his ass. I waxed him. He was the next best, but I put it to him. I messed up. I made a mistake. I obviously wasn't going to try to crash myself and crash him. I tried to use him up a little bit, but not even door him, because you crash when you door each other."
If that sounded a bit Jekyll-and-Hyde-ish, Hocevar didn't exactly pull himself out of a hole with his follow-up.
"He has every right to be mad and say whatever he wants," he continued. "But I don't agree with it. I just think it's hard racing on old tires. I made a mistake and it cost both of us. It is what it is."
What is is is confirmation that Hocevar will benefit from additional time in the Camping World Truck Series, just like Ty Gibbs can stand to gather a little more education in the Xfinity Series before moving on.
All stats courtesy of Racing Reference.
Like Sportscasting on Facebook. Follow us on Twitter @sportscasting19 and subscribe to our YouTube channel.