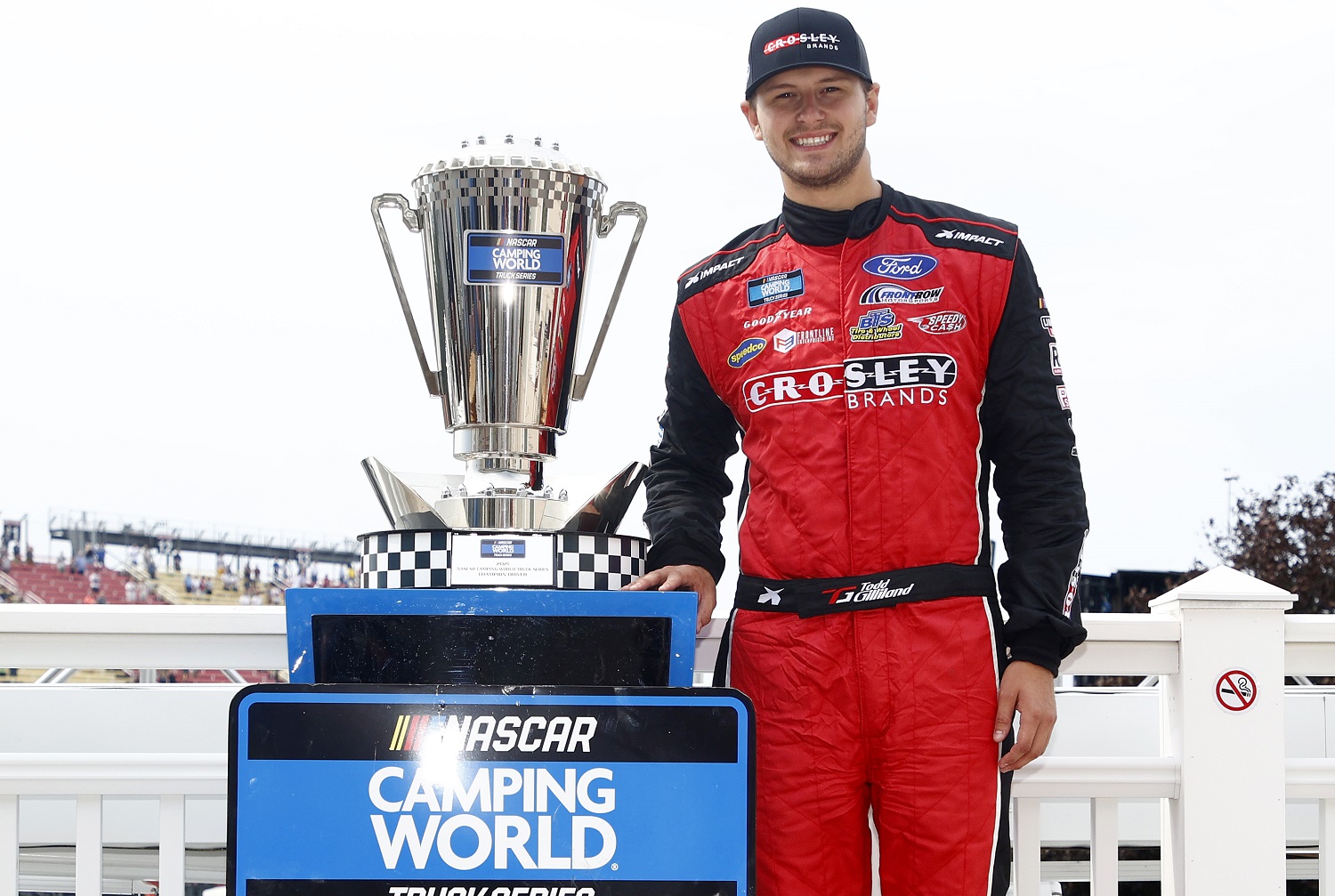 Front Row Motorsports Just Crushed the Hopes of Numerous NASCAR Cup Series Veterans
Todd Gilliland is making the leap from trucks to the NASCAR Cup Series for Front Row Motorsports, a blow for veteran drivers looking for another chance in 2022.
Article Highlights:
Front Row Motorsports completed its 2022 NASCAR Cup Series lineup with Todd Gilliland
Gilliland will be making the leap from the NASCAR Camping World Truck Series
Veterans like Ryan Newman and Matt DiBenedetto are nearly out of options for next season
Todd Gilliland's NASCAR Cup Series dream amounts to a nightmare for several drivers still looking for another chance in the sport's top division. Despite his youthfulness and a resume that doesn't include so much as a single start in an Xfinity Series car, Gilliland has landed a heck of a promotion for 2022.
Front Row Motorsports adds Todd Gilliland to its NASCAR Cup Series team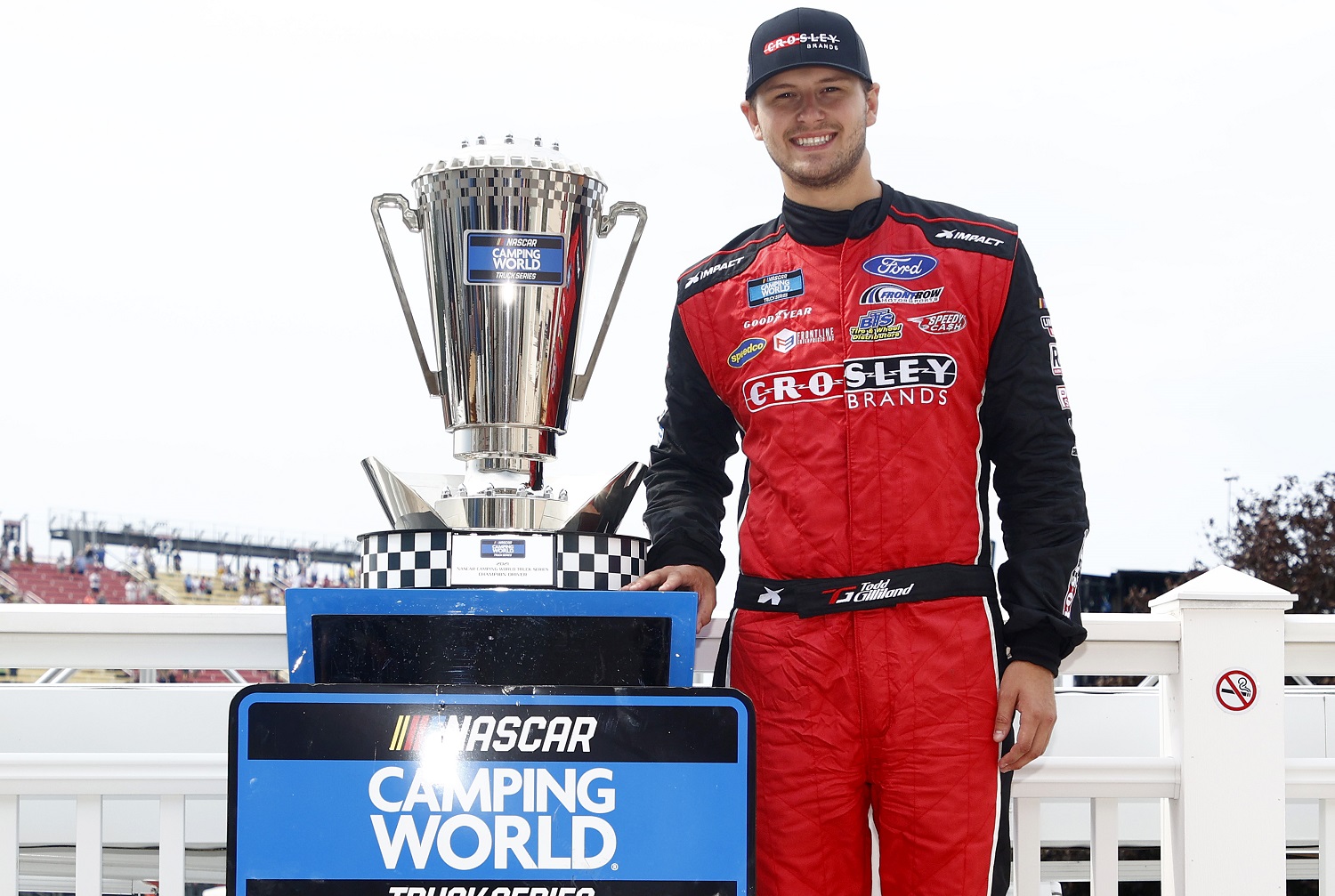 Front Row Motorsports completed its 2022 NASCAR Cup Series lineup on Tuesday by announcing that Todd Gilliland will move up from the Camping World Truck Series to drive the No. 38 Ford. Michael McDowell, who won the Daytona 500 last season, will remain in the No. 34 Ford.
The team filled out its lineup by announcing that Zane Smith will come over from GMS Racing to continue his trucks series career in Gilliland's former No. 38.
The announcement about Gilliland surprises on two fronts. First, he turned 21 this spring, making him one of the youngest drivers. Second, he is jumping directly from the truck series, whereas Cup Series teams typically look to the Xfinity Series for fresh blood.
Gilliland has made 93 starts in trucks over four-plus seasons, scoring just two victories but finishing in the top five a respectable 26 times. He won last season at Circuit of the Americas and led a career-high 359 laps over the 22-race season.
Interestingly, Smith, 22, is coming off the better year, qualifying for the Championship 4 in Phoenix and placing fifth in the season-ending race. He has won three times in 46 career starts.
"I feel like I've found a home at FRM," Gilliland said in a team announcement.
Todd Gilliland continues an interesting FRM trend
In accepting the offer from Front Row Motorsports, Todd Gilliland becomes the fourth driver handling the No. 38 Ford in four seasons and follows in the footsteps of his father, David, who drove the same car from 2012-15.
David Ragan completed a three-year stint in the 38 in 2019. John Hunter Nemechek (2020) and Anthony Alfredo (2021) followed. Nemechek and Alfredo were Cup Series rookies.
Ragan has appeared in just four NASCAR races at any level in the two seasons since his departure. Nemechek went back to a full-time trucks ride this season, winning five times and making it to the Championship 4 in Phoenix. Alfredo has not lined up a ride for 2022.
All in all, then, jumping from driving trucks to competing in the NASCAR Cup Series might not equate to long-term security. FRM's itchy trigger finger in dealing with drivers should be a red flag.
Front Row Motorsports just crushed the hopes of numerous NASCAR veterans
Michael McDowell owns just one victory in 393 NASCAR Cup Series races, but it came in the 2021 Daytona 500, and the rest of his season was relatively solid. Thus, a return to Front Row Motorsports was a certainty.
Anthony Alfredo's position was more tenuous after a single top-10 showing as a rookie, so many observers anticipated FRM would make a change. The surprise is that owner Bob Jenkins didn't pick one of the numerous veterans without a 2022 ride.
Ryan Newman, an 18-time winner displaced from what is now Roush Fenway Keselowski Racing, is the biggest name in the free-agent market but will be 44 years old when Daytona rolls around in February.
Matt DiBenedetto has known for more than a year that he would be out of a job after Wood Brothers Racing opted to move in a different direction, but he hasn't had a nibble during the current Silly Season.
Additionally, Ryan Preece became the odd man out after JTG Daugherty decided it did not make sense to continue operating a second Cup Series car without a charter.
With Todd Gilliland coming out of seemingly nowhere to land a job, there is one less opening available.
Of what's left, the second car of newcomer Kaulig Racing belongs to AJ Allmendinger on a part-time basis, complementing his Xfinity Series schedule. Newman, who has suggested he could live with a part-time role, could conceivably pull in enough sponsor interest to cover 20 or so starts.
Rick Ware Racing will field at least two full-time cars and possibly a third. However, those searching for jobs might see more potential value in dropping down to the Xfinity Series.
All stats courtesy of Racing Reference.