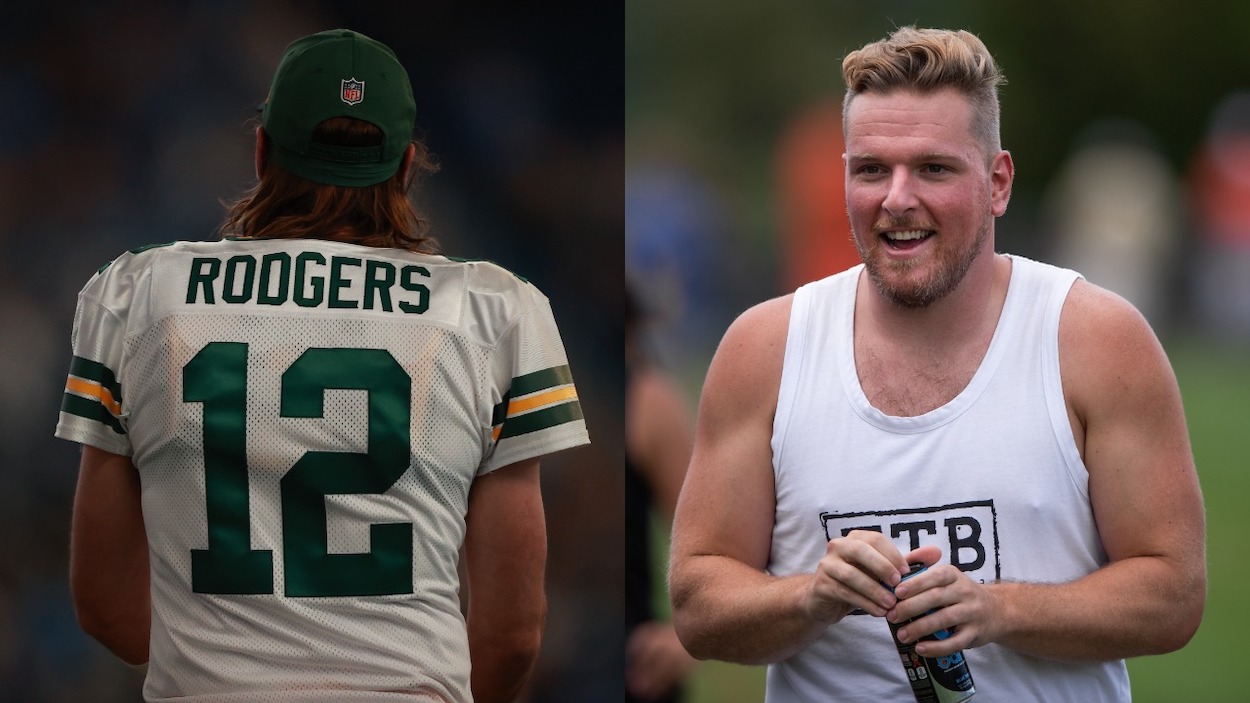 Aaron Rodgers Commits to Announcing His Decision on the 'Pat McAfee Show': 'It'd Be Fun to Troll Some People Who Dislike You Because You Give Me a Platform'
Aaron Rodgers has a big decision to make that will affect several NFL teams. He's pledged to make his announcement on the 'Pat McAfee Show'
After a year of breaking news on the Pat McAfee Show, it's only fitting that Aaron Rodgers promised to announce his decision on the 2022 season on his friend's sports talk program. If Rodgers does decide to play football next season, getting out of Green Bay could be more complicated than it seems, but the Denver Broncos have the easiest path to the superstar quarterback.  
Aaron Rodgers told Pat McAfee he'd announce his decision live on the former punter's show
"Aaron Rodgers Tuesdays" on the Pat McAfee Show have become the most must-listen hour of sports talk this football season.
You never know what you might hear when you tune in to the polarizing QB and his former NFL punter buddy chopping it up behind microphones. This season alone (the second season Rodgers has joined McAfee weekly), the Green Bay Packers signal-caller has praised his friends, attacked his enemies, and pontificated on all types of subjects.
That makes it only fitting that, on his last regularly-scheduled appearance on the show, Rodgers told McAfee that when the time comes for him to announce his decision as to what he plans on doing next season, he'll come to the host in Indianapolis to do it:
I think what we should do — it'd be fun to troll some people who dislike you because you give me a platform to spread all my misinformation. In the past, I've enjoyed leaking, like when I re-signed, I hit up [former Packers teammate] James Jones. … I know it pisses off the pros. The [Adam] Schefter's, the [Ian] Rapoport's — who are great at what they do. I know it probably doesn't make them feel great. But when I come to a decision, I should probably come on your show first, right? I'll come to Indy, and we can do it in person.

Aaron Rodgers on announcing his decision on the 'Pat McAfee Show'
McAfee immediately got pumped about the idea and hilariously suggested they do the announcement college signing day-style and have Rodgers put on an "I'm Retired" hat or the hat of the team he'll be going to.
However McAfee and Rodgers decide to make the announcement together when the time comes; it will make for at least one more can't-miss "Aaron Rodgers Tuesday" on the Pat McAfee Show.
Trading for Rodgers won't be easy 
At 38, retirement is always an option for Aaron Rodgers. Staying with the Green Bay Packers is possible, too, although, at this point, neither of those scenarios seem highly likely.
Rodgers has talked about how losing in the Divisional Round left a bad taste in his mouth, making retirement sound unlikely. He also knows what a bad salary cap situation his current team is in, so staying with the Packers and winning a Super Bowl would be difficult, at best.
The most likely decision — and best for both parties — is to request/accept a trade out of Green Bay. However, that isn't as easy as it sounds, at least according to NFL insider Ian Rapoport.
On his own weekly appearance on the Pat McAfee Show, the NFL Network reporter told the host he'd like to be there on the day Rodgers comes to make the announcement. After McAfee shot down the idea, Rapoport explained the difficulties of an Aaron Rodgers trade:
These trades are so hard. Because there's so many different variables. Like, he's going to want to go someplace good. But it's going to have to be someone that can pay what the Packers would take, and it has to be something massive. … We're talking at least multiple first-round picks.

Ian Rapoport on trading for Aaron Rodgers
Rapoport continued by explaining that the Packers can hold out until they get what they want, but other teams can offer less because they will know Rodgers wants out. Also, Rodgers himself won't want the team to give up too many picks and leave his new franchise's cupboards bare.
That's why this trade, as Rapoport says, "is very complicated."
However, there is one NFL team that it may be slightly less complicated for.
The Denver Broncos are the team best set up to make a move for the MVP QB
In his conversation with Pat McAfee, Ian Rapoport mentioned the Denver Broncos specifically as a team that will pursue a trade for Aaron Rodgers if the QB says (on the Pat McAfee Show) he's coming back in 2022.
On the Dan Patrick Show, Albert Breer from the MMQB explained why the Broncos are uniquely set up to pursue Rodgers — and possibly also his favorite target, Davante Adams — this offseason.
Breer noted that the Broncos have been prepping to get a franchise QB for some time now:
Cap-wise, they're in good shape. They've got a lot of guys who are on rookie contracts. And they've set it up so Aaron Rodgers can walk in there and bring people with him. … They're not that different now than they were in 2012 when they went and got Peyton Manning.

Albert Breer on the Denver Broncos and Aaron Rodgers
Breer backed up his argument by explaining how the Broncos young skill position player in 2012 (Eric Decker, Demaryius Thomas, Julius Thomas) is similar to the team's pass-catchers and runners today (Jerry Jeudy, KJ Hamler, Courtland Sutton, Tim Patrick, Noah Fant, Javonte Williams).
He also compared '12 pass-rusher Von Miller and CB Chris Harris to '12 pass-rusher Bradley Chubb and CB Patrick Surtain II on the defensive side.
It all sets up for a fascinating decision from Rodgers, who has pledged to make his decision quickly. Keep an eye on the Pat McAfee Show to find out what happens next.  
Like Sportscasting on Facebook. Follow us on Twitter @sportscasting19