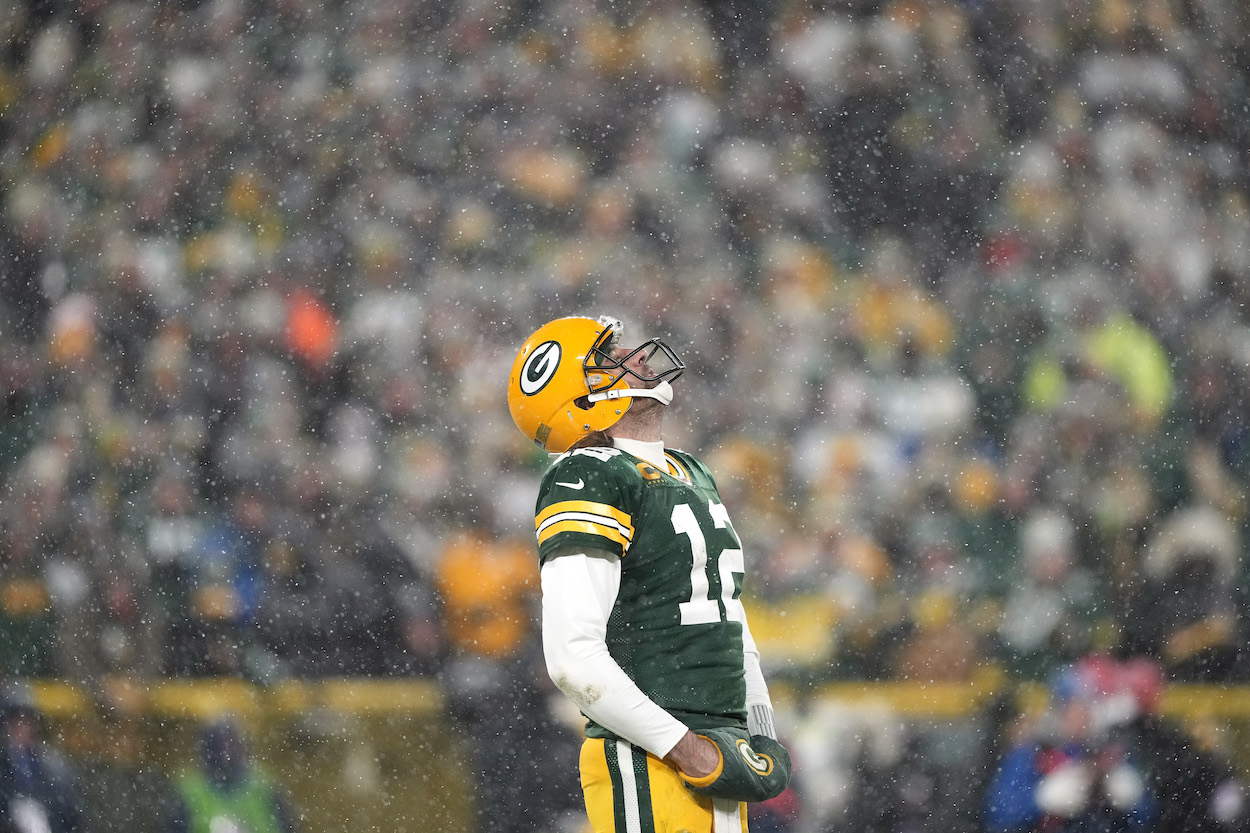 Aaron Rodgers' Eyebrow-Raising Actions After Green Bay's Playoff Loss Might Hint at His Return to the Packers
Aaron Rodgers' actions after Sunday's playoff loss to the 49ers could hint at his return to the Packers in 2022.
Another dramatic offseason lies ahead for Aaron Rodgers and the Green Bay Packers. After the brutal NFC Divisional Round loss to the San Francisco 49ers last Sunday, there's plenty of speculation about Rodgers possibly leaving town to start a new adventure, possibly to join former Packers offensive coordinator Nathaniel Hackett on the Denver Broncos.
But based on his actions this week, Rodgers might actually be gearing up for a return to Green Bay after all.
Aaron Rodgers' future with the Packers is unknown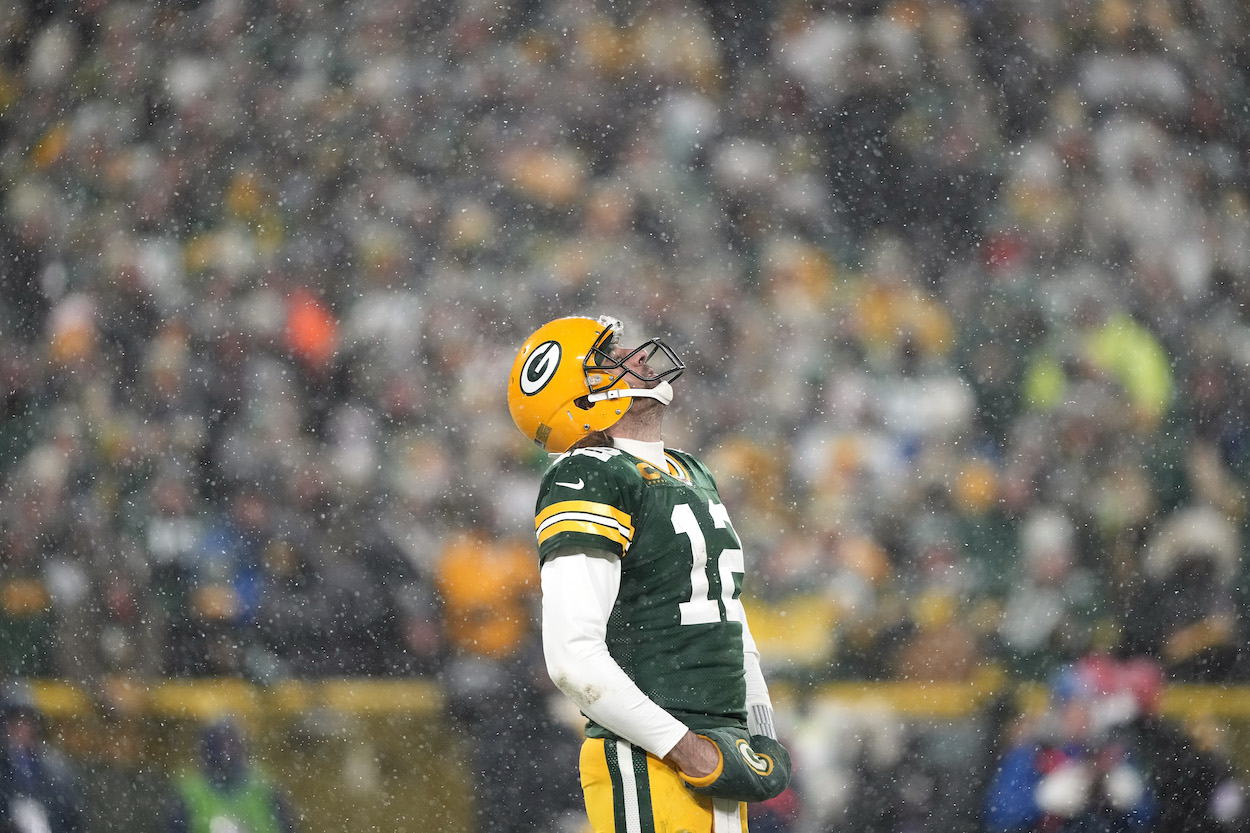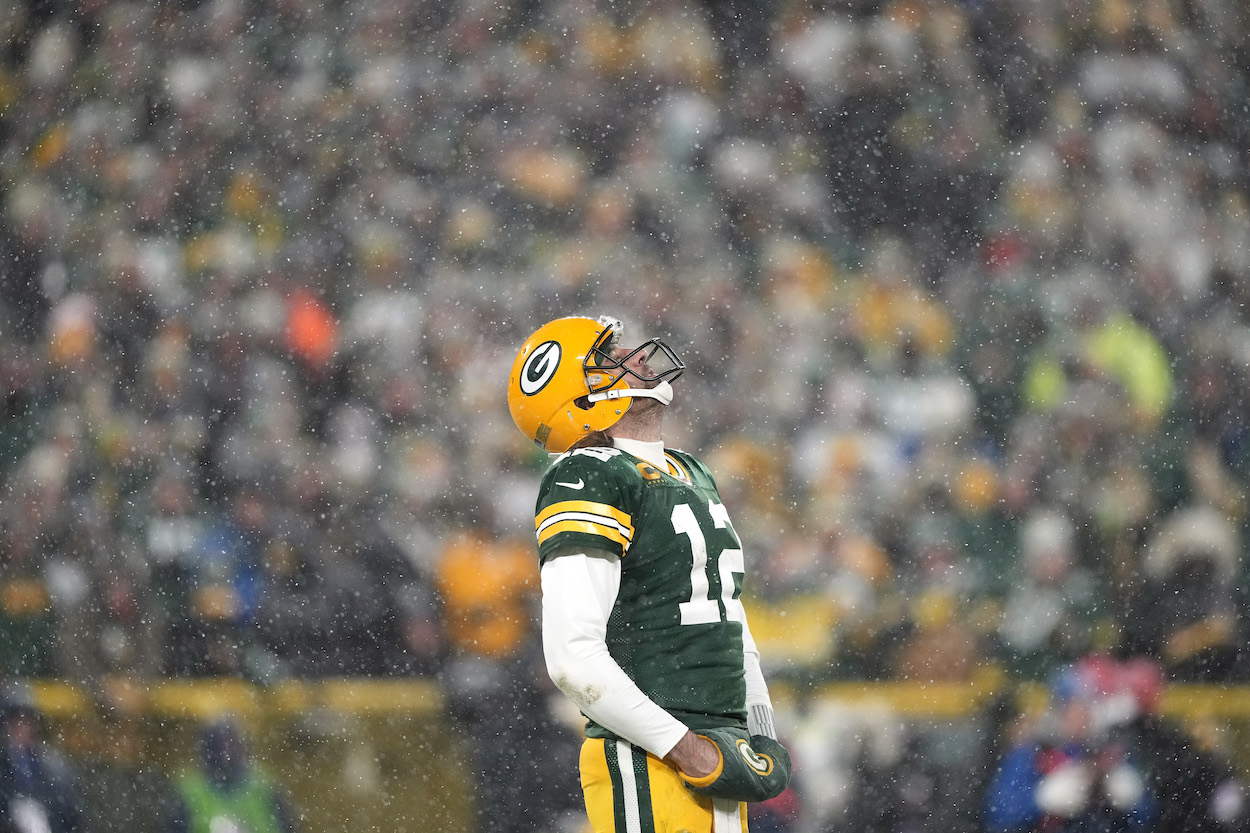 Rodgers nearly forced his way out of Green Bay last offseason. It only makes sense to assume that he would contemplate leaving this summer after the Packers failed to make it past the NFC Divisional Round.
In the days following that loss to the 49ers, Rodgers said he hasn't made a decision yet on his future in the NFL.
"Everything is definitely on the table," Rodgers said Tuesday on The Pat McAfee Show. "There are things that seem more plausible or more likely, which I won't necessarily get into. The most important thing is, first, the commitment to playing and to go into the offseason and training and all that's stuff. And then after that, it's conversations with my agent and (Packers general manager) Brian (Gutekunst), and then looking at the desires of the team and kind of the mindset moving forward, and then make a decision from there."
Rodgers has a lot to think about over the next couple of months, but he's at least giving the Packers a chance to prove they're the best option for him moving forward.
Rodgers stuck around in Green Bay after playoff loss to talk about the Packers' future
If Rodgers didn't see himself staying in Green Bay for another season, he most likely would've hightailed it to his home state of California to start his offseason vacation. But he didn't.
According to Ian Rapoport of NFL Network, Rodgers stuck around in Green Bay following the playoff loss and spoke to his coaches about the direction of the franchise moving forward.
"Sources say Rodgers stayed in the building for a few extra days to plot out the team's future, huddling with coach Matt LaFleur and others and mapping out what's next," Rapoport writes. "It left those in the organization with confidence moving forward that Rodgers will return for the 2022 season.
"Cautious optimism was the phrase, per sources, though no one wants to interfere with Rodgers' process. And Packers decision makers all respect the steps he'll take to arrive at his eventual decision."
On the surface, this may seem like a minor piece of news. But Rodgers could've easily ditched town after Green Bay's embarrassing playoff loss and never return. Instead, he immediately went to his coaches to draw up a plan for the future of the franchise.
He might be here to stay.
Should he stay or should he go?
Rodgers' decision comes down to a multitude of factors, but the most important one has to be whether Davante Adams stays with the Packers or takes his talents somewhere else.
Adams is set to become a free agent this summer, but the Packers can use the franchise tag on their superstar wide receiver to keep him in Green Bay for another year. If Adams ends up finding another home in the offseason, Rodgers should do the same.
The Broncos seem to be the obvious landing spot for Rodgers with Hackett recently taking over as the head coach, but he has more than one option if he wants to explore a new adventure. Could he move to sunny Tampa Bay and replace Tom Brady on the Buccaneers? Maybe he takes over for Ben Roethlisberger on the Pittsburgh Steelers? And what about the Indianapolis Colts if they decide to move on from Carson Wentz?
Rodgers will have his pick of the litter this offseason, but he seems interested in working things out in Green Bay.
Like Sportscasting on Facebook. Follow us on Twitter @sportscasting19.