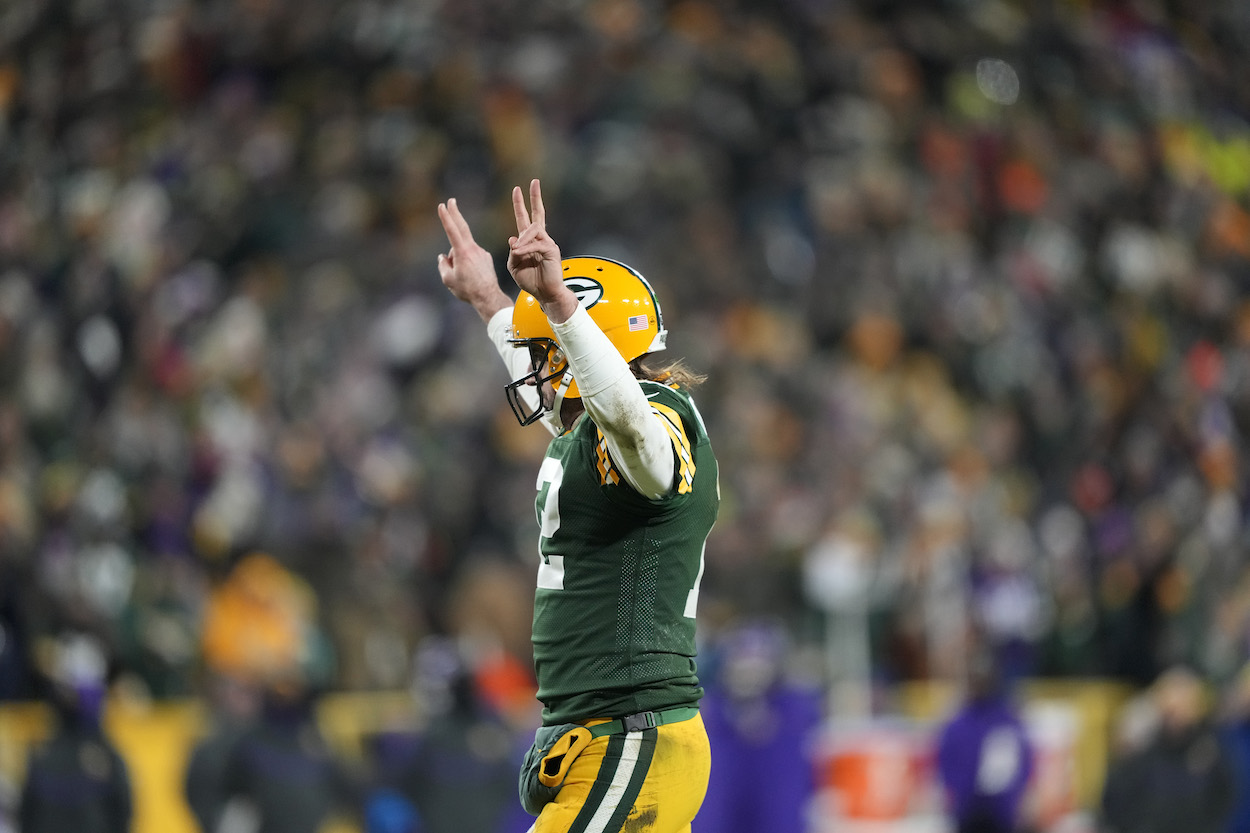 Aaron Rodgers: Ranking the Top 6 Destinations for the QB Now That the Green Bay Packers are Officially out of the NFL Playoffs
Aaron Rodger's season is over. Now he must decide whether to stay with the Green Bay Packers or force his way out to one of these six teams that are all a good fit.
After the Green Bay Packers stunning 13-10 playoff upset at the hands of the San Francisco 49ers in the Divisional Round, Aaron Rodgers Watch 2022 officially begins. Rodgers has pledged to make his decision about staying with the organization quicker than last season. If he does decide to go, where he ends up could swing the balance of power in the NFL.
With that in mind, here are the top six destinations for Aaron Rodgers now that the Green Bay Packers are officially out of the NFL Playoffs. The teams are ranked by best fit and most potential to challenge for a Super Bowl with Rodgers under center.
Sorry, Aaron Rodger isn't coming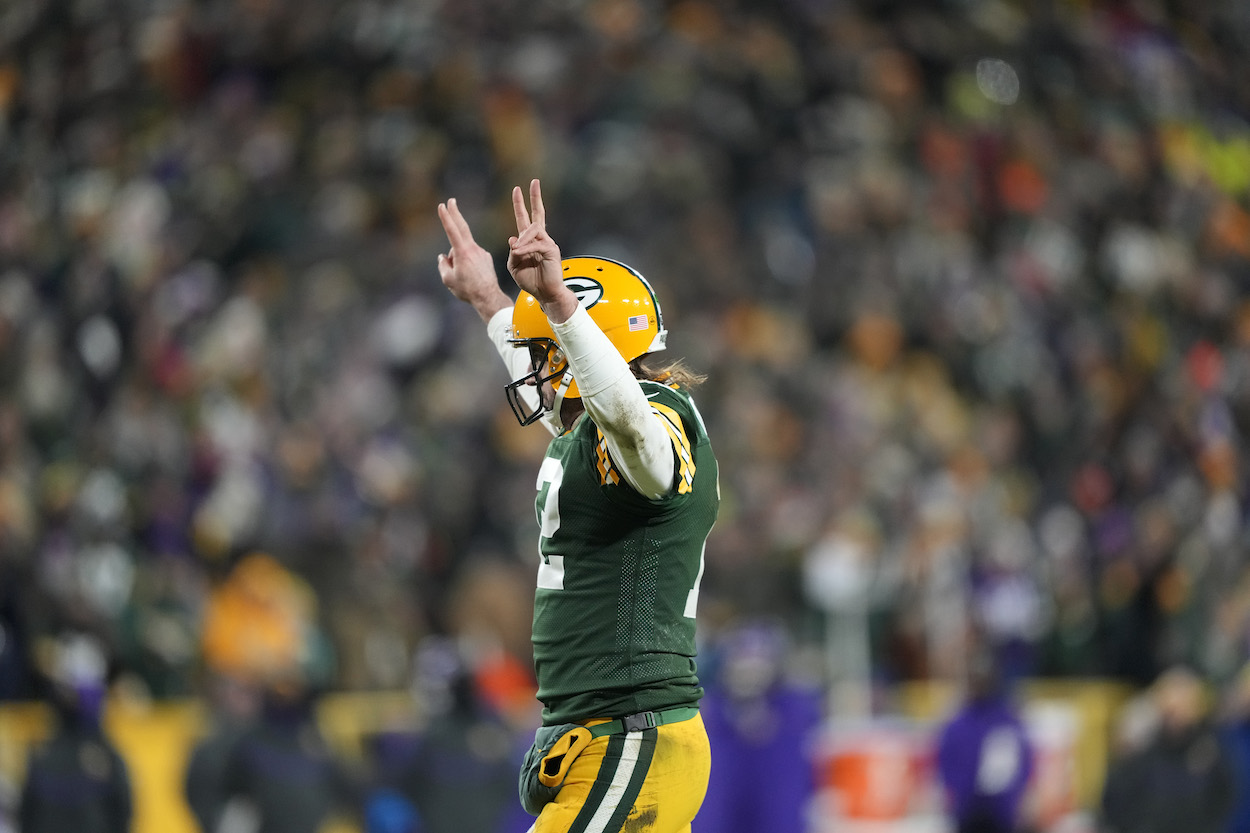 At least half of all NFL fan bases would happily drive their current QB to the airport if Aaron Rodgers announced he wanted to come to their team. However, with just a few years left in his career, Rodgers will be picky about where he goes.
This means that teams without a boatload of talent or with poor/unstable coaching situations or drama-filled ownership need not apply.
For these reasons (and more), franchises that would certainly want Rodgers have no chance to land the controversial QB. This list includes the New York Giants, Cleveland Browns, Washington Football Team, Miami Dolphins, Carolina Panthers, and Houston Texans.
Oh, and also, there is zero chance another NFC North team will get in the mix for Rodgers, either. Sorry, Minnesota Vikings and Detroit Lions.
With those eight teams eliminated, along with the other franchises with top-notch or young, promising QBs, that leaves these six teams as the best potential landing spots for Aaron Rodgers.
6. Tampa Bay Buccaneers 
This is more fun than realistic, but if Tom Brady does finally hang up the cleats, who better to replace him with than Aaron Rodgers? The Tampa Bay Buccaneers have the infrastructure and the talent to make the most out of a great QBs last few seasons. They proved that the last two years.
That said, Bruce Arians will be 70 early next season, and Byron Leftwich is a hot head coaching candidate, so neither of these key cogs in the Bucs machine may be there in 2022. Also, Rodgers doesn't seem like the type who wants to follow in anyone's footsteps, so being Brady 2.0 doesn't seem like something he'd be thrilled about.
5. New Orleans Saints 
The New Orleans Saints play in a dome, which is great for aging QBs. They also have an innovative offensive-minded coach in Sean Payton who could do wonders with Rodgers. If Michael Thomas comes back to pair with Rodgers and Alvin Kamara on offense, it could be special.
On the other hand, the Saints are the only team in the entire NFL with a worse cap situation than the Green Bay Packers. Also, Thomas and Payton's situations are uncertain, making Rodgers landing here somewhat unlikely.
4. Tennessee Titans
The Tennessee Titans were the best team in the AFC this regular season, and that was without their best player for most of the year. But, what they showed in their 19-16 loss to the upstart Cincinnati Bengals is that Ryan Tannehill is not a Super Bowl-quality QB. Aaron Rodgers would give the Titans the final piece they are missing.
The problem is, Tannehill has an incredible $57.4 dead cap hit next season. If they can figure out a way to get Rodgers in and keep Tannehill, getting rid of the latter is much easier in 2023. Unfortunately for Mike Vrabel, Derrick Henry, A.J. Brown, and the rest of the Titans, even the most creative cap maneuvering makes this nearly impossible.
3. Denver Broncos
Conventional wisdom has Aaron Rodgers moving to the Denver Broncos this offseason. They'll likely have a new owner this offseason and, if so, it could be the last QB to travel to the Mile High city to get a ring, Peyton Manning.
They have a good defense in Denver and some talented weapons in Javonte Williams, Jerry Jeudy, Courtland Sutton, Tim Patrick, and Noah Fant. However, the organization hasn't been to the playoffs since Manning's Super Bowl. The coaching situation is up in the air too, and no one knows what a new owner will bring.
2. Las Vegas Raiders 
How much of this is because Aaron Rodgers would look super-cool in the Silver and Black, and his recently adopted outlaw personality would fit in perfectly with the Las Vegas Raiders? It's hard to tell. Probably 50/50.
The Raiders are a real option for Rodgers, though. Despite the turmoil they faced this season, they are one of the four teams on this list that made the playoffs. They also have serious weapons in Josh Jacobs, Darren Waller, and Hunter Renfrow and an up-and-coming defense. If they can add Rodgers and Davante Adams, the Raiders are a top-four team in the AFC for sure.
1. Pittsburgh Steelers 
The Ben Roethlisberger Era in Pittsburgh is over, so now the question is, what's next? With solid ownership, a great head coach in Mike Tomlin, young playmakers on offense, and one of the best defensive players in the NFL in T.J. Watt, the Steelers are still a strong organization.
Aaron Rodgers in Steelers colors would make the team an immediate Super Bowl contender, and we know the QB has an affinity for Pittsburgh and its people. From his former quarterback coach Alex Van Pelt to his talk show host buddy Pat McAfee, Rodgers loves the people of Pittsburgh and, if he forces his way to Heinz Field next season, they would absolutely love him back.
All stats courtesy of Pro Football Reference and contract figures courtesy of Spotrac