Aaron Rodgers Fiercely Defends 'F***ing Great Human' Nathaniel Hackett
Soon-to-be former Green Bay Packers quarterback Aaron Rodgers went on the Pat McAfee Show on Wednesday and revealed to the NFL world he will likely join the New York Jets soon. Lost amid the announcement and the potshots and NFL "insiders" was the fact that Rodgers' biggest gripe with reports surrounding him was aimed at the suggestion former Packers and new Jets offensive coordinator Nathaniel Hackett only got the job in New York to help bring the QB to town.
Pat McAfee angered Aaron Rodgers the Jets hired OC Nathaniel Hackett because of him
As long as the Jets and Packers can agree on the compensation involved in an Aaron Rodgers trade, the quarterback will soon (once again) follow in Brett Favre's footsteps and join Gang Green.
In a wide-ranging interview (/monologue) on the Pat McAfee Show on Wednesday, Rodgers discussed his time in "the darkness," his near-retirement, his grievances with the Packers, and how few NFL "insiders" know what they are talking about.
For most of the conversation with McAfee, A.J. Hawk, and "the boys," Rodgers was calm and measured, discussing his situation coolly and frankly. When the topic turned to his former OC in Green Bay, Nathaniel Hackett, things got a little heated.
Rodgers noted, "there's many reasons the Jets are attractive. But there's one coach who's meant as much to me as any coach I've ever had, and he happens to be the coordinator there." And although he said Hackett as OC didn't "matter at the time" in his decision, he's happy the coordinator is there.
When McAfee brought up the speculation that the Jets only hired Hackett — who failed miserably as the Denver Broncos head coach last season — that's when Rodgers got upset.
"If there's any offense I've taken today, the only offense I'm going to take is to that statement, honestly. That actually diminishes the ability he has to coach football and connect with people. And that, to me, is f***ing objective reality that anyone who's been around Nathaniel Hackett knows that he brings a lot of energy, a lot of fun," Rodgers vented. "For people to say that that was done just to lure me is a total disservice to Nathaniel Hackett. What he's accomplished in his career. The kind of person that he is. I will push back against that every time because he's not just a f***ing great human, but he's a great football coach."
And with that, we all learned Rodgers doesn't take kindly to speculation that his recruitment is what got his old offensive coordinator with the Packers his new job with the Jets.
Is Nathaniel Hackett good?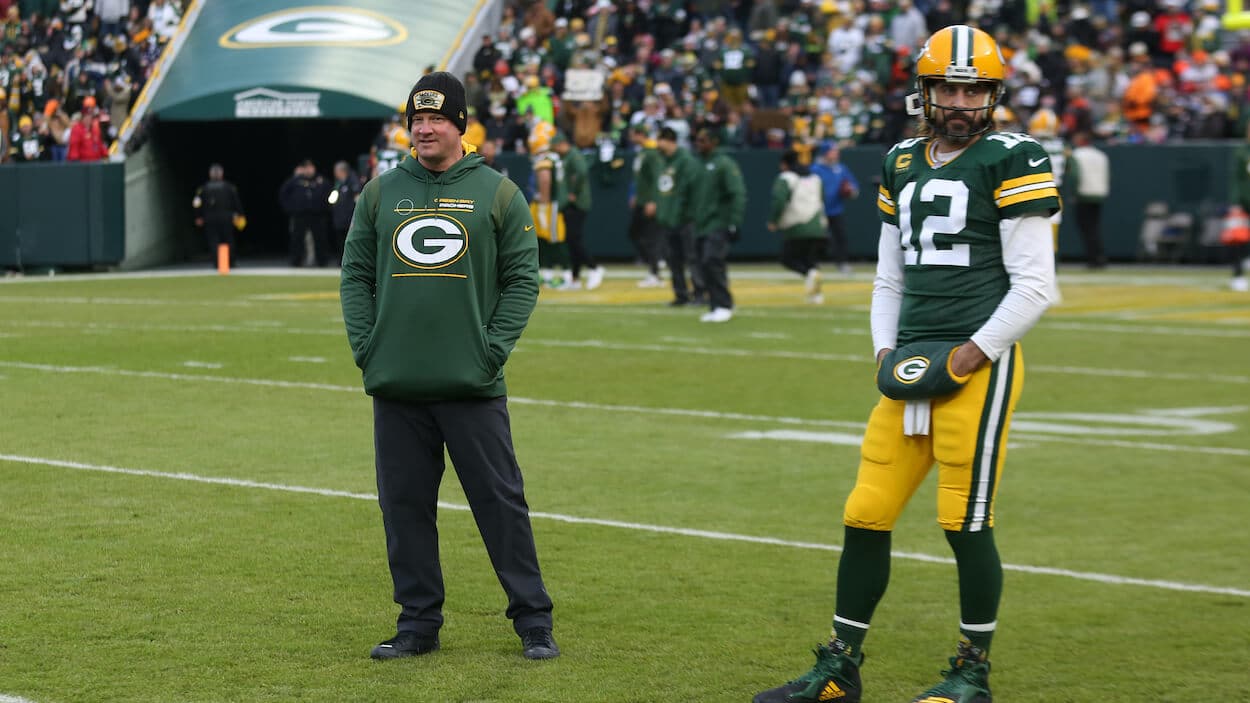 Some coaches are simply better as coordinators than head coaches in the NFL. While it's too early to say this about Nathaniel Hackett, there is evidence it could be the case.
Of course, the best example of not judging a coach by his first head gig is Bill Belichick. The New England Patriots legend was 36-44 in five seasons with the Cleveland Browns before winning six Super Bowls with Tom Brady and company.
However, on the other end of the spectrum is Nathaniel's father, Paul Hackett. The elder Hackett coached on NFL offensive staffs for 22 years. He was the quarterbacks coach on the Super Bowl-winning San Francisco 49ers in 1984 and only missed the playoff twice in nine seasons as offensive coordinator for Kansas City Chiefs and Jets.
However, in between, he took head coaching jobs at Pitt and USC in the college ranks. He posted a 32-38-1 record in those two jobs and only made two Bowl games (interestingly, the Sun Bowl both times, one with each school) in seven seasons.
Like his father, Nathaniel Hackett has great success as an OC. With the Jacksonville Jaguars in 2017, he reached the AFC Championship, and with the Packers, he made two NCF Championships and guided Aaron Rodgers to back-to-back NFL MVP Awards.
Yes, his time with Russell Wilson and the Denver Broncos was an abject disaster from start to finish. Hackett was 4-11 through 15 games before the team's owners fired him before completing his inaugural season.
Rodgers also suffered without Nathaniel Hackett, going 8-9 as a starter in 2022 and missing the playoffs. There were other factors involved, but losing Hackett surely played a role.
Reunited with the New York Jets, Rodgers and Hackett could easily rekindle that magic because while the offensive coordinator may not be a good head coach, he is a good OC.