Broncos: Nathaniel Hackett Hired a New Coach This Week to Help With His Abysmal Clock Management
Denver Broncos first-year head coach Nathaniel Hackett hasn't had a stellar start to his career. His team, with new superstar quarterback Russell Wilson, inexplicably lost to the Seattle Seahawks in Week 1. In Week 2, it took a fourth-quarter comeback for the team to beat the lowly Houston Texans.
Along the way, Hackett has displayed horrible clock management skills that have cost or almost cost his team these games. In recognition of his own limitations, Hackett has taken the unusual step of hiring a new assistant coach in-season to be in charge of the Broncos' time and situation … situation.
Broncos hired an assistant coach to deal with clock management
The Denver Broncos hired Green Bay Packers offensive coordinator Nathaniel Hackett as the team's new head coach during the 2022 offseason. After three losing seasons under older, defensive-minded Vic Fangio, the organization seemed to look for the opposite: a young, offensive-oriented head coach.
The Broncos found that in Hackett, who was offensive coordinator for Aaron Rodgers and the Green Bay Packers for the previous three seasons.
Prior to that, Hackett had stints as OC with the Buffalo Bills and Jacksonville Jaguars, as well as college experience with Syracuse and Stanford. The coach grew up with the game, too, as his father, Paul, was the USC head coach in the late 1990s and an OC and quarterbacks coach for several NFL teams.
Nathaniel Hackett has struggled with his first opportunity, especially with clock and game management (more on that below). To combat this, Hackett hired a new coach leading into Week 3. ESPN's Chris Mortensen reported on Sunday NFL Countdown:
Nathaniel Hackett, first time as a head coach. Still calling the plays. Had a little problem with clock management. So, last week in Denver, the crowd was chanting down the play clock almost every play, and it was very audible. What did they do? They went out and hired Jerry Rosburg — who last retired after 2018 as the special teams coach with the Baltimore Ravens — to be the senior assistant in the booth, helping out Nathaniel Hackett with that game clock.

Chris Mortensen on Broncos coach Nathaniel Hackett
Adam Schefter reported that Rosburg will be in the Broncos' coaching booth Sunday night vs. the San Francisco 49ers to help Hackett and company out.
This is a fascinating move for a first-time head coach, but also a necessary one as Hackett's list of blunders in his first two weeks on the job.
Nathaniel Hackett already has a list of blunders after just two weeks as an NFL head coach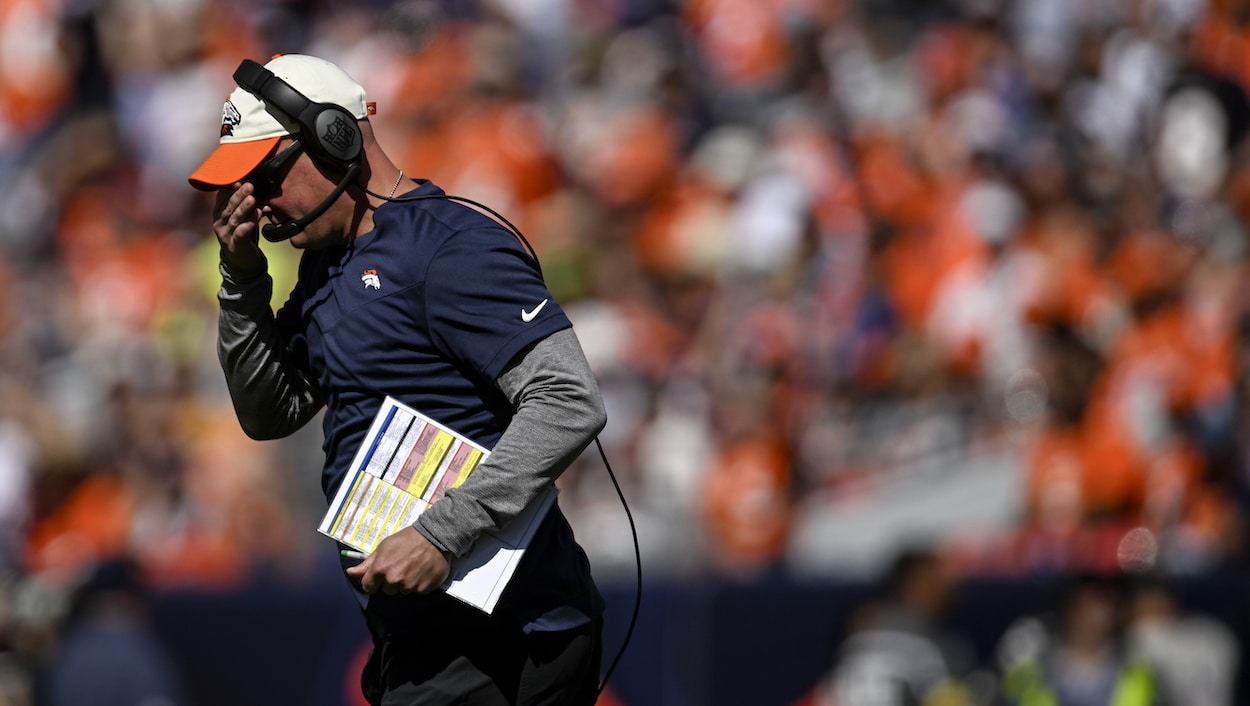 Nathaniel Hackett has a rough opening night as Broncos head coach. His team took on Russell Wilson's former squad and didn't perform like the team that gave up multiple draft picks this offseason to secure the better QB.
Making matters worse, Hackett let the clock run down while his team was down a point in the fourth quarter. It was 4th-and-5, but the team still needed a 64-yard field goal to win the game.
The coach looked even more foolish to fans watching ESPN's ManningCast. Hall of Fame QB Peyton Manning furiously made the timeout sign 62 times as he implored his former team to call one of their three timeouts and go for it with Wilson.
Brandon McManus missed the FG, and the Broncos lost the game.
The next game didn't get much better from a coaching standpoint. Hackett's Broncos set a franchise record with 13 penalties in a game (for 100 yards) to bring their two-game total to 25 penalties losing 206 yards.
The Broncos false start penalties got so bad that the fans not only started booing, they started counting down the play clock on every play to help their team.
We'll get to see Sunday night against the 49ers if Hackett hiring a game management coach will help this challenging situation.
All stats courtesy of Pro Football Reference
RELATED: Pete Carroll Drops Major Hint That Ex-Seahawks Don't Like Russell Wilson: 'You Figure That Out'