Aaron Rodgers Gets Warning From Davante Adams Ahead of Return to the Green Bay Packers
The Green Bay Packers got some good news for their Week 10 matchup with the Seattle Seahawks. Quarterback Aaron Rodgers is asymptomatic after his positive COVID-19 diagnosis that kept him out of last week's game against the Kansas City Chiefs. Rodgers has been activated for Sunday's game but did get a warning from his top wide receiver Davante Adams.
Aaron Rodgers has been activated for Sunday's game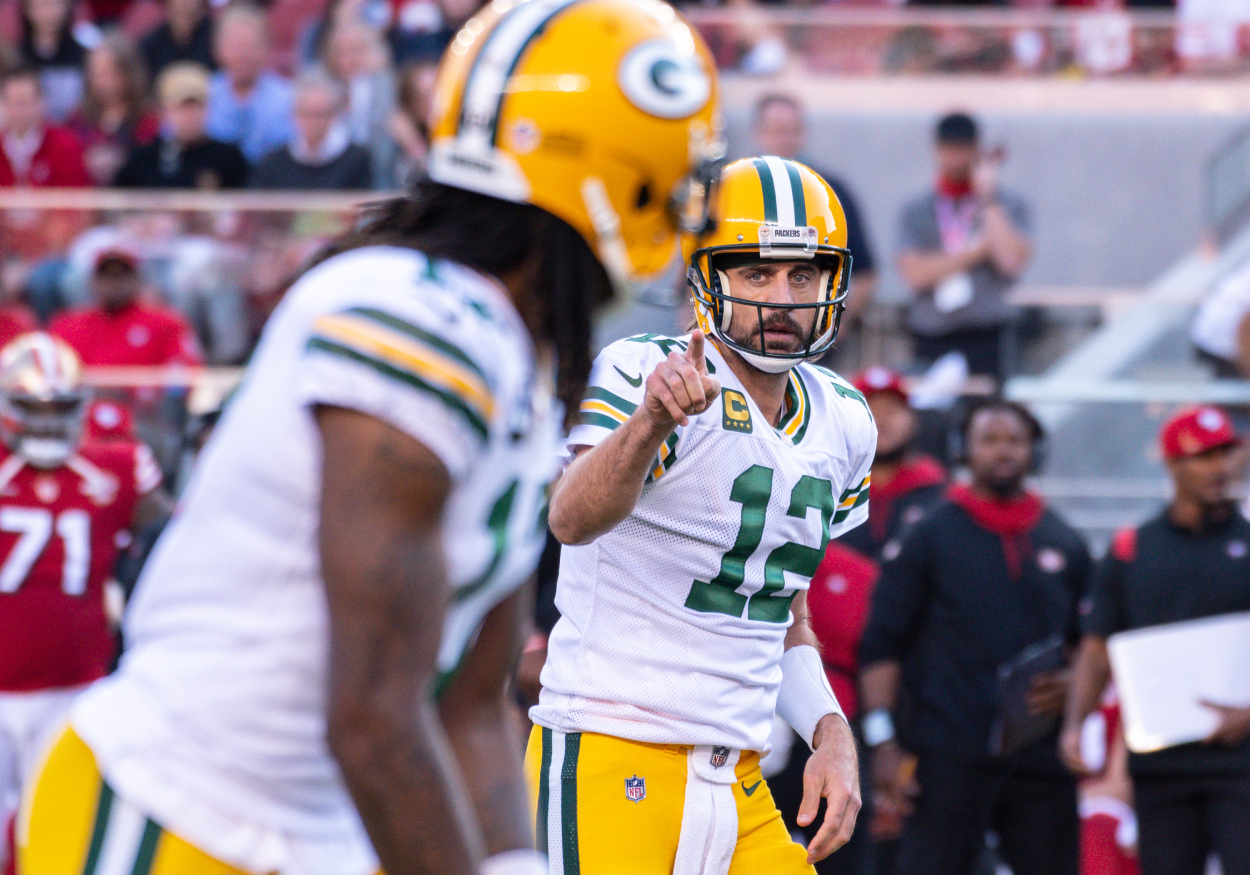 Tom Pelissero of the NFL Network, reported Rodgers was back in the building Saturday and the Packers expected to activate him in time for Sunday's game against the Seahawks. Rodgers was unvaccinated when diagnosed, therefore needed to be out a minimum of 10 days before rejoining the club. Late Saturday afternoon, the Packers confirmed they had activated their QB.
Rodgers has been blasted by many for the way he's handled his situation. Many believe Rodgers misled the public when he said he was "immunized" during training camp. He tested positive for the virus the week leading up to the Chiefs game. The fact he had to be away from the team for 10 days showed he was unvaccinated, prompting many to call him a liar. Had Rodgers been vaccinated and tested positive, he could've played against the Chiefs if he was asymptomatic and had two negative tests 24 hours apart.
Without Rodgers, the Packers struggled mightily on offense. Against a suspect Kansas City defense, 2020 first-round pick Jordan Love had a rough outing. The Packers wasted a strong defensive effort in a 13-7 loss.
Green Bay was held scoreless through three quarters in an ugly offensive performance. Love finished the game 19-for-34 passing for 190 yards. He had a late touchdown pass to Allen Lazard and also had an interception. Rodgers' return sets up a QB showdown between Rodgers and Russell Wilson, who will also be returning after missing time with a finger injury.
Aaron Rodgers gets a warning from Davante Adams
The return of Rodgers means one of the most deadly QB/WR combos will be back together for the first time since Week 7. Adams missed the Packers' Week 8 game against the Arizona Cardinals because he, too, tested positive for COVID-19. In that game, the Pack was without its top three wideouts, yet managed to knock off the previously unbeaten Cardinals in their own backyard.
Although Rodgers is coming back, how effective will he be? Adams gave Rodgers a little bit of a warning about returning after a week off with COVID-19, saying his endurance was tested.
"I don't know how it'll impact Aaron or the quarterback position — it's much different movements," Adams said, according to ESPN. "But I definitely was a little bit more taxed in the game than I usually would be. It kind of felt like Week 1 all over again.
"Wasn't anything crazy, and I don't think it was the COVID that did it. It was more so me stationary, not moving around for 10 days, which doesn't seem crazy, but when you're moving every day and getting the conditioning that we get as wideouts, you definitely notice a difference."
Rodgers said he's feeling good heading into Sunday's game
Earlier in the week, Rodgers said he was "feeling really good," per Sports Illustrated. At that time, he said he expected to play against the Seahawks, but there was a small chance something could come up.
"There's a health hurdle that I have to (clear) as far as like movement and sweating and making sure my body, especially heart, is fine with physical exertion," he said.
With the Packers activating him, he appears to be on his way to line up under center. He also wanted to apologize to those who felt misled by his "immunized" comment.
"I just want to start off this show by acknowledging that I made some comments that people might have felt were misleading," he said. "To anybody who felt misled by those comments, I take full responsibility for those comments. I'm excited about feeling better. I'm excited about moving forward and hopefully getting back with my team and getting back to doing what I do best, and that's playing ball."
The good news for Packers fans is Rodgers appears to be back. The bad news could be if Adams is right and Rodgers isn't what he has been, although a somewhat ineffective Rodgers may be better than we saw out of Love last week.