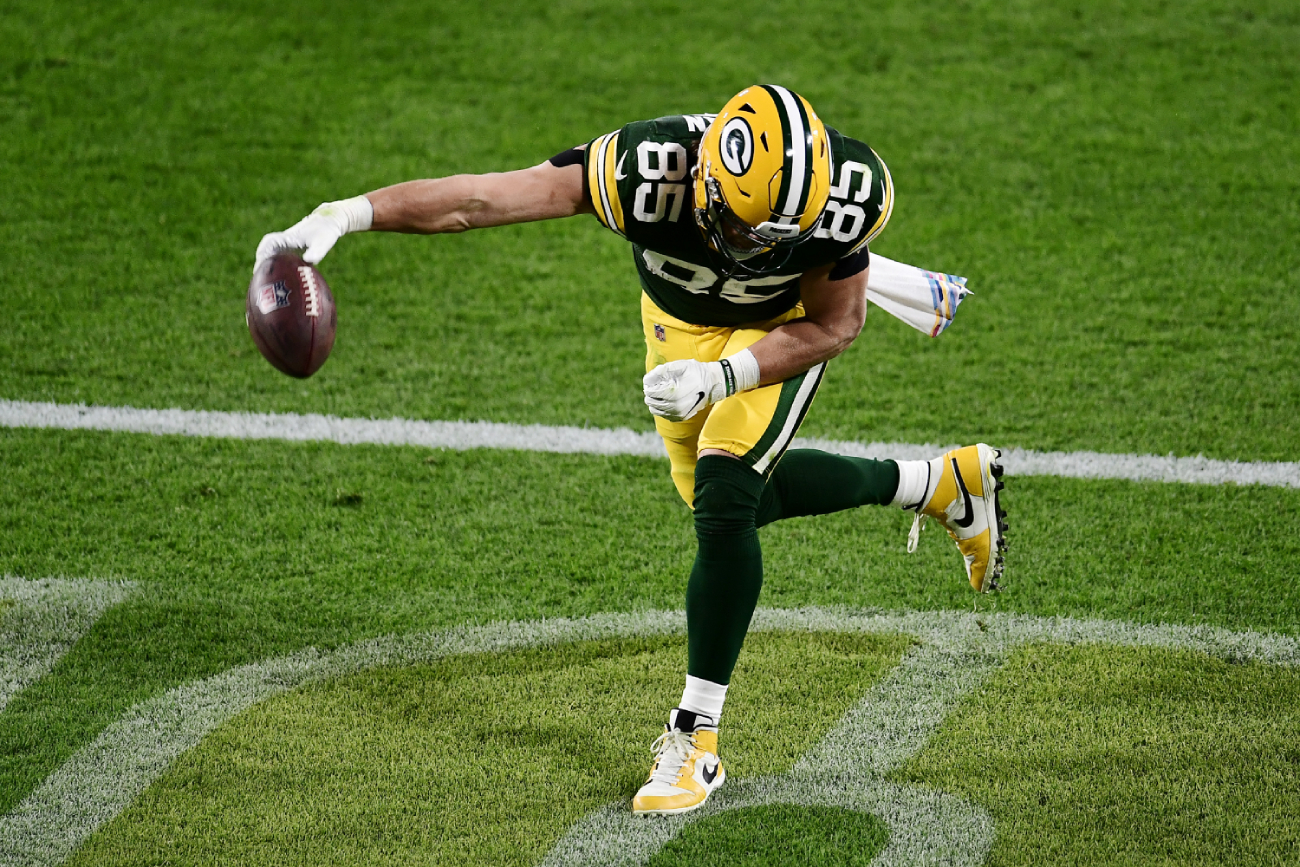 Aaron Rodgers Keeps Churning out Stars With Robert Tonyan the Latest
Green Bay Packers quarterback Aaron Rodgers keeps churning out stars with tight end Robert Tonyan being the latest one.
No receivers? No problem for Aaron Rodgers. He'll just create them. With top wide receiver Davante Adams out yet again with a hamstring injury, Aaron Rodgers simply made little-used Robert Tonyan the biggest receiving threat for the Green Bay Packers in Monday night's win over the Atlanta Falcons. It's becoming the norm for Rodgers.
The Green Bay Packers have been decimated by injuries at WR
It's no secret the Green Bay Packers were already thin at wide receiver heading into the 2020 season. One of the biggest knocks on the Packers' 2020 draft (outside of taking backups Jordan Love and A.J. Dillon with their first two picks) was they never selected a wide receiver. Davante Adams has shown he can be a top-five receiver in the league, but after him, Green Bay doesn't have a whole lot.
Adams injured his hamstring during a Week 2 victory over the Detroit Lions and hasn't played since. Adams' injury opened the door for wide receivers Marquez Valdes-Scantling and Allen Lazard. Lazard then got injured in last Sunday night's game against the New Orleans Saints and is out indefinitely.
Monday's night's receiving corps for the Packers was somewhat laughable. Valdes-Scantling was Green Bay's No. 1 wideout. Darrius Shepherd and Malik Taylor also had receptions. Green Bay only had four wide receivers active for the game.
Despite the injuries, the Packers keep rolling
The Green Bay Packers haven't seemed to miss a beat despite all their injuries. Playing without pass-catchers Davante Adams, Allen Lazard, and Marcedes Lewis, the Packers improved to 4-0 with a 30-16 win over the Atlanta Falcons on Monday. For the first time in franchise history, the Packers have scored at least 30 points in each of their first four games.
"I like where we're at," quarterback Aaron Rodgers said, according to ESPN. "I really do and I like the diversity in our approach. Again (coach) Matt (LaFleur) was really good kind of mixing it up with the calls. Obviously, we had to do some different things without Davante, without Allen and without Marcedes, but I thought we had a nice plan and we executed really well."
The success of the Packers starts with Rodgers. He completed nearly 82% of his passes and threw four more touchdowns against the Falcons. "He's one of those guys who's self-motivated," LaFleur said. "It doesn't take anything other than he wants to be the best. He usually is the best every Sunday when we're out there. We're fortunate to have him as our leader. He's the one driving the ship out there."
Robert Tonyan is the latest to step up for the Packers
Last Sunday night against the New Orleans Saints, wide receiver Allen Lazard, Green Bay's No. 3 wideout heading into the season, came through with a career night. With Davante Adams out, Lazard capitalized with six catches for a career-high 146 yards and a touchdown. The Packers improved to 3-0 with a 37-30 victory.
Lazard was injured in the game and both he and Adams were out Monday against the Atlanta Falcons. Stepping up this time was undrafted tight end Robert Tonyan out of Indiana State. Tonyan is in his third season in the NFL. In his previous two years with the Packers, he has two total touchdowns. This season he has five, including three Monday. He finished the game as the game's leading receiver with 98 yards.
For two straight weeks, Aaron Rodgers has turned two lesser-known players into stars of the game. With apologies to Russell Wilson and Josh Allen, Rodgers has to be the favorite after the first quarter of the 2020 season. Rodgers has 13 touchdowns, zero interceptions, has completed better than 70% of his passes, and has his team 4-0. His biggest accomplishment, however, has been turning these backups into big-time players.