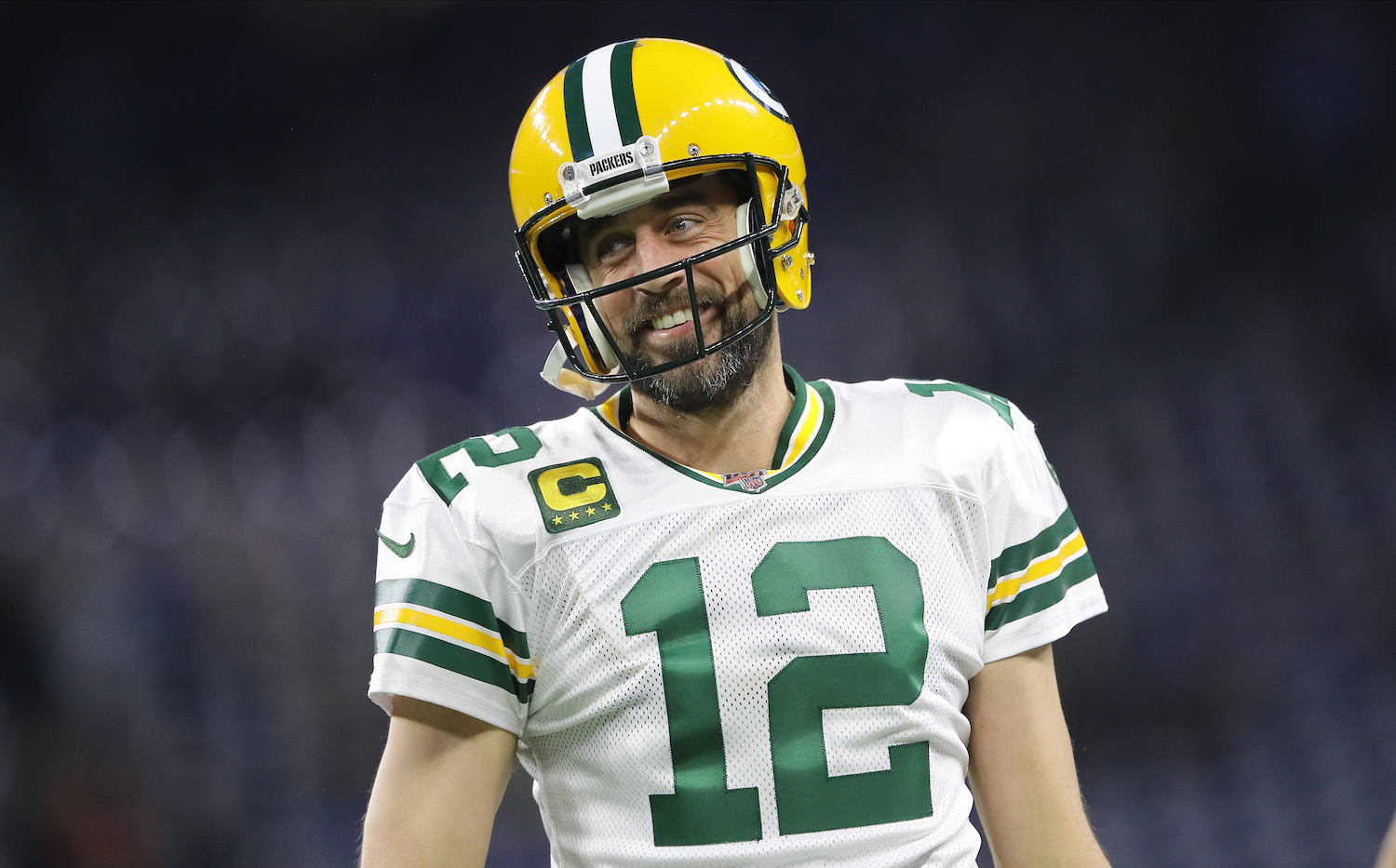 Aaron Rodgers Candidly Opens Up About His Life, His Perspective, and Fires a Warning Shot to Rest of NFL
Aaron Rodgers surprisingly opened up and admitted on the Pat McAfee Show why he's smiling and enjoying life and football a lot more than he has in years. And he sent a warning shot to the rest of the NFL in the process.
As a star quarterback in the NFL, Aaron Rodgers is used to having his life examined under a microscope. Whether it's his play on the field or his personal life off of it, Rodgers has had more than his share of critics through the years. In an interview on the Pat McAfee Show, Rodgers candidly revealed he's experienced a dramatic change in perspective in recent months, and he's feeling better now about life on and off the field than he has in years.
Aaron Rodgers and Danica Patrick break up
While Aaron Rodgers and Danica Patrick met in 2012 at The ESPYs, they didn't officially become an item until 2018 when Rodgers and Patrick were seen kissing just before the start of the Daytona 500, Patrick's last race with NASCAR. 
For the last couple of years, the pair appeared to be enjoying life together as they were seen out at a variety of functions. However, in July, something seemed to be amiss between the couple. The first indication came when Patrick was a no-show at the American Century Championship celebrity golf tournament in Lake Tahoe, where she had supported Rodgers the year before. Then, Patrick stopped following Rodgers on Instagram.
On July 16, 2020, a rep for Patrick confirmed to the New York Post the two were no longer together. 
Rodgers feels better than he has in years
Following a bizarre NFL offseason that included no training sessions, an abbreviated training camp, and no preseason games, Aaron Rodgers started the 2020 season feeling better than he ever. He admitted as much on the Pat McAfee Show on SiriusXM. 
"I think the way we did the schedule this year with the lead-in time. The first couple of weeks felt kind of like an early offseason schedule," Rodgers said. "I told a friend of mine this is the first training camp in the last 16, the first time ever, that my arm hasn't hurt at one point during training camp." 
And it's showed in the first two games. Aaron Rodgers and the Packers have gotten off to a fast 2-0 start with dominating performances over NFC North competition in Minnesota and Detroit. In Week 1 against the Vikings, Rodgers went 32-of-44 for 364 yards and four touchdowns. He followed it up with a Week 2 performance where he went 18-of-30 for 240 yards and a pair of touchdowns. 
Aaron Rodgers has a different perspective on life and football
On Tuesday, Aaron Rodgers made his weekly appearance on the Pat McAfee Show. After weeks of McAfee half-jokingly suggesting that Rodgers is looking rejuvenated and better than ever, the future Hall of Fame quarterback, who is known for being reserved and measured in his comments, surprised McAfee by his very revealing response.
"I have just a new and increased love of life and I have made decisions and changes and habits that put me in a lot better headspace," Rodgers admitted. "There's just a lot of things that have come together in my life over the last few months that have really been enjoyable and reminded me, given me perspective in life and in football to view things through the most positive lens I possibly can. And that's why I'm having so much fun and it starts with love. And you surround yourself with people that you really enjoy."
After acknowledging he enjoys visiting each week with McAfee, his crew, and his former Packers teammate, A.J. Hawk, the Green Bay signal caller once again opened up in a way rarely seen in public. 
"It's mindfulness and positivity and love and kindness and integrity. And when you put it all together, I think for me, it's made me a lot happier and I'm just enjoying football and enjoying life a lot more."
It is just two weeks into the NFL season, but based on Rodgers' comments, their sincerity, as well as the results on the field, where he is mentally is a promising sign for the Green Bay Packers and a very ominous sign for the rest of the NFL.