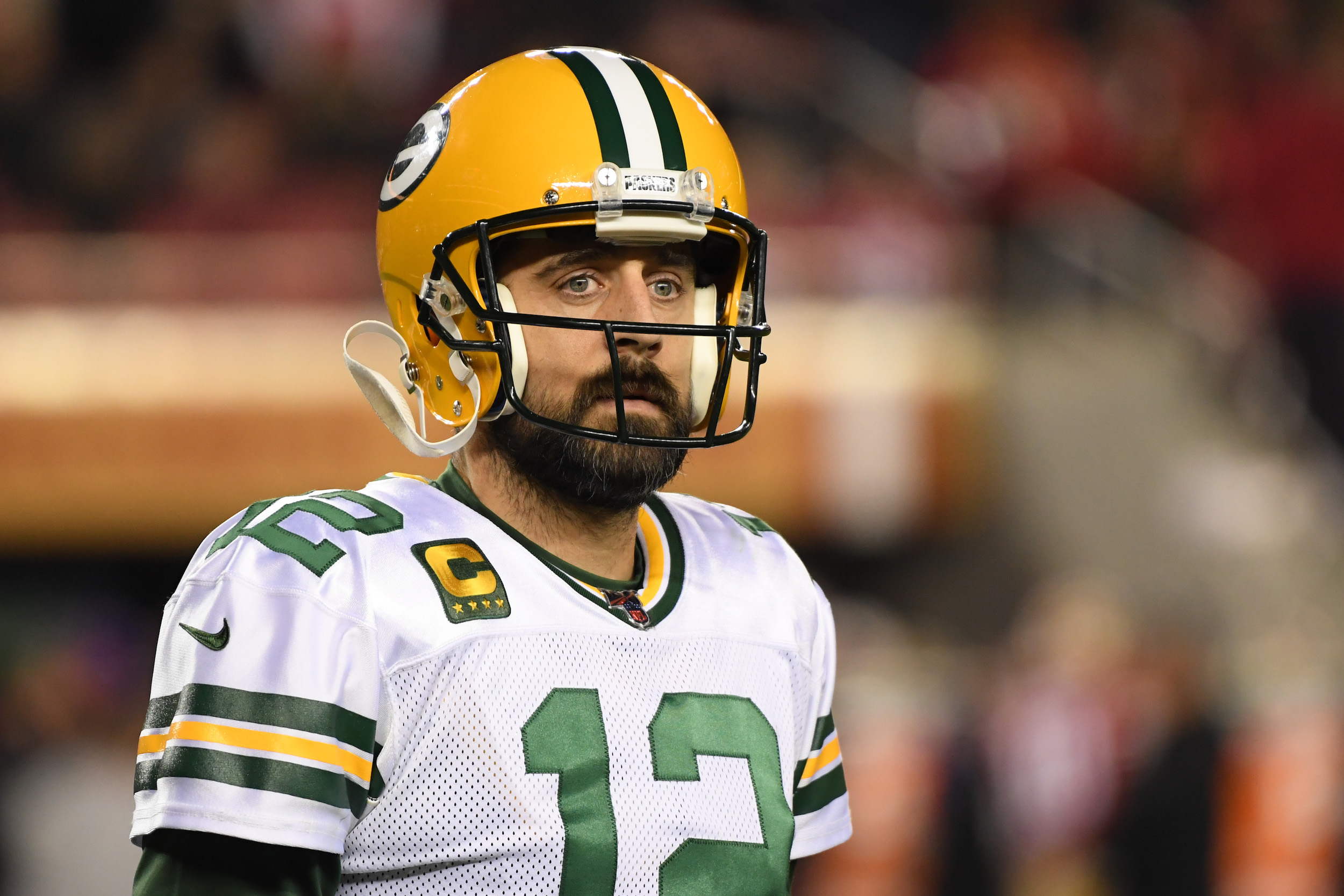 Aaron Rodgers Once Had a Close Encounter With a UFO and Lived to Tell the Tale
On the field, Packers quarterback Aaron Rodgers is capable of doing some superhuman things. Off the field, he's apparently seen something out of this world.
If you've watched enough sports, you've probably heard plenty of players referred to as superhuman. During his time with the Green Bay Packers, Aaron Rodgers has certainly earned that adjective more than a few times. The veteran quarterback, however, has apparently had an inhuman experience away from the football field.
While it's not unrealistic to say some of Rodgers' deep balls are simply unbelievable, those aren't the only flying objects that he's seen. In the months leading up to the 2005 NFL draft, the future Packers star apparently saw a UFO and lived to tell the tale.
Aaron Rodgers has had an out-of-this-world NFL career
These days, it's impossible to imagine Aaron Rodgers as anything other than a star quarterback for the Green Bay Packers. At one point, though, it looked like his career was going to follow a completely different path.
Despite his success at the high school level, Rodgers didn't attract much attention from the nation's top college football programs; most coaches simply decided he was too small. Rather than abandon the sport forever, the quarterback enrolled at Butte Community College. As a freshman, he played well enough to earn a spot on Cal's roster.
While Rodgers transferred and found a home with the Golden Bears, his odyssey wasn't done yet. On the night of the 2005 NFL draft, the quarterback found himself sitting in the green room for what seemed like an eternity; he finally landed a job with the Green Bay Packers and started out as Brett Favre's backup.
Although it took a few seasons to claim the starting job, Rodgers eventually replaced Favre. He's gone on to throw for 46,946 and 364 touchdowns while winning a Super Bowl title and two NFL MVP awards.
Aaron Rodgers saw a UFO shortly before the 2005 NFL draft
While Aaron Rodgers is no stranger to launching pigskins through the air, he once saw something different in the sky. In the months leading up to the 2005 NFL draft, the quarterback saw a UFO.
As recounted on Pete Holmes' You Made It Weird podcast and shared on NFL.com, Rodgers had made the trip to New York City to appear on ESPN's Cold Pizza. After his media commitments were done, he headed south into New Jersey to link up with his former college teammate, Steve Levy.
After dinner, Rodgers heard a siren in the distance; then, he looked at the sky.
"It was a large orange, left-to-right-moving object. Because of the overcast nature of the night and the snow, you couldn't make out," the quarterback explained. "It was behind the clouds we were seeing, but it was definitively large, moving from left to right…It was me, Steve, and his brother that saw it. And it goes out of sight, and we look at each other and go, 'What in the f— was that?"
They also heard fighter jets, which, in Rodgers' mind, tied everything together.
"Now, if you know anything about UFO sightings or you've done research, you know that a lot of times, two things are connected to UFO sightings," Rodgers continued. "One is the presence of fighter jets. And two, there's a lot of sightings around nuclear power plants. So to tie it all together, the alarm we heard from 30 miles out was a nuclear power plant that had an alarm that went off."
Baron Davis may have also had an extraterrestrial alien encounter
Aaron Rodgers isn't the only athlete to have a potential alien encounter, though. NBA veteran Baron Davis may have had his own experience with extraterrestrials.
In 2013, Davis was driving from Las Vegas to Los Angeles, when he saw "a bright light," which he assumed was a truck. As he explained on The Champs Podcast, though, the light was something else.
"Then next thing you know, dude, like, I was in this f—ing steel thing," Davis explained, according to Daniel Beekman of the New York Daily News. "[The beings inside the craft] were poking me on my nose, and they were, like, looking me in my eyes. They had my hands like, tied up, and the next thing you know, I was f—ing Montebello, dude, burning rubber on the way back to L.A. It was like four o'clock in the morning."
Despite those details, Davis later tweeted that his entire alien anecdote was a joke. Aaron Rodgers, however, offered no such qualifications; as far as we know, the Packers quarterback still believes he saw something unexplainable on that night in 2005.
Stats courtesy of Pro-Football-Reference