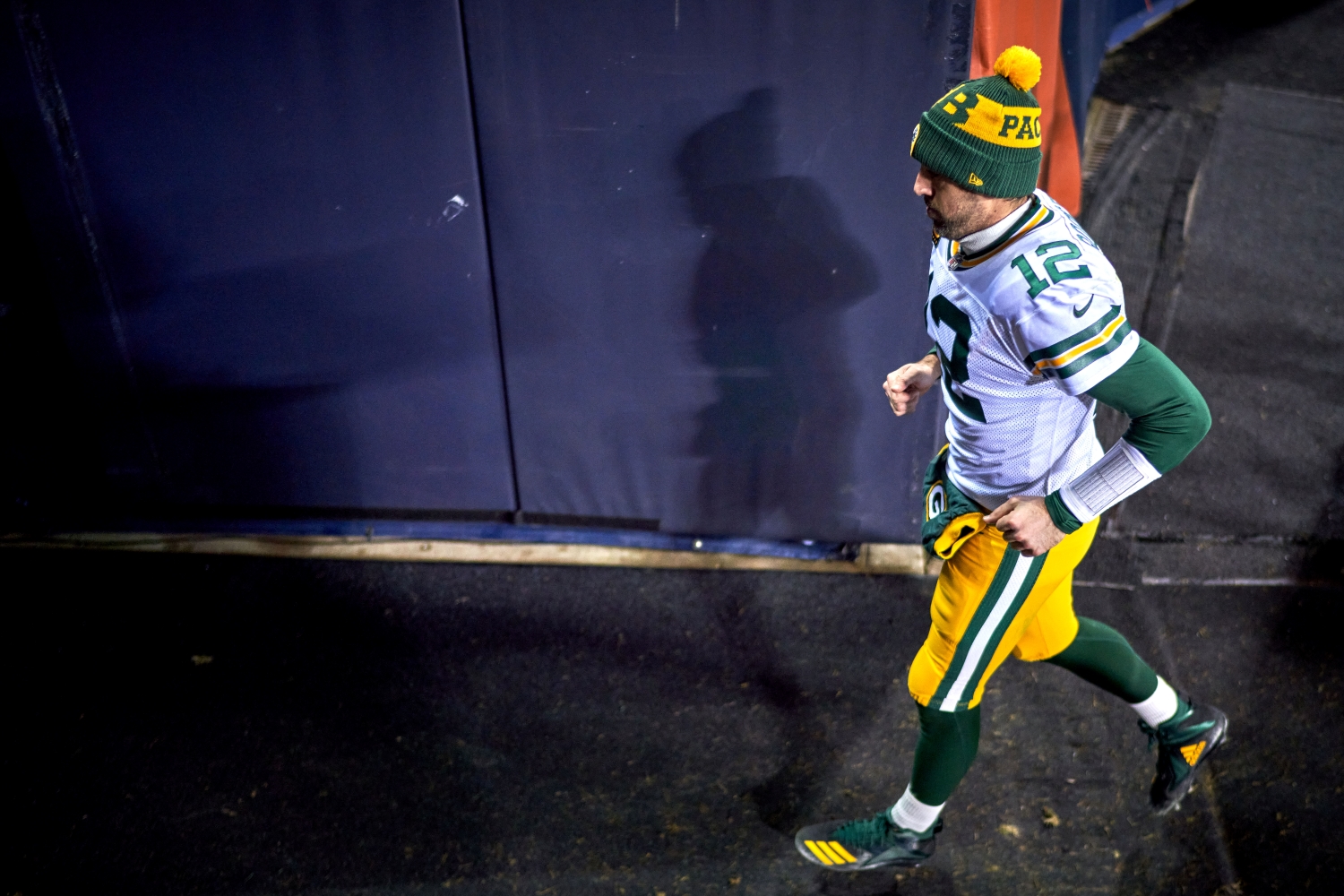 Aaron Rodgers Pulls Historic Power Move With Costly Implications Against Packers
Aaron Rodgers deviated from the norm by not showing up for OTAs. Will his power move force the Packers to trade their star QB? Or can Green Bay salvage the relationship with a power move of its own?
The Green Bay Packers have paid Aaron Rodgers nearly $250 million since they ended his infamous draft-day slide in 2005. Along the way, he's established a reputation as one of the greatest quarterbacks of all time. And with a Super Bowl ring and three NFL MVP trophies at home, he has the hardware to back that claim up.
Apparently, though, Rodgers has no problem letting the Packers hold on to some extra cash.
By pulling a historic power move against the team, he put $500,000 at risk and created even more doubt about what the future looks like in Green Bay.
Aaron Rodgers wants out of Green Bay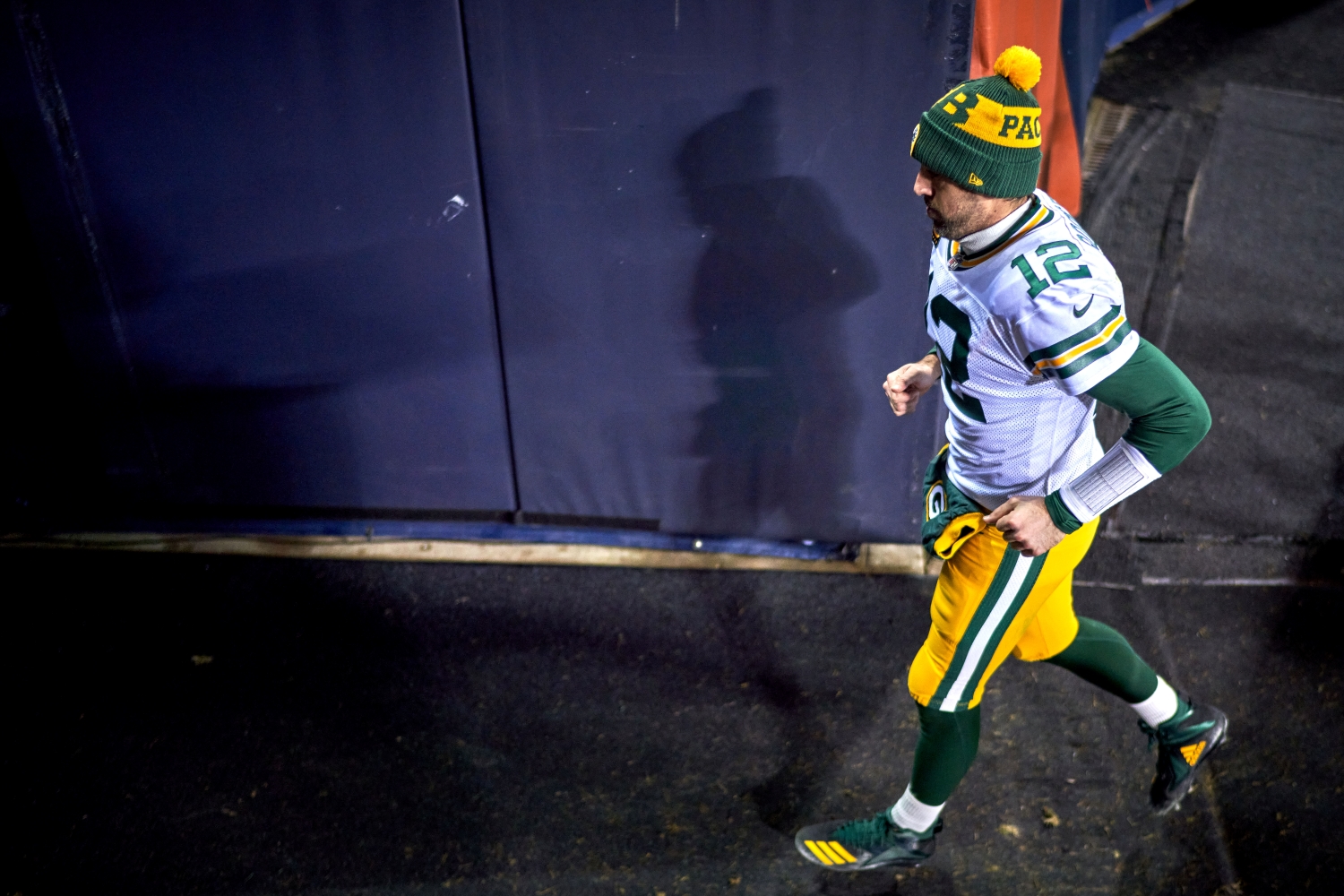 Packers fans have watched Rodgers start 190 regular-season games since 2008.
They shouldn't hold their breath on seeing him take the field for No. 191.
At this point, the 37-year-old looks more likely to become the permanent host of Jeopardy! then to start another game for Green Bay. So how did it come to this?
First, the Packers surprisingly traded up in the first round of the 2020 NFL draft to select Utah State quarterback Jordan Love. Selecting Rodgers' potential successor rather than an offensive skill player who could help him did obvious damage to the relationship between the front office and the longtime face of the franchise.
Meanwhile, Rodgers earned MVP honors while leading the Packers to a 13-3 record for the second year in a row. However, the team suffered a crushing defeat in the NFC title game that included a highly scrutinized call by head coach Matt LaFleur to kick a field goal late in the fourth quarter. Following the loss, Rodgers struck a rather pessimistic tone about his future in Green Bay, which opened the door for speculation about a potential trade.
Ultimately, the situation reached a turning point in late April when ESPN's Adam Schefter reported Rodgers told members within the Packers organization he does not want to return to the team. Meanwhile, Green Bay has maintained it does not want to trade the future Hall of Famer.
As spring turns to summer, both sides seem set to stand their ground in this staring contest.
Rodgers pulls historic power move against Packers with costly implications
Think Rodgers means business?
Based on the quarterback's historic power move, it's safe to say he has no intention of backing down to Green Bay.
Packers players reported to Lambeau Field on Monday for the start of organized team activities — a crucial part of the offseason program. But after participating in OTAs throughout the course of his career, Rodgers did not join his teammates.
According to Rob Demovsky of ESPN, his absence didn't surprise the team. After all, Rodgers did not participate in either of the first two phases of the Packers' offseason program. The third phase, which began Monday, includes 10 total days of work spread over four weeks.
By taking a wildly different approach in his 17th year with the team, Rodgers clearly wanted to send a message. However, his absence could prove costly.
As one of 19 Packers players with an offseason workout bonus, the reigning MVP looks poised to miss out on a $500,000 payday. Skipping out on the team's offseason program may lead to less money in his bank account, but Rodgers can certainly get by without an extra $500,000.
Refusing to suit up for the Packers remains the ultimate leverage card he can play against the team. But could there be a way for Green Bay to salvage the situation?
Could the Packers salvage their relationship with their star quarterback with a power move of their own?
The chances of Rodgers changing his mind about playing for the Packers seem slim. In fact, that ship may have sailed long ago.
Then again, Julio Jones could change everything.
With the Atlanta Falcons looking to trade the All-Pro receiver, Green Bay should consider the ramifications of acquiring one of the NFL's most dominant pass-catchers. Making a move for Jones would show Rodgers the Packers want to give him the best chance to win. Would it make up for the mistakes the front office made before? Definitely not. But it would definitely represent a step in the right direction.
Even Rodgers would have to get excited about the prospect of throwing passes to Jones and Davante Adams. Perhaps that would convince him to sign a contract extension (which would provide much-needed cap relief) and see if he can bring the Lombardi Trophy back to its rightful place one more time.
Stranger things have happened in the NFL, right?
Like Sportscasting on Facebook. Follow us on Twitter @sportscasting19.